Thank you so much for being a subscriber to Real Life at Home!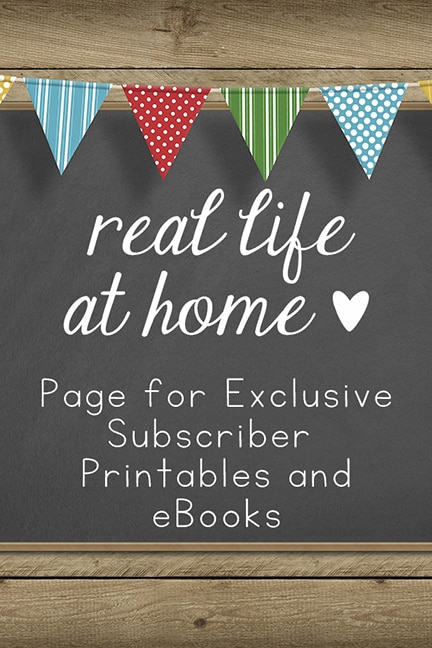 I love being able to share some resources with you as a bonus for being on the email list.
This page is a handy way for you to find all of the posts that include a free printable or eBook that is free just for subscribers. After you have subscribed once, just be sure to use the same email address that you already use on the mailing list when you request new subscriber bonuses. As long as you use the same email address, you will not be subscribed a second time or receive more than one copy of the same email.
If you're visiting this page and you're not a subscriber
Don't worry! It's easy to subscribe to receive these free bonuses as well as to find out when new ones come out. You can do so by visiting any of these subscriber exclusive freebies and requesting them within their individual posts. You will then be added to that mailing list. Easy peasy!
Terms of Use: Subscriber Free Printables
Please note that while I love to share these for free with subscribers, many of these are paid resources for non-subscribers. Because of this, I have to ask you to please not share these resources with non-subscribers. Doing so is not only stealing from my family, but it's just not nice.
I know that it's easy to forget that there are real people running blogs, but just remember that we are a family with the same feelings and needs as you and your family. Please respect the time and work that we put into the site. Thank you for your honesty!
Free Printables and eBooks for Subscribers
Because Real Life at Home has two separate weekly newsletters, there are two sets of different subscriber freebies. You can be on both email lists or just one. You may also unsubscribe from one list and stay on the other. Or, you can unsubscribe from both at any time.
All of the posts below contain printables or eBooks that are for subscribers on the regular "learning, creating, and celebrating all year" Real Life at Home weekly newsletter
Training Your Children in Home Economics eBook

Subscribe to our newsletter and receive the 44 page eBook full of tips, teaching ideas, and printables.
All of the posts below contain printables or eBooks that are for subscribers on the Catholic Printables and Activities Real Life at Home weekly newsletter