Zacchaeus Story for Kids: Free Zacchaeus Printables Packet for Elementary Students Post Preview: This post contains a free ten page printable learning packet themed around the New Testament Bible Story of Zacchaeus and Jesus.
---
Okay, so I have to be honest here – every time I think of Zacchaeus, I immediately hear Pa Grape from Veggie Tales singing the Zacchaeus song in my head. Please tell me I'm not the only one.
While you are welcome to think about Pa Grape or not, you can grab this brand new Zacchaeus printables packet for elementary students!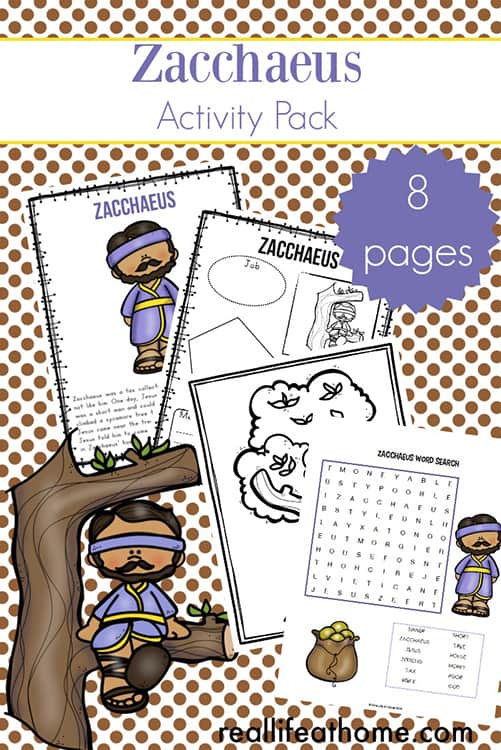 The Jesus and Zaccheus worksheets packet has pages in it for kids from kindergarten through fifth grade. Not every page will be a fit for all of those ages, as you can imagine. However, since the packet is a free download, you won't need to feel bad if you only use part of the learning packet.
Free Zacchaeus Printables Packet for Elementary Students
Zacchaeus Story for Kids Page
This page has a picture of Zacchaeus and an easy to understand retelling of the Zacchaeus story for kids.
Zacchaeus Reporting Page
The Zacchaeus reporting page has different shapes to fill in with things like what Zacchaeus was like before meeting Jesus and then after meeting Jesus, and more.
Zacchaeus Notebooking Page
A notebooking page with a large coloring area.
Zacchaeus in Alphabetical Order and Answer Key
There are eight words in the word box on this page to put into alphabetical order. They include items that can be found in the Zacchaeus story. Terms included in the list are: tax, Jericho, sycamore, poor, money, Zacchaeus, climb, and house.
Zacchaeus Flap Booklet Page
Follow the directions on this page to create your own interactive flap booklet with information about Zacchaeus, Jesus, and more.
Zacchaeus Coloring Page
Kids can color in this tree coloring page and then add Zacchaeus by drawing him in the tree.
Zacchaeus Word Search and Answer Key
This word search printable has 12 words related to the Zacchaeus story from the New Testament. Words go up, down, forward, and backward.
This packet also contains a terms of use page.
Terms of Use for the Free Zacchaeus Printables Learning Packet
The Zacchaeus worksheets download is free for personal, classroom, religious education, and large group use.
This set may not be sold, published, or hosted on other websites. (Example: an individual or another blogger may not upload the file onto their website for others to download there.)
Post continues after this brief information about a monthly membership to help you live the liturgical year
---
Monthly Liturgical Membership
Perfect for families! Each month you gain access to printable activity pages, crafts, home altar pieces, and more.
Never has living the liturgical year been so easy and affordable!
---
There are additional terms of use on the first page of the download and you can read them here too.
Using the printable means you agree to the terms. Thanks!
Download the Free Zacchaeus Worksheets Elementary Learning Packet
In order to receive the free Zacchaeus printables packet, you will need to subscribe to our weekly newsletter. While you can be on both the weekly newsletter and the Catholic newsletter, you will pick just one to sign up for to get access to this printable packet.
The weekly newsletter features lots of free printables, learning activities, ideas for celebrating holidays with children, and more. The Catholic weekly newsletter centers around Catholic printables and activities.
You may unsubscribe from the list at any time (even right after you get the packet, if you want). Just fill in your first name and email address in the box below to receive it via email.
If you are already an email subscriber, just fill in the email address that you already use on our list. Don't worry – you won't start getting emails twice.
If you are a regular weekly newsletter subscriber (or plan to be), click here to get the Zacchaeus Printables Packet.
If you are a Catholic weekly newsletter subscriber (or plan to be), click here to get the Zacchaeus Printables Learning Packet.
Don't want to subscribe but still want the packet? That's cool. Click here to purchase it for a very small cost.
More Free Printables You May Love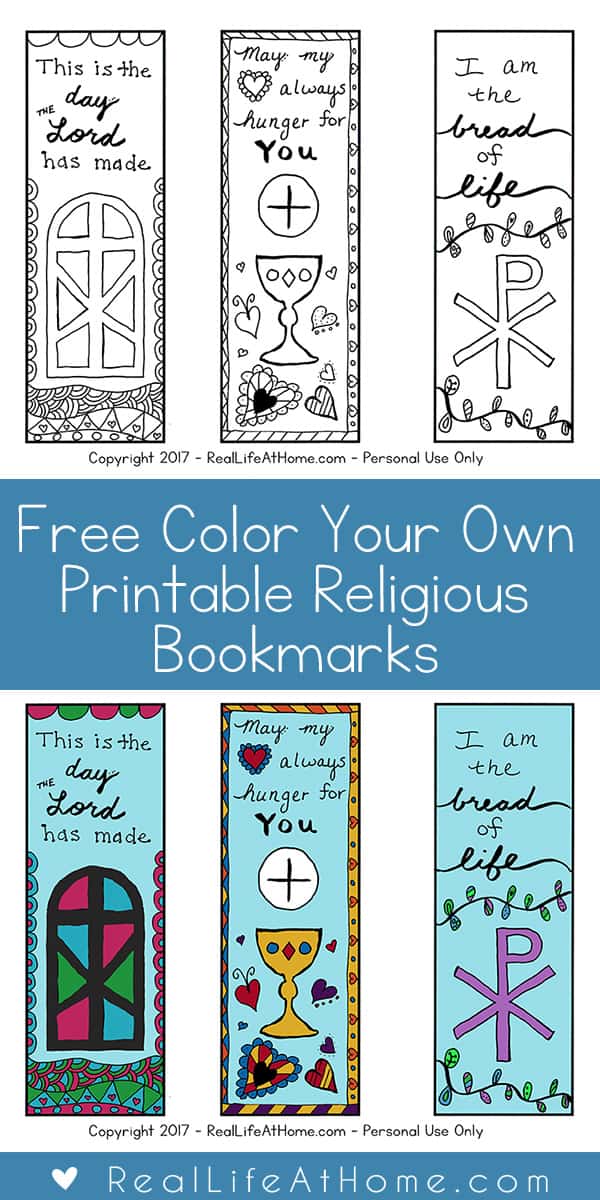 ---
Disclosure: This post contains affiliate links. They don't change the price you pay. However, when you shop through them, we may receive a small compensation. 
Join 40,000+ Other Awesome People
Subscribe to the Real Life at Home weekly newsletter to get our latest content, exclusive free printables, learning activities, and ideas for celebrating with your kids all year