Free Solar System Printables Packet for Elementary Students Post Preview: This post contains a free printable learning packet with eight pages of activities themed around our solar system. There are also other ideas for space-themed learning.
---
I have always loved space. I find it beautiful, scary, and fascinating. It is awe-inspiring. Because of this, it is one of my favorite science topics. In fact, I have told my husband that even though I have no plans to ever get a tattoo, if I did, it would probably have to be space-themed in some way.
Because I love space so much, I have a free solar system printables packet for elementary students for you to download!
Related Reading: Free Star Gazing Scavenger Hunt Printables
This solar system worksheets packet has pages in it that are perfect for kids from kindergarten through fifth grade. Of course, not every page will be a fit for all of those ages. However, since the packet is free, you won't feel guilty if you only use part of the learning packet.
Free Solar System Printables Packet for Elementary Students
The free solar system worksheets packet contains a terms of use page and eight pages of various activities for kids.
Outer Space Count the Syllables
There are ten solar system-themed pictures on this page. Each picture is followed by the numbers 1, 2, 3. Students will say the name of the picture and then circle the correct number of syllables for the word.
The Solar System in Alphabetical Order
There are ten words in the word box on this page to put into alphabetical order. They include items that can be found in our solar system. Terms included in the list are: Saturn, Pluto, Earth, moon, Jupiter, Venus, asteroid, Neptune, Uranus, and rocket.
Beginning Sounds Page
Since space and stars are both words that come to mind when talking about outer space, this is a page for recognizing words as either beginning with sp- or with st-. Students will follow the directions to color the pictures with the color that matches that beginning sound.
Outer Space Story Starter Page and "I Can Write About Space" Page
On this story starter page, there is an area for drawing as well as a writing area that contains the story starter, "One day I blasted off in a rocket and…" There are also pictures to color in at that bottom of the page.
Another page of the packet is similar to the first page, but it does not include a story starter. Students are free to write any kind of space story they wish.
Mini Planet Report Worksheet
This planet report worksheet would be great as a complete project for younger students or as the starter to a project for mid- to later elementary students. The student picks a planet (or has it assigned to them) and then will complete the worksheet accordingly.
There are separate boxes on the worksheet for the name of the planet, a drawing or picture of the planet, two different boxes for planet features, and a fun facts box.
Features of Earth Worksheet Page
On the features of Earth page, there is a small Earth coloring area at the top of the page. In the middle of the page, there are three boxes to fill in with the words can, has, and is.
This means that students will write something that fits for "Earth can," "Earth has," and "Earth is." For example, a student might write "sustain life" under the "can" column. You can decide how many features students will write in each box.
At the bottom of the page, students are asked to write to write two sentences about Earth based on their columns. From the example above, a younger student might write that "Earth can sustain life" while an older student might write that "Earth can sustain life, such as humans, animals, and plants."
Compare and Contrast Planets
There are pictures of Earth and Saturn on this page with a Venn Diagram. Students will record ways that Earth and Saturn are the same and ways they are different.
Related Reading: Astronomy for Middle School Students
Terms of Use for the Free Solar System Printables Learning Packet
The solar system worksheets download is free for personal, classroom, and large group use.
This set cannot be sold, published, or hosted on other websites. (Example: an individual or another blogger may not upload the file onto their website for others to download there.)
There are additional terms of use on the first page of the download and you can read them here too.
Using the printable means you agree to the terms. Thanks!
Download the Free Solar System Worksheets Elementary Learning Packet
In order to receive the free solar system printables packet, you need to subscribe to our weekly newsletter. The weekly newsletter features lots of free printables, learning activities, ideas for celebrating holidays with children, and more.
You may unsubscribe from the list at any time (even right after you get the packet, if you want). Just fill in your first name and email address in the box below to receive it via email.
If you are already an email subscriber, just fill in the email address that you already use on our list. Don't worry – you won't start getting emails twice.
Solar System Printables Packet
Subscribe to our weekly newsletter and receive the Free Solar System Elementary Printables Packet.
More Free Printables You May Love
---
Disclosure: This post contains affiliate links. They don't change the price you pay. However, when you shop through them, we may receive a small compensation.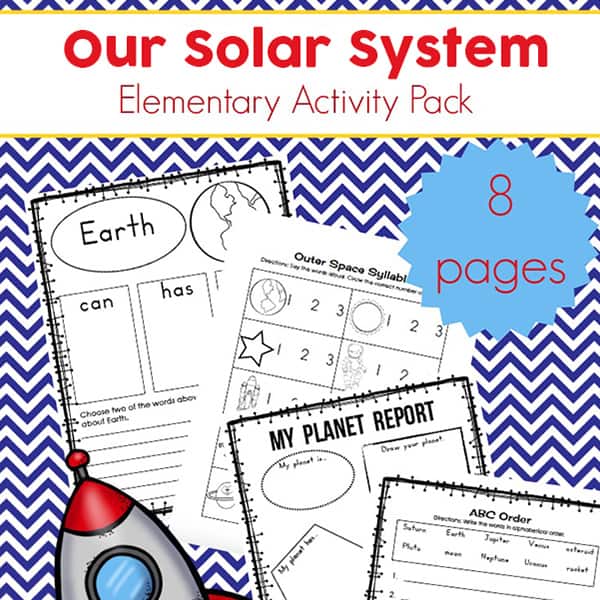 Solar System Printables Packet
Subscribe to our weekly newsletter and receive the Free Solar System Elementary Printables Packet.