Valentine's Day Math Worksheets for Preschool – 1st Grade Post Preview: Enjoy this free 12-page math packet for children in preschool, kindergarten, and 1st grade that works on numbers 1 – 10 in a variety of ways, all with a Valentine's Day theme.
---
I love being able to tie themes into regular school work. It makes it a little more fun for everyone. Since Valentine's Day is coming up soon, I have a brand new packet to combine Valentine's Day fun with math.
In this super cute 12 page packet, students will work on writing and recognizing the numbers one through ten as well as other activities with the numbers. There are also coloring areas, which adds a little more fun.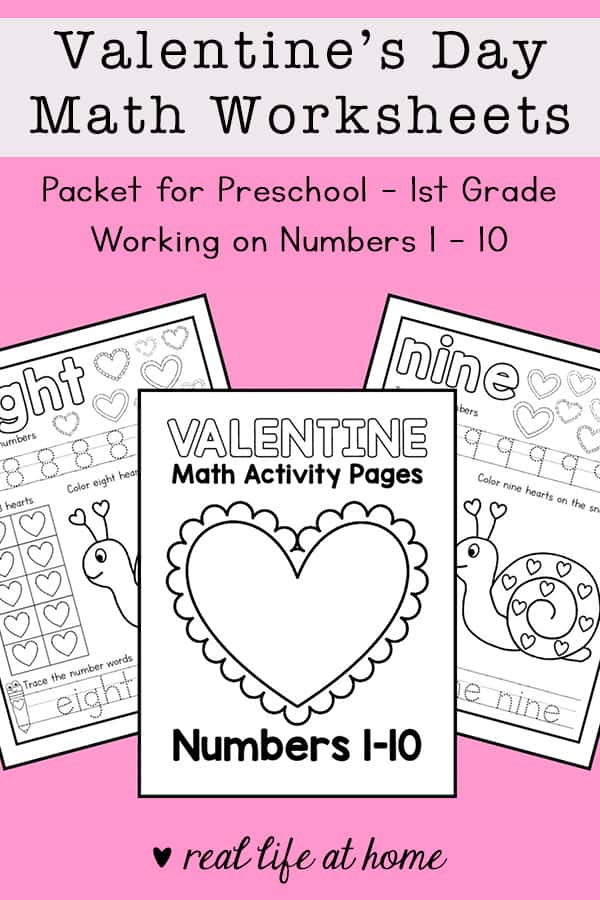 Note: The form for getting this printable packet is available farther down in the post. 
---
Related Content:
---
Valentine's Day Math Worksheets for Preschool – 1st Grade
In this Valentine's Day Math Worksheets packet, children will be able to work on writing numbers in both word and numeral form, one-to-one correspondence, and more.
This 1 – 10 Valentine's Day Math Worksheets packet is suitable for children in preschool through 1st grade. However, you know what your children or students are learning and working on, so use your best judgment. You might find that it is appropriate for your children or students who are outside that age group.
Since this packet is available for free, you won't be out any money so if it's not a perfect fit for your situation. Score!
Numbers 1 – 10: Contents of Valentine's Day Math Worksheets
This math worksheet packet is 12 pages long. And, as I mentioned above, is probably best for children in preschool, kindergarten, and 1st grade.
The first page of the packet is a cover page. This doubles as a cover page that students can use if you will be compiling all of the pages either before or after students complete the packet. The cover has areas to color, including a large heart for Valentine's Day. If you prefer, however, you can skip giving this page to your children or students.
The second page of the packet has brief instructions, copyright information, and terms of use. This page is not for the kids, obviously.
Pages 3 – 12 of the packet are the Numbers 1 – 10 Valentine's Day Math Worksheets. Each page focuses on a different number. The activities on each page, however, are the same, just with the appropriate number.
Each Math Worksheet Includes:
The number in written form at the top of the page that students can color in
Hearts in the upper right corner that can be colored in. The number of hearts corresponds to the number being worked on to help with one-to-one correspondence (for example there are three hearts in the corner on the page for the number three)
Trace the number (in numeral form)
A graph with 10 hearts and instructions to color the correct number of hearts in the graph
A really cute snail with hearts on his shell that can be colored by students. The number of hearts on his shell corresponds to the number of the page.
The number in written form to trace
How to Use these Math Worksheets
First important thing: You don't really have to use these around Valentine's Day, if you don't want to. Other than the cover page, there is no specific mention of Valentine's Day. So, feel free to use these heart-filled pages whenever you want. Love and cuteness are not exclusive to February 14th.
All of the pages of the Valentine's Day math worksheets are outlines. This is great for saving on printer ink! This also means that you can either decide to have children color in the pictures or you can have them not color any of them. It's really up to you!
If you don't want them to color them in, I would suggest printing them on some fun festive colored paper. Just make sure that students can still use a dark crayon to color in the hearts graph.
You can decide whether to give all ten pages of the math worksheets to students at once (as a stapled packet) or just one or two at a time. However, if you are having children color the pages, I would definitely keep it to one or two pages at a time. That's a lot of pictures to color!
---
Related Reading: Valentine's Day Coloring Pages Alphabet Packet (Free 27-page Packet)
---
Other Great Math Resources for Preschool – 1st Grade
Valentines Math Worksheets Packet: Terms of Use
This packet is free for Real Life at Home email subscribers. It is free to use in your classroom or in your home only. You may not use it with multiple classrooms or large groups for free. (There is a way to get it and not subscribe, however. You'll just need to grab it in the shop area for $2.00.)
You may not share this printable packet with others as a pdf file (electronic file), on the web, via email, or in any other way other than as a printed page or packet. If you would like to share it with others, please send them to this post so they can get it here.
You can read more printables terms of use here.
Download Your Valentine Math Packet
As mentioned above, this Valentine's Day math worksheets packet is available free exclusively to Real Life at Home email subscribers. Whether you are a new subscriber or an existing one, just fill out the form below with your first name (optional) and email address. You will receive an email with the download link.
If you are already a subscriber, you won't be resubscribed and start getting double the emails. This is just the way to tell the system to send you the link. That's all!
Note: If you want this packet but you don't want to be a subscriber, you can purchase the packet for $2.00.
If you use a lot of free stuff from Real Life at Home, you might consider making a small donation. Thanks!
Other Free Valentine's Day Printables You May Love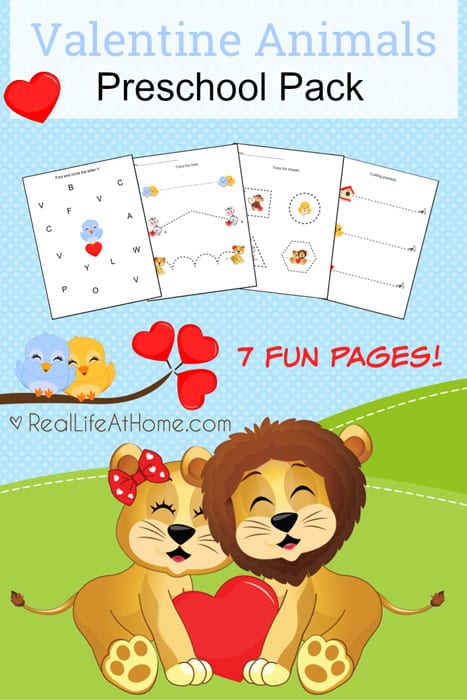 ---
Disclosure: This post contains affiliate links. They don't change the price you pay. However, when you shop through them, we may receive a small compensation.