Summer Journal for Teens and Tweens Post Preview: Looking for fun summer activities for teens and tweens? This free 27-page packet of summer journaling pages will be a great addition to their summer!
---
While many teens and tweens manage to keep themselves very busy during the summer with camps, lessons, jobs, and activities, sometimes summer can offer up a lot of free time. Sometimes, it's a little too much free time.
I mean, of course, it's great to have free time. But I have found that sometimes when my teens have too much downtime, they get bored and listless. This free Summer Journal for Teens and Tweens can offer them some fun activities, journaling, and structure.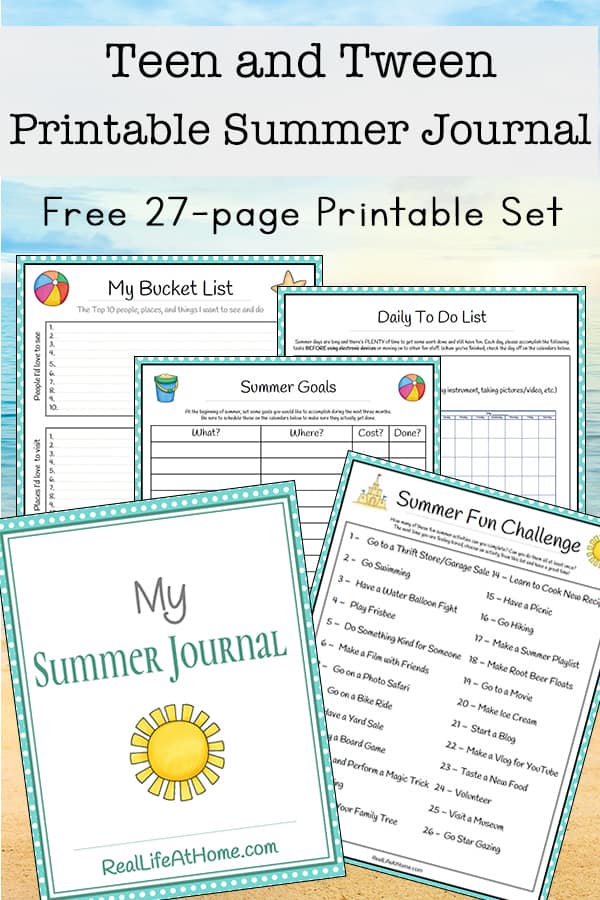 Related Reading: 
Summer Journal for Teens and Tweens (Free 27-page Summer Journaling Printable Packet)
Don't be daunted by the idea of such a long summer journal. The beauty of this project is that teens and tweens (and maybe even some slightly younger kids) can pick and choose which pages are right for them. Since it's free, there is no pressure to use it all.
In fact, they might find that there are some pages they don't want to use at all, while there are others that they want to print out multiple times. Journaling with teens and tweens is great when there is some flexibility offered up. Let them figure out what works best for them.
Again, since this packet is free, you can feel good about it even if they decide just to use one page.
Journaling Pages Included in the Summer Journal for Teens and Tweens
There are a variety of types of journaling pages in the 27-page Summer Journal packet. Hopefully you or your kids will find many pages to love.
Packet Content:
Cover
Terms of Use / Copyright Page
Contact Information Page (for the Journal User)
My Bucket List – includes spots for people, places, and things to see and do
Family Bucket List
Summer Goals (here is a whole post about making summer goals and another free summer goals printable page)
New Habits List
Daily To Do List
Chores List / Chart
Summer Reading Log
Reward Ideas
Summer Rewards Chart
Summer Fun Challenge – includes a set list of ideas
Make Your Own Summer Fun Challenge – this is your chance to come up with your own ideas
June Calendar Page
July Calendar Page
August Calendar Page
Three Pages for Summer Photos
Summer Writing Prompts Page
"My Thoughts" journaling pages (three pages)
"A Place to Doodle" journaling pages (three pages)
Fun Supplies for Your Summer Journaling Pages
I don't know about you, but one of the things I love about journals and journaling pages is getting some cool, fun supplies. I can't help it – I just love school and office supplies!
While you really don't need anything beyond a pen or pencil for the Summer Journal for Teens and Tweens, it's always special to get a few cool new supplies.
I love the Sakura Pigma Micron pens! They are my go-to for my bullet journaling and, really, for just about everything else. You can get sets that are all black but in varying widths. You can also get them in a variety of colors.
Our 14-year-old daughter, who is always up to something artsy (including a bullet journal), loves both this Journal Planner Pens Set (filled with tons of color options) as well as these Dual Brush Tombow Pens.
One last favorite that we like to use in journals and on journaling pages is Washi Tape! Washi tape is so versatile and comes in so many fabulous colors, patterns, and sizes.
Terms of Use for the Summer Journal for Teens and Tweens
This packet is free for Real Life at Home email subscribers. It is free to use in your classroom or in your home.
You may not share this printable packet with others as a pdf file (electronic file), on the web, via email, or in any other way other than as a printed page or packet. If you would like to share it with others, please send them to this post so they can get it here.
You can see all of the terms of use for printables here plus there is a copyright page in the packet that gives more usage information.
Download the Summer Journaling Printables for Teens and Tweens
As mentioned above, this packet is available free exclusively to Real Life at Home email subscribers. Whether you are a new subscriber or an existing one, just fill out the form below with your first name (optional) and email address. You will receive an email with the download link. You are free to unsubscribe at any time.
If you are already a subscriber, you won't be resubscribed and start getting double the emails. This is just the way to tell the system to send you the link. That's all!
Note: If you want this packet but you don't want to be a subscriber, you can purchase the packet for $2.50.
Summer Journal for Teens and Tweens
Subscribe to our weekly newsletter and receive the Summer Journal for Teens and Tweens as a free gift.
Other Printables and Activities You May Enjoy
---
Disclosure: This post contains affiliate links. They don't change the price you pay. However, when you shop through them, we may receive a small compensation.
Summer Journal for Teens and Tweens
Subscribe to our weekly newsletter and receive the Summer Journal for Teens and Tweens as a free gift.