Easter Egg Coloring Pages for Kids and Adults (Free Printable Easter Egg Coloring Book) Post Preview: Looking for more intricate Easter Egg coloring pages for some Easter fun? Enjoy this free printable coloring book filled with 13 Easter egg coloring pages.
---
Easter egg coloring is a fun tradition for both kids and adults. Whether you're using natural dyes, making them with shaving cream, or a traditional egg dying kit, it can be fun for everyone.
Well, you know – it's theoretically fun for everyone. Sometimes the mess is just too much for some people. I may sometimes be those "some people."
In this post, I have a different way to decorate your eggs and it has nothing to do with dye or actual eggs. Ha! It's a whole Easter Egg Coloring Book that features 13 Easter Egg Coloring Pages. And, it's free! Bonus!
Note: The box for requesting your free Easter Egg coloring sheets is farther down in the post.
Related Content: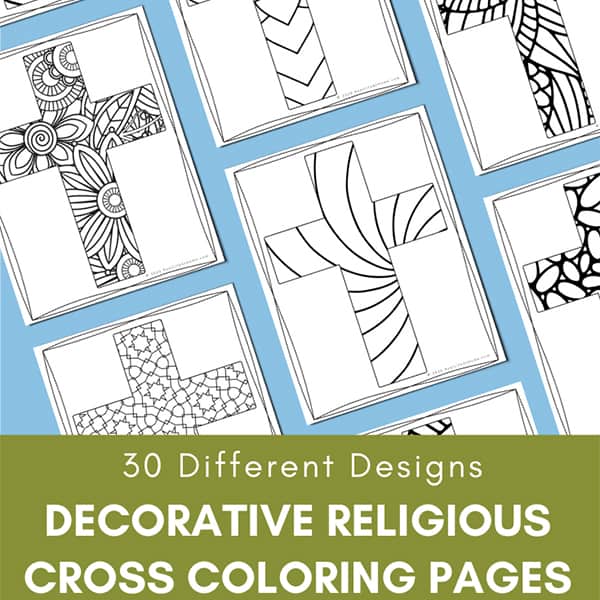 Easter Egg Coloring Pages for Kids and Adults (Free Printable Easter Egg Coloring Book)
As I mentioned above, this isn't just a couple of coloring sheets in a packet. This free printable packet has 13 Easter Egg coloring pages!
Of course, you don't have to use them all, if that's too many. I know – it's a bunch! But, it gives you the opportunity to pick out your favorites to print out and use. When you see the designs, you might decide to print out some for yourself too!
These Easter Egg coloring sheets are intricately decorated. Some young children may find these pages to be overwhelming. However, others may love them.
Since it's free, you can take a chance and try them out. Plus, some of the eggs are more detailed and some are less detailed. Once you download the free Easter Egg coloring book, you'll be able to pick the most appropriate pictures for your usage.
These pages are definitely appropriate for elementary-aged children through high school. They can even be used as Easter adult coloring pages.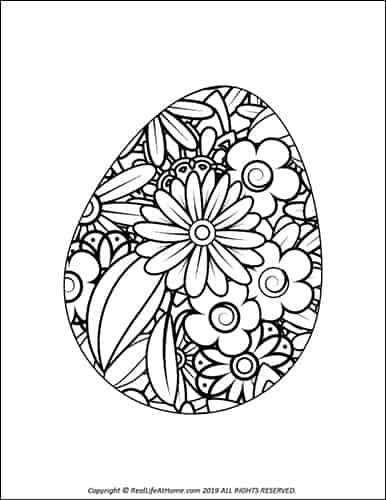 Here is another free decorative Easter Egg coloring page that you and your kids might enjoy. It's in a different style and is just a single page download.
Free Easter Egg Coloring Pages Set – Terms of Use
The Easter Egg Coloring Pages Set/Easter Egg Coloring Book is free for personal or classroom use, but you must include the copyright credit line. You may not share, sell, publish, or host this printable set on other websites.
Because of the size of this set, it is free exclusively for Real Life at Home email subscribers. Don't worry though – it's easy and free to sign up (a little farther down) and you can cancel at any time. In fact, you can unsubscribe right after you get the Easter Egg coloring pages set, if you want. I hope you'll decide to stick around for lots more free printables on the weekly list though.
There are more terms of use to check out here. By downloading and using this printable, you are agreeing to the terms of use.
If you want to pass along this Easter coloring sheet to others, please feel free to share a link to this post. Sharing the site helps support the site. It's one of the things that makes it possible for us to offer so many awesome free printables.
Thanks!
Free Easter Egg Coloring Book: Download Here
Easter Egg Coloring Book
Subscribe to our weekly newsletter and receive 13-page Easter Egg Coloring Book as a free gift
Other Free Coloring Pages and Printables You May Love
---
Disclosure: This post contains affiliate links. They do not change the price you pay. However, when you shop through them, we may receive a small compensation.
Easter Egg Coloring Book
Subscribe to our weekly newsletter and receive 13-page Easter Egg Coloring Book as a free gift