Free Apple Sudoku Printable Puzzle Set Post Preview: This free puzzle set for kids includes four logic puzzles that have 4×4 grids and feature different colors of apples. This set is a great beginning math printable for kids.
---
When I was a kid, I loved logic puzzles. I may have been the only person in class that would get super psyched when the teacher handed out the puzzles where you had to figure out things like who owned which pet and lived on which street and had a certain number of sisters.
You know those ones, right? Things like Sally has two sisters, doesn't live on a street that starts with a vowel, and doesn't like pets that are mammals. Then you have clues about each of the other people like that too. You rule out things to come up with which person is the right answer for each scenario.
Yes, I'm a nerd. And yes, I desperately feel like doing one of those puzzles right now.
Today I'm sharing a free packet of four Apple-themed Sudoku Printable Puzzles. These 4×4 picture sudoku puzzles are great for those just learning to do sudoku and other logic puzzles.
Note: The printable is available farther down in the post.
---
Related Reading:
---
Free Apple Sudoku Printable Puzzle Set for Kids
Sudoku puzzles are a great way for kids to work on critical thinking and problem solving skills. Solving them makes them have to think in ways they might not normally as well as to organize information.
This 4×4 sudoku printable puzzle set is a fabulous way for beginners to work on their critical thinking skills. Using pictures instead of numbers, like in traditional sudoku, as well as having picture pieces that can be moved around will help children grasp the concepts of a sudoku puzzle better. It can also help lessen their frustration level.
How to Play Sudoku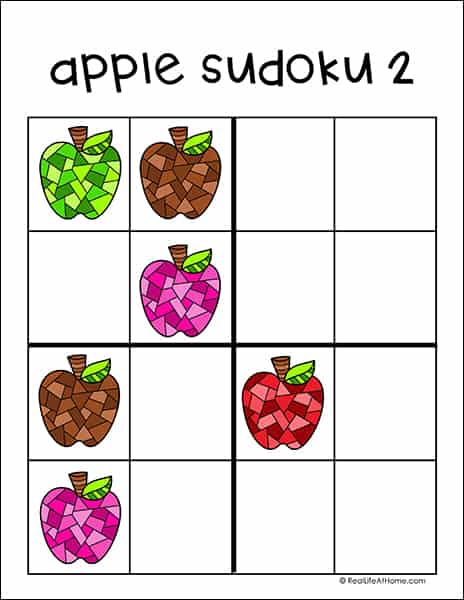 In a 4×4 sudoku, like in the Apple Sudoku Printable Packet, you want each color of apple to appear in each column once and each row once. However, it should also only appear once in each column and row.
So, in this printable set, if there is a red apple, green apple, blue apple, and yellow apple, then each column should have exactly one red apple, one blue apple, one yellow apple, and one green apple. Each row should have the same. You need to be careful that no row or column has two of the same color.
For example, in the picture below, the last box in the bottom row that is empty would be filled with a green apple.
How to Use This Apple Sudoku Printable Set
You should print out the pages with the puzzles as well as the pages with the puzzle pieces. You can print them on white printer paper or white cardstock.
If you would like to be able to reuse these puzzles, I recommend laminating the puzzles as well as the apple puzzle pieces.
For easy storage, you could consider putting each board and its corresponding pieces into a large Ziploc bag. If you are doing this option, you should definitely laminate the boards and pieces prior to storing them like that.
You could also make this into a file folder game. Just paste or laminate each board into a file folder and store the pieces in an attached envelope.
---
Related Reading: Apple Unit Study for Preschool and Kindergarten
---
More Apple Fun: Other Apple-themed Extension Activities
Here are a few ideas for adding some more apple-themed activities as an extension to the apple-themed sudoku.
My friend Rob from Art for Kids Hub and his oldest daughter have an easy to follow drawing tutorial on how to draw apples in a bushel basket. Not only is this a fun activity, but the video can help kids work on following step-by-step directions.
Make some apple-scented playdough! Kids will love helping to make this playdough and then playing with it afterward. There are directions for making apple playdough, green apple playdough, pumpkin playdough, and cinnamon playdough.
Add some books with apples as the main topic to your day. I love these suggestions of awesome apple-themed books from Mama's Learning Corner.
Crafts are a fun way to extend an activity! Here are 15 Apple Crafts Your Kids Will Love.
You and your kids can decorate fall-themed cookies with this fall cookie cutter set that includes cookie cutters in the following shapes: apple, pumpkin, leaves, acorn, turkey, and squirrel.
Printable Terms of Use
This apple sudoku printable packet is free for personal or classroom use, exclusively for Real Life at Home email subscribers. (It is also available without subscribing. See details in the next section.)
You may not sell, publish, or host this printable on any other website. This includes that you may not upload it to another website for people to download (Google Drive, Scribd, etc.).
Here are more printables terms of use guidelines.
Download the Apple Sudoku Printable Set
As I mentioned above, the packet is free for current and new email subscribers.
If you are already an email subscriber, you can just use the email address that you are already subscribed with. This will tell the system to send the download link to your email inbox. (You won't be subscribed again.)
If you are not an email subscriber and want to subscribe, just fill out your name (optional) and email address and then you'll receive an email with the download information. You can unsubscribe at any time. (But check out all of the page full of great printables that are free for email subscribers.)
If you are not an email subscriber and do not wish to be but still want the packet, you can purchase this packet very inexpensively in my shop. Click here to purchase it.
Fill out this form if you are a current or new subscriber and want the packet for free:
Apple Sudoku Packet
Subscribe to our weekly newsletter and receive the Apple Sudoku Printables Packet as a free gift.
More Fall Printables You May Love
---
Disclosure: This post contains affiliate links. They do not change the price you pay. However, when you shop through them, we may receive a small compensation.
Apple Sudoku Packet
Subscribe to our weekly newsletter and receive the Apple Sudoku Printables Packet as a free gift.