Cheerleader Printables Post Preview: In this post, you'll get ideas for some cheerleading themed activities, as well as be able to get a free 13 page cheerleading worksheets packet for preschool and kindergarten.
---
My husband will often mention about our daughter and her cheer stuff. Well, except there's a little problem with that. She rolls her 13 year old eyes and says, "It's not cheer, Dad. It's dance."
Oh well, he tries.
In his defense, she actually did do a season of cheer in elementary school in between doing her four years of ballet and then joining her middle school's dance team. Oh, and they do use poms. So, there's that.
Except you know what? Don't look a 13 year old in the eyes and call them pom poms, unless you are ready for some side eyes.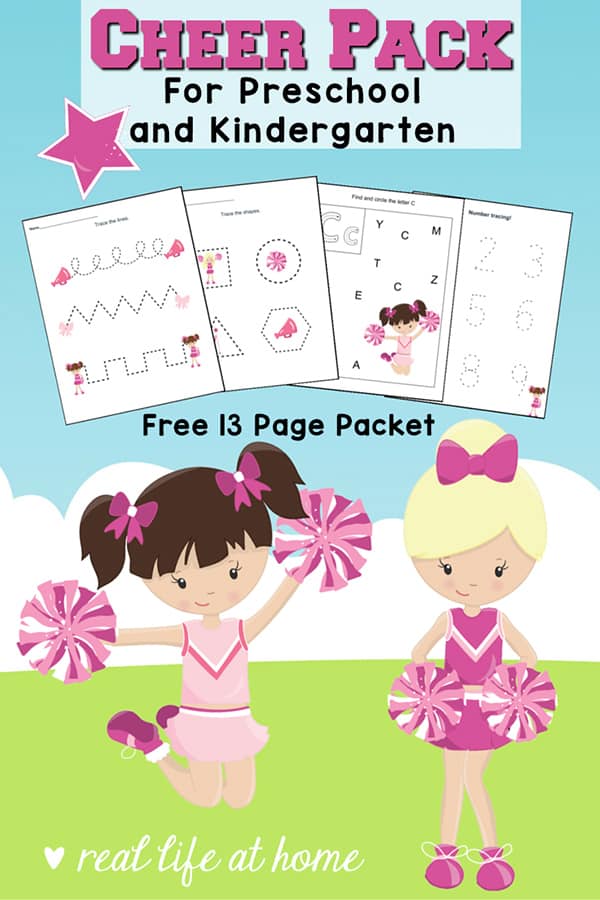 Cheerleader Printables: Cheerleading Worksheets for Preschool and Kindergarten
The Cheerleading Worksheets and Printables packet is 13 pages long. It contains 11 pages of activities that are perfect for children in preschool and kindergarten, but also may be appropriate for kids a little older, depending on individual needs and goals.
The Free Cheerleading-themed Printables Preschool and Kindergarten Packet includes:
Line tracing pages (two of them)
Shapes tracing page
Letter recognition page (for the letter C for Cheer)
Number tracing page
One-to-one correspondence counting pages
Visual discrimination/comparing skills to find the smallest object in each row
Cheerleader coloring pages (two of them)
Design your own hair bow coloring page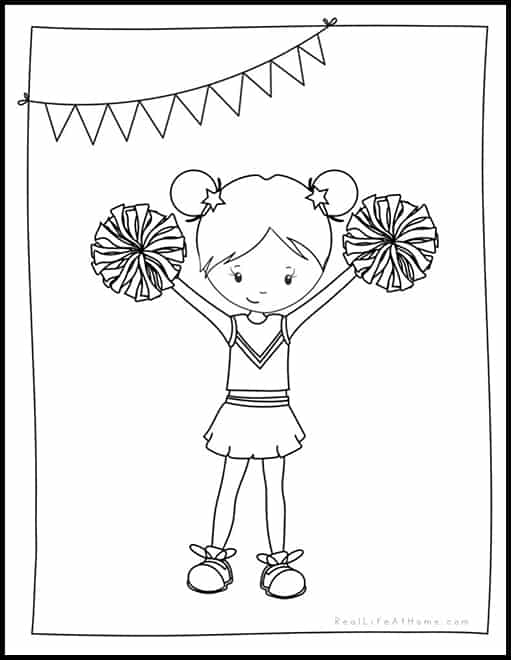 There is also a cover page and terms of use page.
Terms of Use for the Cheerleading-themed Printables Packet
This download is free for personal, classroom, and large group use.
In order to receive the packet, you will need to subscribe to our weekly newsletter, which features lots of free printables, learning activities, ideas for celebrating holidays with kids, and more. You may unsubscribe from the list at any time (even right after you get the packet, if you really want). Just fill in your first name and email address in the box below to receive it via email.
If you are already an email subscriber, just fill in the email address that you already use on our list. Don't worry – you won't start getting emails twice.
This packet may not be sold, published, or hosted on other websites. If you want to pass along the printable though, please feel free to share a link to this post with others. Thanks! (There are additional terms of use on the first page of the download and you can read them here too.)
Download the Free Cheerleading Worksheets Packet
Cheerleading Printables for Preschool & Kindergarten

Subscribe to our newsletter and receive the Cheerleading Printables for Preschool and Kindergarten Packet for Free.
Other Printables from Real Life at Home that You'll Love:
---
Disclosure: This post contains affiliate links. They don't change the price you pay. However, when you shop through them, we may receive a small compensation.
Join 35,000+ Other Awesome People
Subscribe to the Real Life at Home weekly newsletter to get our latest content, exclusive free printables, learning activities, and ideas for celebrating with your kids all year