I'm excited to add another couple of Dr. King printables to the site! I have both this free Martin Luther King Jr. coloring book and reader printable for preschool – 1st grade, but then also another one that is for 2nd – 5th graders.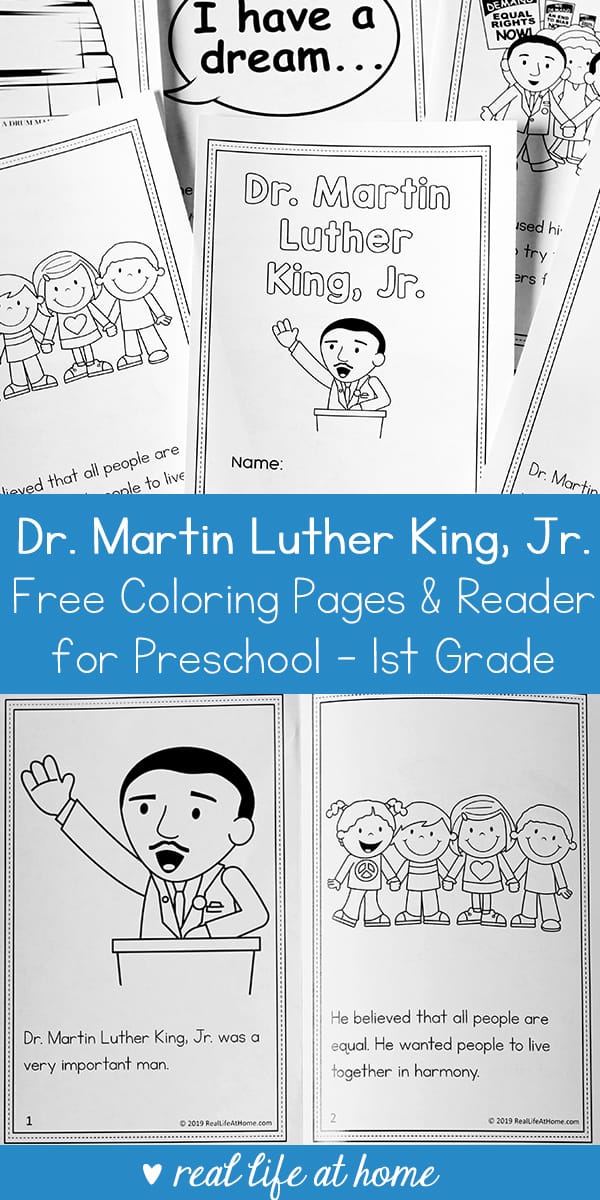 Related Content:
Dr. Martin Luther King Jr. Coloring Book and Reader Printable for Preschool – 1st Grade
It was hard to decide on an exact age grouping for this free printable. I tried to take a gentle approach when I wrote the text for this reader. Some children in the preschool – 1st grade age range will be able to read this on their own. Others will need to have it read to them. This printable also includes pictures to color on every page, so it makes it a great free Martin Luther King Jr. coloring book.
If you are looking for a longer or more challenging story, the free Martin Luther King Jr. Printable Book for 2nd – 5th grade has more text per page and covers more about Dr. King (and even includes Rosa Parks and the Montgomery Bus Boycott).
The Dr. Martin Luther King Jr. Coloring Book and Reader Printable for Preschool – 1st grade has a cover that can be colored and then includes six coloring pages (they are half sheets of paper, so two pages fit on each standard 8.5×11 piece of paper) that include a brief story about Dr. King. Each page includes a border that can be colored in as well.
How to Construct Your Martin Luther King Jr. Coloring Pages/Reader to Make a Book
You have a couple of options for putting together your coloring book and reader. I don't know about you, but I love having options. I declared myself our family's Ideas and Options Generator. My family decided it's like my job title.
So, here are the options that I have for you on this coloring book/reader:
1. Print this on two pages using duplex printing
If your printer allows for duplex printing (or you are comfortable with how to manually do this with your printer – it's different on all of them, so I can't really give you advice on this), you can print the first page of the book on one side of the paper and the second page of the book on the other side of the paper. Then, do the same with one piece of paper for the third and fourth page of the printable.
You'll have the front and back cover on the opposite side of the page of pages one and six of the story. Your other page will have pages three and four of the story on one side of the paper and pages five and two on the other side of the paper.
Once I had my two double-sided pages ready, I just folded them in half and made them into a book. I used my long reach stapler to fasten them together in the middle. Easy peasy.
Or, you can always just fold them together and then use a regular stapler to staple the fold together. Or, you can hole punch the pages and use yarn to tie them together. So many options.
2. Print the pages single-sided and cut them apart
If you don't want to mess with double-sided copying or you just don't want the pages to be back-to-back, you can print out the four pages of the printable and cut them in half to get your eight-page book. Then, just assemble in order and staple them together.
Terms of Use for the MLK Printable
This download is free for personal, classroom, co-op, or church use. Real Life at Home copyright information must remain on the pages.
This set cannot be sold, published, or hosted on other websites. (Example: an individual, school, or church may not upload the file onto their website for others to download there.) If you want to pass along the printable though, please feel free to share a link to this post (not directly to the printable) with others.
There is a whole page included in the download with terms of use and what is allowed and what is not. Please check it out. Using the printable means you agree to the terms. Thanks!
How to Grab The Free Martin Luther King Jr. Coloring Book/Reader Printable
This printable is free for email subscribers. If you are already on our weekly newsletter list, just click here and use the email address that you already use on the list on the request form. A link to get the printable will be sent to you.
If you are not an email subscriber yet, you can sign up to get the booklet for free in the box at the end of this post or by clicking to go directly to the freebie request box here. You are welcome to unsubscribe at any time, even right after you get your free printable if you want. However, we hope that you'll want to stick around for more learning and fun activities to do with your kids!
If you really don't want to subscribe but you want this printable, it can be purchased for a small amount in the Real Life at Home shop.
Other Printables and Learning Activities You May Like:
Martin Luther King Jr. Free Printable Crossword Puzzle
Martin Luther King Jr. Blank Writing Pages
Children's Books and Unit Studies on Slavery
Resources and Activities about the Underground Railroad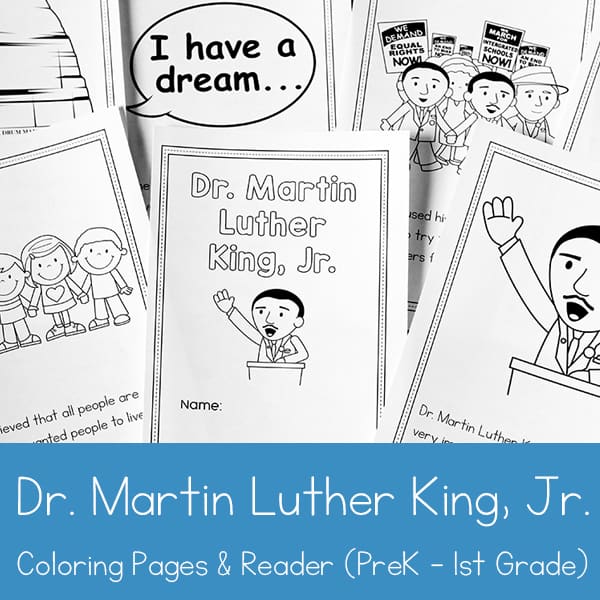 ---
Disclosure: This post contains affiliate links. They don't change the price you pay. However, when you shop through them, we may receive a small compensation.