Starting in mid-2017 and finishing in 2018, I worked through sharing a coloring book each month with Catholic saints for that month – this is all of the coloring books together in the same packet. I thought that a great addition to that collection would be a similar style of book, but this time a Mary Coloring Book for Catholic Kids.
You may ask, "Why for Catholic kids? I'm not Catholic, but I love Mary too."
Sure – you can definitely use it too. However, the coloring book is made up of pages like Our Lady of Knock and Our Lady of Guadalupe. So, I figured it was more Catholic-specific. Anyone, however, is more than welcome to use it. If you want a more general Mary coloring page, you might like this free coloring page with Mary with flowers on it.
Related Reading: Easy Ways to Teach Your Children about Catholic Saints: How to Celebrate the Liturgical Year
Want More Saints Coloring Books?
You can buy a full year of coloring books all together here on the site or on Teachers Pay Teachers (if you prefer).
If you are looking for individual months, you can download all of the months here for free:
Mary Coloring Book for Catholic Kids
The Mary Saints Coloring Book has a cover with words and a border that can be colored. It also includes six coloring pages with Mary. Each page also has a colorable border plus the name of that picture and feast day.
Every page of the coloring book is a half sheet of paper. This means that two pages fit on each standard 8.5×11 piece of paper.
Pages included in the Mary Saints coloring book:
Related Reading:
 How to Start a Mary Garden in Seven Easy Steps
How to Put Together the Mary Coloring Pages to Make Your Mary Coloring Book
You have a few options for putting together the Mary coloring book.
Here are the options that I have for you on how to assemble this saints coloring book:
1. Print the whole project on just two pieces of paper using duplex printing
If your printer allows for duplex printing or you can manually do this with your printer, you can print the first page of the book on one side of the paper and the second page of the book on the other side of the paper. Then, you will do the same with another piece of paper for the third and fourth pages of the document.
If you want the dates to work in chronological order, you will want to print the page with the front and back cover on the same sheet of paper as Our Lady of Lourdes and Our Lady of Guadalupe. You will print the page with Our Lady of Knock and Our Lady of Fatima on the opposite side of the piece of paper as Our Lady of Perpetual Help and Our Lady of Mount Carmel.
The directions on how to manually duplex print on printers are different for each printer. Unfortunately, this means I can't really help with directions on exactly how to do this on your printer.
Once I had my two double-sided pages ready, I just folded them in half and made them into a book. I used my long reach stapler to fasten them together in the middle. Easy peasy!
Or, you can always just fold them together and then use a regular stapler to staple the fold together. Another option is to hole punch the booklet and use yarn to tie the booklet together.
2. Print the pages single-sided and cut them apart
If you don't want to mess with double-sided copying or you don't want the coloring pages to be printed back-to-back, you can print out the four pages of the printable and cut them in half to get your eight page coloring book. Then, assemble in the order of your choosing and staple them together.
This can also be a nice option if you are having children work on this just one page at a time.
Post continues after this brief information about a monthly membership to help you live the liturgical year
---
Monthly Liturgical Membership
Perfect for families! Each month you gain access to printable activity pages, crafts, home altar pieces, and more.
Never has living the liturgical year been so easy and affordable!
---
3. Don't make them into a book at all
Follow the second suggestion up until that stapling part. This is good if you want to give kids one half-page at a time and don't want to give them a whole book at once.
Terms of Use for the Mary Coloring Book
The Mary Coloring Book download is free as a gift for subscribers for personal, classroom, co-op, or church use. The coloring book is also available for a very small fee for those that don't want to subscribe.
Real Life at Home copyright information must remain on the pages. Although church use is allowed, you may NOT publish it in church bulletins or newsletters.
This set cannot be sold, published, or hosted on other websites. (For example: an individual or church may not upload the file onto their website for others to download there.) If you want to pass along the printable though, please feel free to share a link to this post (not the printable) with others.
There is a terms of use page in the download. Please check it out. Using the printable means you agree to the terms. Thanks!
Options for Downloading the Mary Coloring Book
You have three options for getting the Mary Coloring Book:
You can get it free as a gift for email subscribers (sign up in the box below). Once you sign up, you will be subscribed to our Catholic Printables and Activities weekly mailing list.
It can be purchased for just $1.25 (or $2.50 if you will be using it for large group/multiple classrooms/whole parish use) if you prefer to not subscribe to the weekly mailing list.
Mary Coloring Book

Subscribe to the Catholic Printables and Activities Email List and Receive the Mary Coloring Book as a free gift for subscribing.
More Catholic Printables You May Love: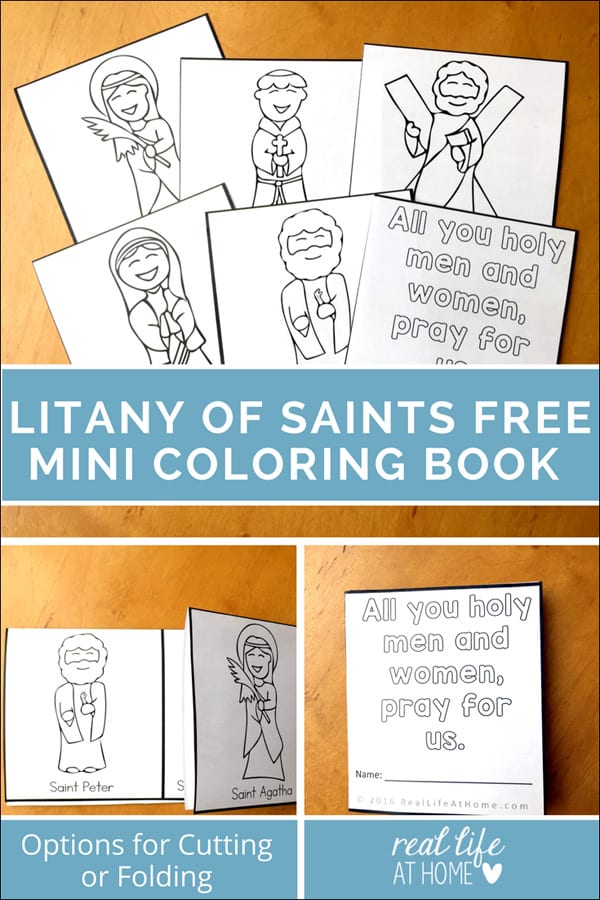 ---
Disclosure: This post contains affiliate links. They don't change the price you pay. However, when you shop through them, we may receive a small compensation.
Mary Coloring Book

Subscribe to the Catholic Printables and Activities Email List and Receive the Mary Coloring Book as a free gift for subscribing.