Fun Math Printables: Fall Worksheets for First Grade and Kindergarten is by Bethany from Math Geek Mama.
If you're looking for some extra math practice for your little ones this Fall, be sure to grab this fun set of fun math fall worksheets for first grade and kindergarten!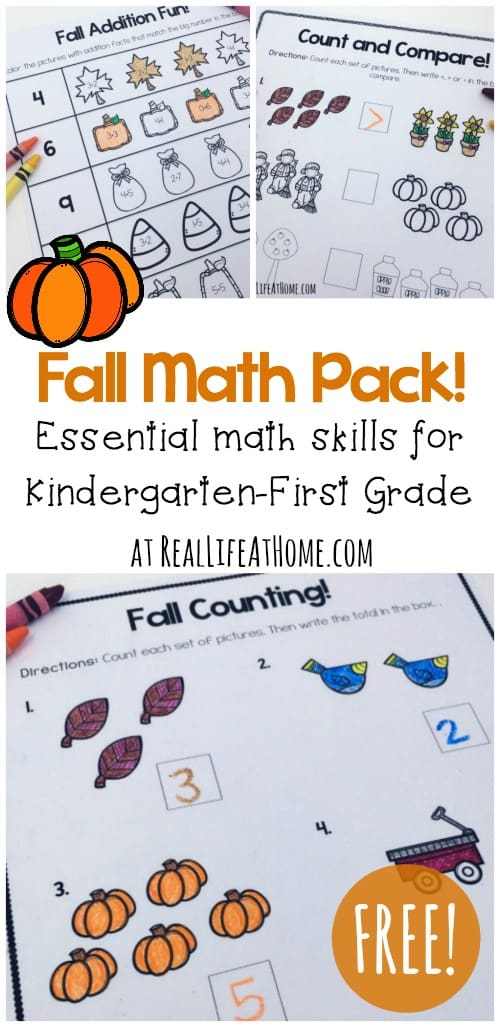 ---
Related Reading:
---
Fun Math Printables: Fall Worksheets for First Grade and Kindergarten
This fun and free printable set covers a variety of early math skills. Topics covered are:
Counting to 10
Comparing numbers to 10 using >,< and =
Addition facts to 10
This set of Fall-themed math pages is the perfect supplement if you are learning about Fall, apples, leaves or pumpkins.
Plus, each of the pages are in black and white for easy printing. This also allows kids to have fun coloring all their Fall favorites while they practice their math skills.
Counting to 10 pages:
First in this set of fall math worksheets are two counting practice pages. This helps kids practice counting, one-to-one correspondence, as well as writing the numerals from 1-10.
The first page covers the numbers from 1-5 and the second covers the numbers from 6-10.
Comparing numbers pages: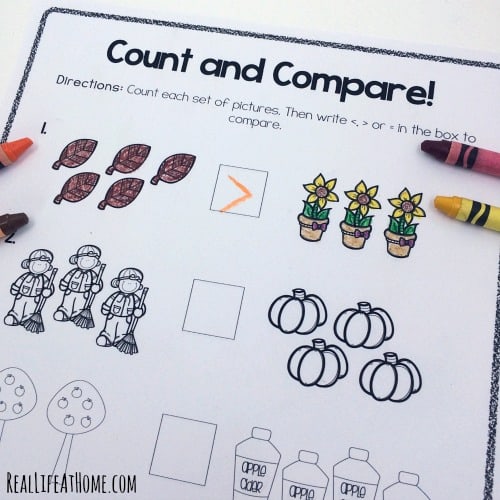 The second set of practice pages builds on the counting pages. To complete, kids must count the objects, and then decide which set is greater.
They then use greater than, less than and equal symbols (>,<,=) to complete the problem.
This is a great way for kids to practice multiple skills at once, as well as begin to use appropriate math symbols.
Take time to explain the comparisons with words as well (For example, there are more pumpkins than leaves). For more advanced kids, ask "How many more…?" questions as they compare each set to introduce them to subtraction.
Addition facts coloring pages: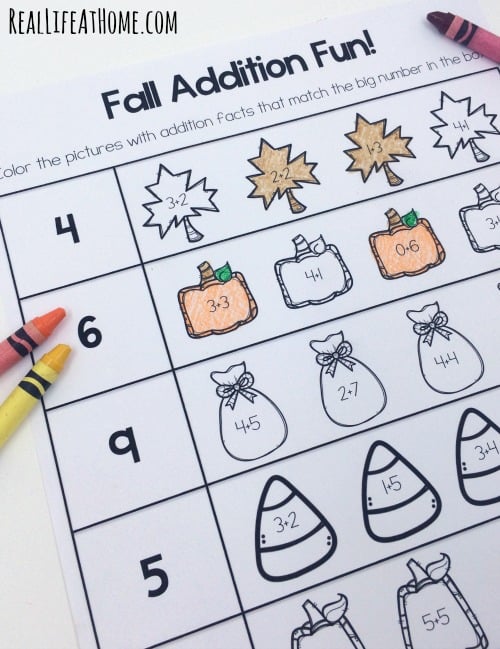 The last set of pages requires kids to color all the addition facts that are equal to a certain number.
This is designed to help increase fluency, as well as recognize the fact families for the numbers within 10.
If you teach Kindergarten or First Grade, I hope you will find these fun Fall math pages to be a useful resource!
Or if you have a preschooler, let them join in the math fun with the counting worksheets.
Download the Fall Math Worksheets Printable Pack:
Note: You need to subscribe to the Real Life at Home email list to receive this printable, but you are welcome to unsubscribe at any time. We do hope you'll stick around though, since we think you might like other subscriber exclusive printables in the future.
If you are already a subscriber, just use the email address where you already receive our emails.
Fall Math Worksheets Printable Packet
Subscribe to our newsletter and receive the Fall Math Worksheets Printable Packet.
And if you're looking for more Fall Math Fun, you may enjoy one of these activities:
Other Posts and Printables You'll Love: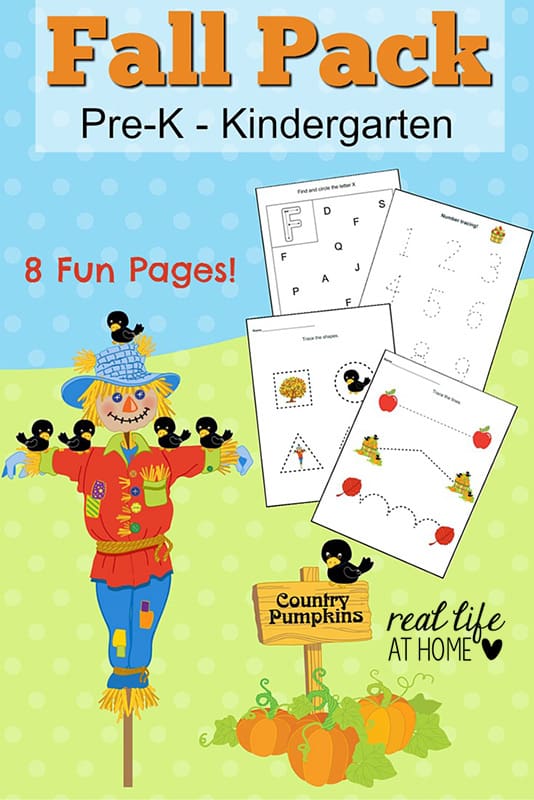 ---
Disclosure: This post contains affiliate links. They don't change the price your pay, but we may earn a small commission based on your purchase. Thank you!
Join 40,000+ Other Awesome People
Subscribe to the Real Life at Home weekly newsletter to get our latest content, exclusive free printables, learning activities, and ideas for celebrating with your kids all year