Printable Questionnaire Father's Day Mini Book for Kids Post Preview: With this questionnaire Father's Day Mini Book, children can work on telling all about their dad and showing him their love and appreciation. Kids can also color pictures throughout this Father's Day-themed mini book.
---
Father's Day is coming up in a little over a month. Why not make Father's Day extra special this year and start planning now to surprise dad with some heartfelt cards and gifts.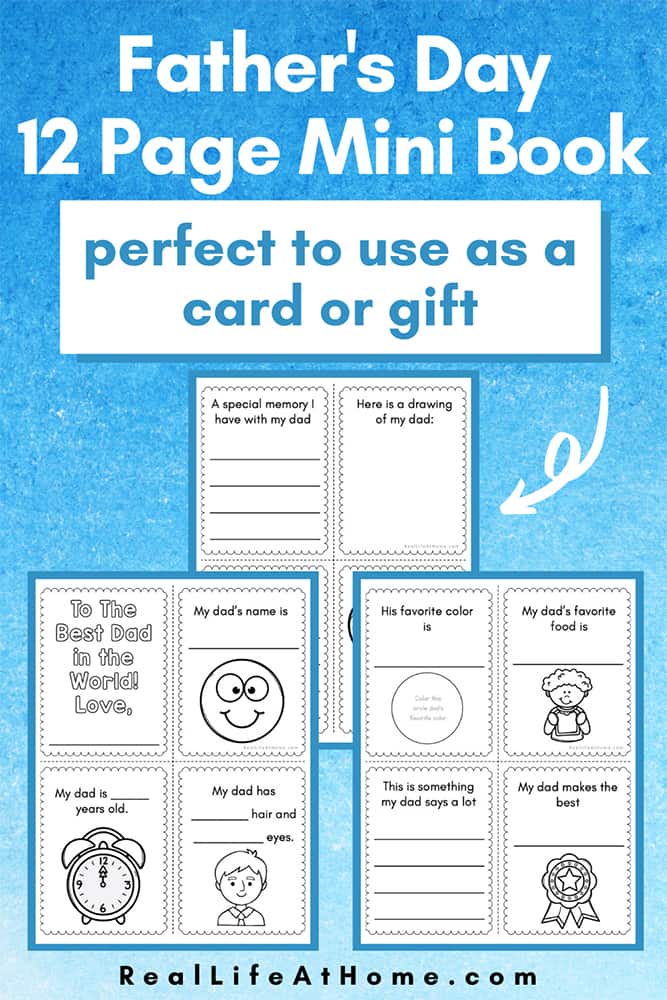 To help you out, I have this really fun questionnaire Father's Day Mini Book that could be used either in place of a card or it could be used as a gift. It's a 12 page mini book that kids can write in (or have dictated for them) and that they can color.
Plus, this printable Father's Day Mini Book is available for free!
Note: The Father's Day Mini Book download is available much farther down in the post, so be sure to scroll all the way down to get it. There is both a free and paid option for it. If you want to skip the post and the option to get it free, you can go purchase it right now instead.
---
Related Reading:
---
Printable Questionnaire Father's Day Mini Book for Kids
This printable mini book for kids is a great way to show dad some love and will be a fun keepsake for him to keep for the future. The 12-page booklet has cute pictures for kids to color in addition to filling out their answers to the writing prompts about their dad.
What's included in the Father's day Mini Book Printable?
The free printable packet is a four page download. It includes:
Terms of use page
Father's Day Mini Book Pages – this includes three full sheet pages to make a 12 page Father's Day mini book for mom. Each full size sheet includes four mini pages.
Most pages of the mini book have a picture that kids can color. However, there are a few pages that just have lines for a longer answer.
Younger children may need help with some of the writing and may even need to dictate their answers to an adult or older child who will write for them.
I encourage you to let children answer whatever they want to answer. That is part of what makes these kinds of projects so special in the future. When I was in kindergarten, one of my friends told us that her mom was 99 years old. I was skeptical at the time, but she was quite insistent that it was true.
Father's Day Questionnaire Mini Book Pages Include the Following Messages or Prompts:
Most of the pages have a picture that goes along with the prompt.
A cover page that can be colored and says that it is "To The Best Dad in the World" and it also includes "Love," and a line for the child to write their name
My dad's name is _____.
My dad is ____ years old.
His favorite color is
My dad has _____ hair and ______ eyes.
My dad's favorite food is ______.
This is something my dad says a lot
My dad makes the best
She is SO good at
A special memory I have with my dad
Here is a drawing of my dad
I love my dad because
I love you, dad! (with a heart instead of the word love)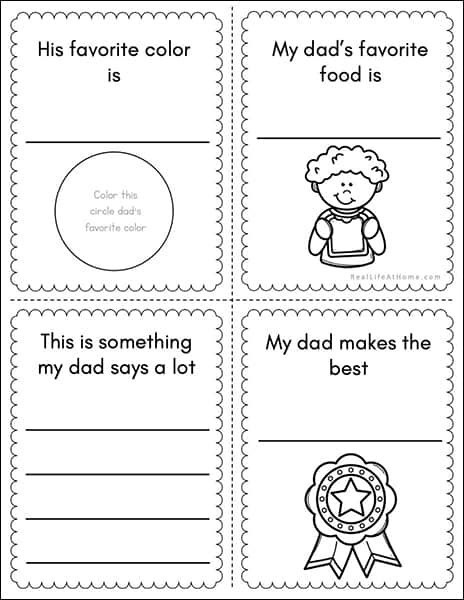 How to Assemble Your Mini Book
While I put coloring the pages in as number three in the directions, you can also opt to do numbers four and five after number 2. Then, the third item could actually come last. It all depends on if you want to have your students color in an assembled book or to color on individual pages. Your choice!
Okay, but here is one option:
1. Print out your booklet pages on white paper. These are pages 2 – 4 of the packet that you will download.
2. Cut out the pages on the dotted lines.
3. Students should color all of the pictures and fill in the prompts. For younger children, this might be best done as a multiday project. Slightly older children may not have any problem doing it all in one sitting.
4. Assemble the pages with the cover on top. The individual pages are not numbered, so the order for the rest of the pages is not important. However, I would recommend that the "I (heart) you, dad!" page should be the final page in the booklet
5. Staple the booklet together on the left side of the page or use a hole punch to make a spot for ribbon or yarn to tie the book together or to use a brass fastener.
Father's Day Extension Activities
You can keep scrolling to get to the Questionnaire Father's Day Mini Book, if you'd like. However, if you'd like some ideas for other Father's Day activities, you might like some of these!
If the mini book in this post isn't quite right for you, kids might enjoy this Father's Day Questionnaire, Father's Day Certificate, and a Father's Day printable badge.
This Father's Day handprint craft is so sweet! Plus I love that it uses inexpensive materials.
I love this printable Father definition art print. Even better – it is a digital download, so you can print it from home!
Want to wow dad this year? This custom family portrait illustration is so cool. He is sure to love it!
Printable Terms of Use for the Father's Day Mini Book
The Father's Day Mini Book printable is free for personal or classroom use, exclusively for Real Life at Home email subscribers. (It is also available without subscribing. See details in the next section.)
You may not sell, publish, or host this printable on any other website. This includes that you may not upload it to another website for people to download (Google Drive, Scribd, etc.).
Here are more printables terms of use guidelines.
Download the Father's Day Mini Book Printable
As I mentioned above, this mini book printable is free for current and new email subscribers.
If you are already an email subscriber, you can use the email address that you are already subscribed with. This will tell the system to send the download link to your email inbox. (You won't be subscribed again.)
If you are not an email subscriber and want to subscribe, fill in your name (optional) and email address. You will receive an email with the download information. You can unsubscribe at any time. (But check out all of the page full of great printables that are free for email subscribers.)
If you are not an email subscriber and do not wish to be but still want the packet, you can purchase this packet very inexpensively (just $1.25) in my shop. Click here to purchase it.
Fill out this form if you are a current or new subscriber and want the packet for free:
Another Father's Day Printable You'll Love
---
Disclosure: This post contains affiliate links. This doesn't change the price you pay. However, when you shop through them, we may receive a small compensation.