Apple Subtraction Story Problems Math Printables Post Preview: Use these free printable math tasks cards for kindergarten and 1st grade students to work on basic subtraction story problems that also have helpful pictures.
---
Story problems. It's a phrase that sends a chill down the spines of many a math student. Math can feel a lot easier when you're just given some numbers already written out as a problem.
Working on story problems is so important though of course. In life, we're rarely given our math problems nicely written out. Most of the math we solve outside of math class and math assignments are story problems. 
Today I'm sharing a free packet of twelve Apple-themed Subtraction Math Task Cards. These task cards are great for those just beginning to work on subtraction story problems since there are helpful pictures for solving the problems.
These pages can also be used as worksheets instead of task cards.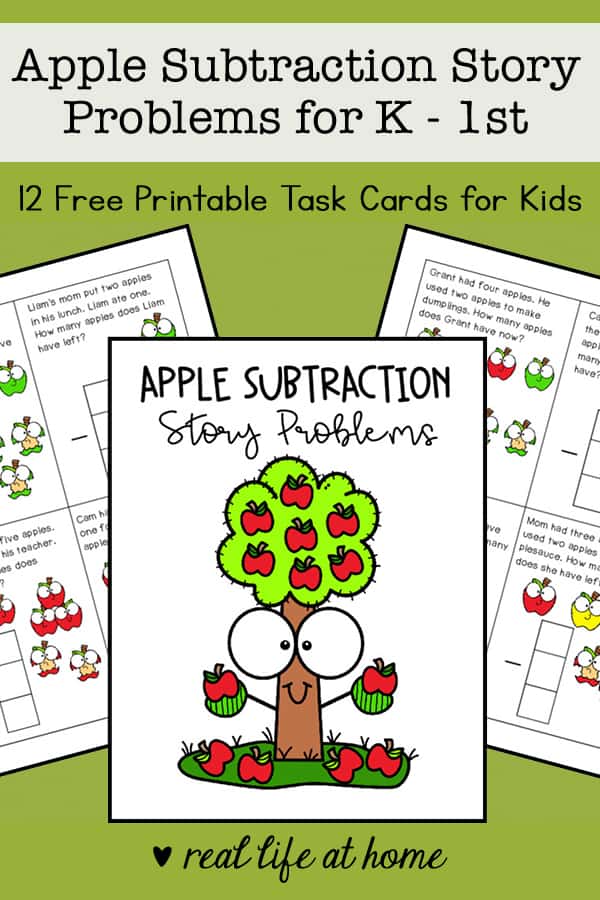 Note: The download form for the printable is available farther down in the post.
---
Related Reading:
---
Apple Subtraction Story Problems Printables: Math Task Cards for Kindergarten to 1st Grade
This apple-themed subtraction story problem printable set works on simple story problems to help kids get used to solving them.
Each story problem is set up in the same way to help kids know what to anticipate. Since repetition is very helpful when learning new concepts, this predictability is perfect for students just beginning with subtraction story problems.
There are four subtraction problems on each page. Each problem has apple illustrations next to it to help students with the problem. For example, in a story problem that will be written as 4 – 1, there will be four whole apples and then one apple core.
The pages can either be used as worksheets or you can cut them apart to use them as subtraction math task cards.
How to Use Math Task Cards
Math task cards (and task cards of any other subjects) can be used in many different ways. Students can use them individually, with a partner, or in groups. Laminated task cards are great to use at stations, in file folders, or as something to work on at home.
Here are some great articles about ways to use task cards:
How to Use This Apple Math Task Cards Printable Set
You should print out the pages with the story problems on white printer paper or white cardstock.
If you would like to be able to reuse these math task cards, I recommend laminating the cards.
For easy storage, you could consider putting all of the cards in a large Ziploc bag or manilla envelope. If you are doing this option, you should definitely laminate the cards prior to storing them like that.
You could also make these math task cards into a file folder activity. Just paste or laminate each task card onto a file folder and keep a dry erase marker handy.
---
Related Reading: Apple Unit Study for Preschool and Kindergarten
---
More Apple Fun: Other Apple-themed Extension Activities
Here are a few ideas for adding some more apple-themed activities as an extension to the apple-themed story problems.
My friend Rob from Art for Kids Hub and his oldest daughter have an easy to follow drawing tutorial on how to draw apples in a bushel basket. Not only is this a fun activity, but the video can help kids work on following step-by-step directions.
Work on logic and problem solving with these free printable apple-themed suduko puzzles for beginners.
Add some books with apples as the main topic to your day. I love these suggestions of awesome apple-themed books from Mama's Learning Corner.
Crafts are a fun way to extend an activity! Here are 15 Apple Crafts Your Kids Will Love.
Subtraction Story Problems Printable Terms of Use
The subtraction story problems printable packet is free for personal or classroom use, exclusively for Real Life at Home email subscribers. (It is also available without subscribing.)
You may not sell, publish, or host this printable on any other website. This includes that you may not upload it to another website for people to download (Google Drive, Scribd, etc.).
Here are more printables terms of use guidelines.
Download the Apple Subtraction Story Problems Math Task Cards Printable Set
As I mentioned above, the packet is free for current and new email subscribers.
If you are already an email subscriber, you can just use the email address that you are already subscribed with. This will tell the system to send the download link to your email inbox. (You won't start getting double the emails. This is just your way to tell the system that you want to get the download link.)
If you are not an email subscriber and want to subscribe, just fill out your name (optional) and email address and then you'll receive an email with the download information. You can unsubscribe at any time. (But check out all of the page full of great printables that are free for email subscribers.)
If you are not an email subscriber and do not wish to be but still want the packet, you can purchase this packet very inexpensively in my shop. Click here to purchase it.
Fill out this form if you are a current or new subscriber and want the packet for free:
Apple Subtraction Story Problems Packet
Subscribe to our weekly newsletter and receive the
Apple Subtraction Story Problems Packet as a free gift.
More Printables You May Love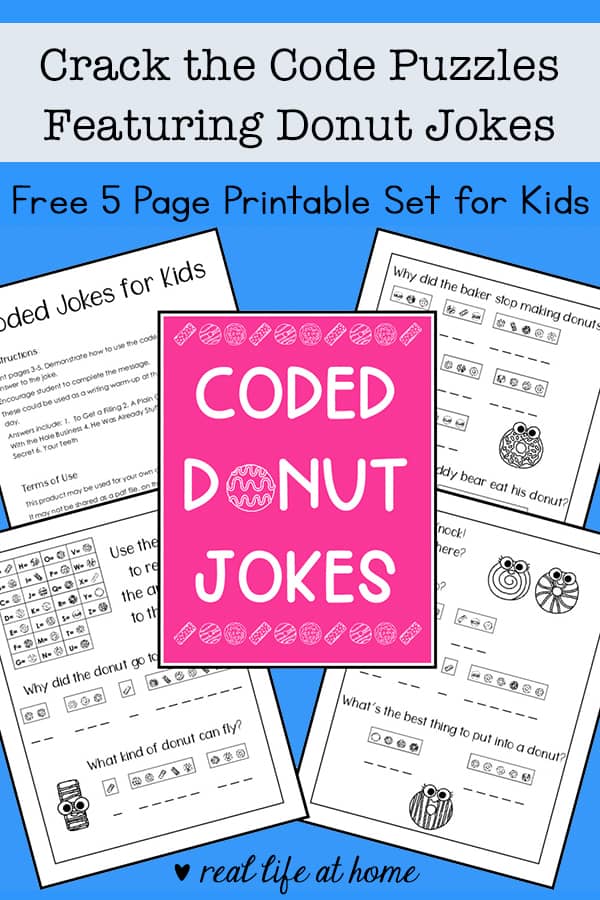 ---
Disclosure: This post contains affiliate links. They do not change the price you pay. However, when you shop through them, we may receive a small compensation.
Apple Subtraction Story Problems Packet
Subscribe to our weekly newsletter and receive the
Apple Subtraction Story Problems Packet as a free gift.