Add a fun visual learning aspect to working on additions facts and learning sums of 10 with this free printable. Students will use a rainbow and all of the numbers between 0 – 10 to write out addition problems that result in sums of 10. Just grab this free printable and get ready for your next math lesson!
---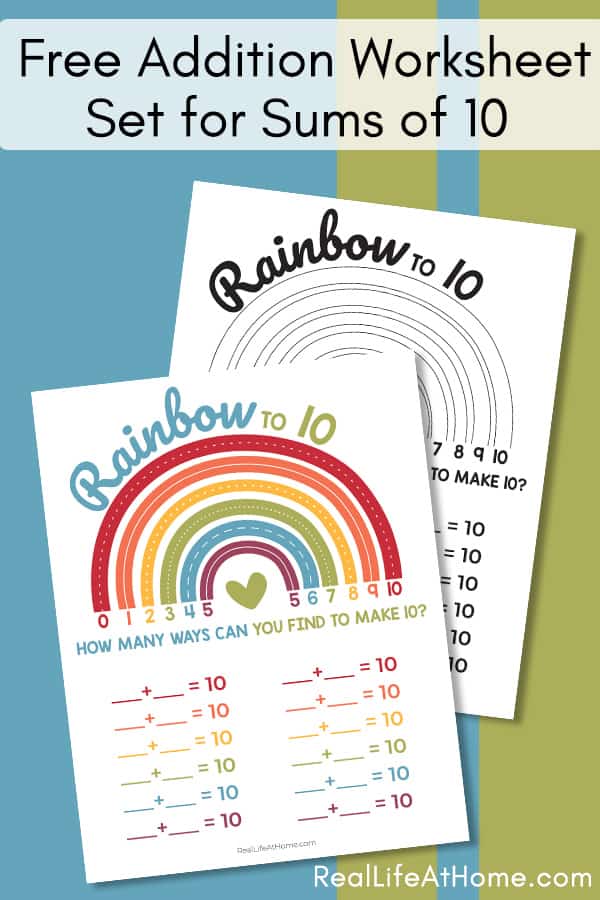 Free Printable Math Addition Worksheets
This printable addition math worksheet uses a rainbow as a visual aid for working on sums of 10. You can use the bright colorful version of the worksheet or save on printer ink and use the black and white version. If you use the black and white version, you can let students color the rainbow they'll be using as a visual aid.
Your kids or students will love this no prep math worksheet to work on finding all of the addition problems with sums of 10.
Age and Grade Levels for the Sums of 10 Math Worksheet
This no prep math worksheet is good for children in kindergarten – 1st grade. Depending on their math abilities and needs, this worksheet can be used with a wide variety of ages. The rainbow visual aid that links the numbers together that go together to be sums of 10 will help younger students with this worksheet.
This worksheet can also pair well together with math manipulatives. Students can use both the rainbow arcs plus math manipulatives, such as counting bears, to make their math problems.
When completing the worksheet, be sure to let students know that they should write down the numbers that add to 10 in both orders. For example, 1 + 9 = 10 will be an answer. 9 + 1 = 10 will also be an answer.
How to GRab and Print The Sums of 10 Addition Math Worksheet
Feel free to check out all of the resources that I have shared in this post plus the other ideas and activities included. However, if you want to go straight to the printable, scroll toward the bottom of this post. Just under the terms of use section, you'll find a graphic and a text link to grab the printable. The text link will say >>>> Grab The Free Sums of 10 Math Worksheet Set <<<<.
The pdf file for the math worksheet set will open in a new window. Once you open it, you can either print right from there or save the freebie to your computer or device to print later. (I recommend saving and then printing after opening it on your computer or device.)
If you have any printing issues, I have some tips here that can help with a variety of issues that sometimes pop up because of different web browsers or updates.
I recommend printing this packet on regular white printer paper since the color version prints best on white paper while printing on white paper for the black and white version allows students to color the rainbow. I have included both color and black and white to give you an option to save on printing costs with the black and white version.
What's Included in the Sums of 10 Math Worksheet Packet?
Pages included in the free packet: 
Terms of use/copyright page
Rainbow to 10 Worksheet in Color – this option is in full color to be extra fun and visually appealing
Rainbow to 10 Worksheet in Black and White – this option is identical to the color version other than being in black and white. There are areas for students to color before or after doing the math activity.
More Math Printables and Activities for Kindergarten – 1st Grade
If you're looking for more math worksheets and printables for kindergarten and first grade, you'll want to check out some of these:
Kindergarten and 1st Grade Worksheets and Printables
Rainbow Crafts and Activities
Would you like some more rainbow crafts and activities? You're sure to find some crafts and activities your kids will love here:
Rainbow to 10 (Sums of 10 Worksheet Set) Terms of Use
Before you access the printable, please know that grabbing your copy means you agree to all of the following terms:
This packet is for personal family use or single classroom use only.
This printable set may not be shared, sold, hosted, distributed, or stored on any other website including, but not limited to, school/church websites, other blogs, Scribd, Google Drive, DropBox, Facebook, etc. (You may, however, store it in your personal Google Drive or DropBox if you are the only person with access to it.)
You may not change this packet, copy it as your own, or claim this as your own.
All graphics in this packet have been purchased and used with permission. You may not use the graphics for other projects.
All materials (posts, printables, etc) on this site are copyright protected.
Here are more printables terms of use guidelines.
Get the Math Worksheets Printable Packet
The Sums of 10 Math Addition Worksheet set is a completely free packet available here on Real Life at Home. The link will open in a new window and you can download it from there:
---
Disclosure: This post contains affiliates links. They do not change the price you pay. However, when you shop through them, we may receive a small compensation.
Apple Subtraction Story Problems Packet
Subscribe to our weekly newsletter and receive the
Apple Subtraction Story Problems Packet as a free gift.