Free Printable Polling and Graphing Worksheets for Kindergarten – 2nd Grade: Help early elementary students learn to gather, record, compare, and analyze data with this simple polling math worksheet set and activity.
---
In an election year, there is always a lot of talk about polling numbers. But even in non-election years, there are always lots of types of information presented as surveys.
Although they hear about these a lot, lower elementary students may not be familiar with what polling or surveys are. I have a great printable set today that will help introduce students in kindergarten – 2nd grade to polling and surveys. (How to Do a Survey for Kids)
In these simple polling and graphing worksheets, students will use a small sample size and sweater color preference to gather, record, compare, and analyze data.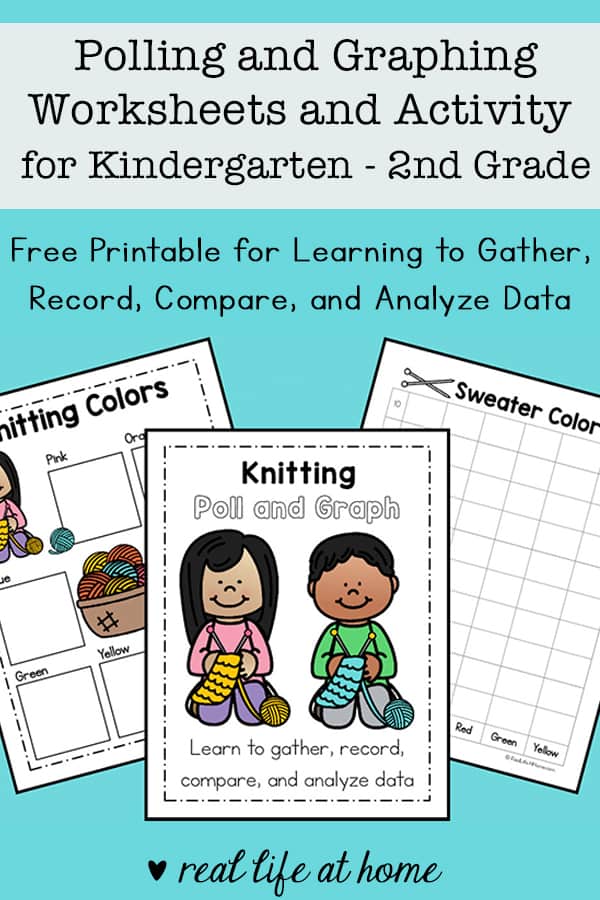 Note: The polling and graphing worksheets free printable set is available much farther down in this post.
---
Related Reading:
---
Free Printable Polling and Graphing Worksheets for Kindergarten – 2nd Grade
Working on both gathering polling data and graphing that data are great activities for kids. This simple set is a fabulous beginning way to work on these concepts.
With this packet, kids can work on:
Interacting with others while gathering their data (as well as how to best ask questions to gather that information)
Methods for recording their data
Analyzing their data through simple graphing
Comparing their data to come up with results
Even better, this packet is totally free and a great hands-on activity. Score!
Want another hands-on activity to go along with this? Since it's all about sweaters and knitting, students could work on finger knitting
projects or they could even knit a hat with the help of a Knifty Knitter loom or other loom knitting set!
Polling and Graphing Worksheets for Kindergarten – 2nd Grade Content Included
This packet is five pages in length. It's a free printable with no opt-in required!
The first two pages are a cover page and terms of use/copyright page. The terms of use/copyright page also includes directions for how to use the polling and graphing worksheets with students. You likely won't need to make copies of either of these pages.
The packet also includes three pages of printables for the polling and graphing activity.
There are two pages of "Knitting Colors" worksheets. One is in color and the other in black and white. You will only use one of these with your children or students. If you use the black and white version, there are graphics that students can color.

The last page of the packet is a graph for recording data. This page is also black and white.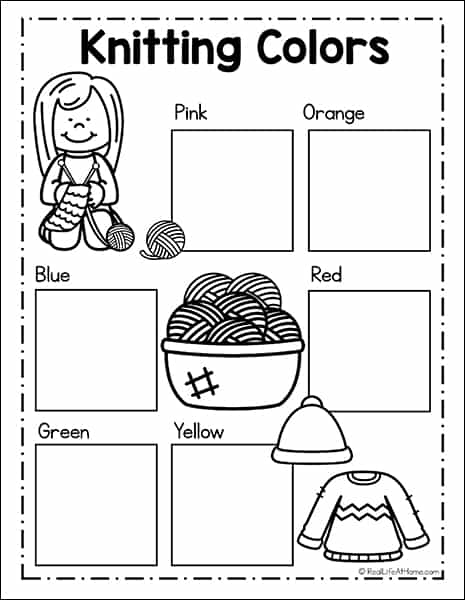 How to Use the Polling and Graphing Worksheets Printable Set
1. Print one tally page, which is titled Knitting Colors, (either black and white or color, not both) and one graph page per student.
2. Demonstrate to your students or children how to ask their polling question by asking one what sweater color they would like to have knitted for them.
3. Show students how to record their data on their data page by demonstrating how to make tally marks, including a group of five tally marks.
For younger students, it might be easier to just make a dot or circle to record answers instead of tally marks. However, I would recommend trying tally marks first.
4. Have students poll ten family members, friends, or classmates about their preferred sweater color from the list of choices (pink, orange, blue, red, green, and yellow). Students should record each answer as they get it on their tally sheet.
5. It's graphing time! Once your students or children have their data, show them how to graph their first color. Then, have students do the other five colors on their own.
6. Have a discussion with students to help them compare and analyze the data in their finished charts. There are some suggested discussion questions on the copyright/directions page.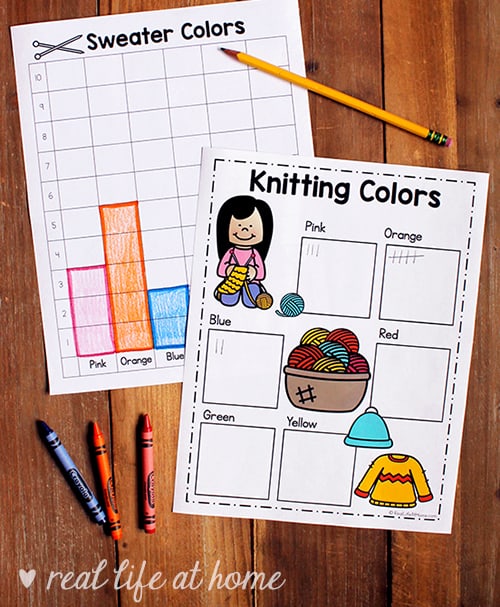 Ages for Worksheet Set
While I have this marked as kindergarten to second grade, you will always know your own students or children better than I do. This may be appropriate for children both younger and older than the suggested age range, depending on individual abilities and educational needs.
Since this is a free download, you'll be able to get it and check it out before deciding whether to use it.
A Few More Resources for Tally Marks and Graphing with Kids
Polling and Graphing Printable Set for Kids Terms of Use
This Polling and Graphing Worksheets Printable Set is a free download for personal or classroom use. When you make copies, please make sure that you keep the copyright information on all copies.
You may not sell, publish, or host this printable set or the individual pages on any other website. This includes that you may not upload it to your website or any organization's website for people to download.
If you want to pass along the printable to others, please feel free to share a link to this post (not directly to the printable) with others. Thanks!  (Printables terms of use)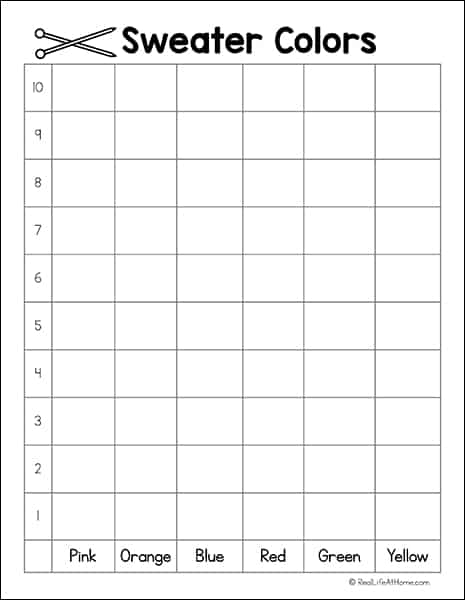 Download Your Polling and Graphing Printable Packet for Kindergarten – 2nd Grade
This packet is a completely free download available exclusively on Real Life at Home:
Download the Free Packet for Polling and Graphing Here
If you have any issues with the clarity of this printable, your web browser may be to blame. I have some tips to help you with this!
Other Free Printables You May Love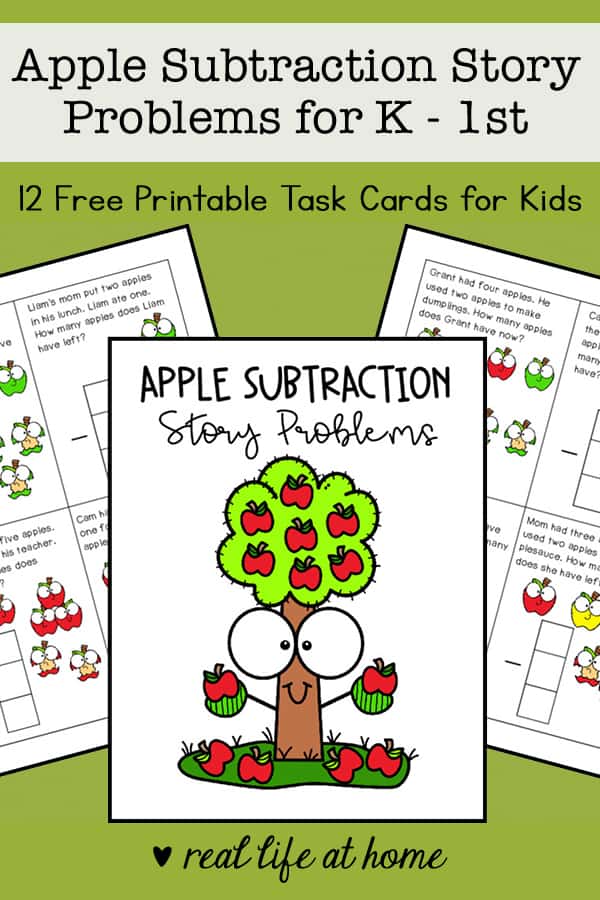 ---
Disclosure: This post contains affiliate links. They don't change the price you pay. However, when you shop through the link, we may receive a small compensation.
Join 35,000+ Other Awesome People
Subscribe to the Real Life at Home weekly newsletter to get our latest content, exclusive free printables, learning activities, and ideas for celebrating with your kids all year