Crack the Code Puzzles Free Printable Featuring Donut Jokes: Need some brain teasers and problem solving for kids? They'll enjoy these Crack the Code Puzzles featuring some silly donut jokes.
---
Ah, donut jokes. Not only are they tasty, but they're funny too.
Okay, maybe donut jokes are not actually tasty. But donuts definitely are! My family has currently been on a donut hole kick. Every time I buy a package of them, it's not long before they're gone.
Did you know that there is even a National Donut Day? It's the first Friday of June and it dates back to World War I. Actually, there are two National Donut Days, with the second being in November. I guess with donuts, it's just hard to get enough of them.
So, whether it's National Donut Day or not, grab some donuts and enjoy this Crack the Code Puzzle Printable Packet full of Donut Jokes!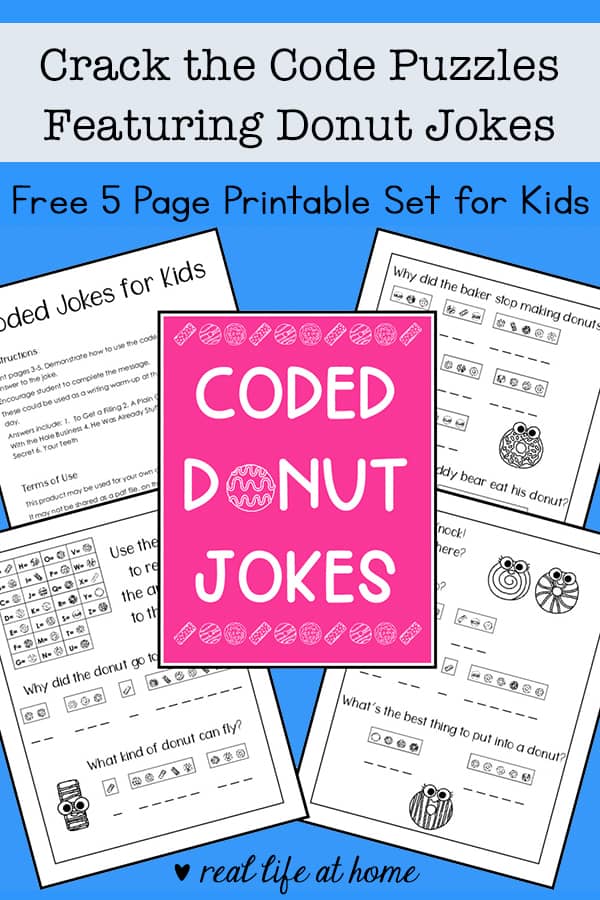 Related Reading:
Crack the Code Puzzles Free Printable Featuring Donut Jokes
Working on crack the code (or secret code) puzzles is a great activity for kids. They can work on recognizing patterns, visual discrimination, problem solving, and more.
Even better, this packet is totally free! So, it's a bonus for both kids and parents/teachers. Score!
Now, I'm not going to tell you that you have to give the kids some donuts while they work on these crack the code puzzles. But, it's a pretty sweet treat to include some. Heck – you could even make your own donuts from scratch or with a fun little donut making machine.
Crack the Code with Donut Jokes Printable Content Included
This packet is five pages in length. It's a free printable with no opt-in required!
The first two pages are a cover page and terms of use/copyright page. The terms of use/copyright page also includes directions for working on the crack the code puzzles. You won't want to give this page to students, however, as there is also an answer key on this page.
The packet also includes three pages of crack the code donut jokes, with two different donut jokes on each page.
There are also fun donut graphics throughout that kids may opt to color.
How to Use the Donut Jokes Crack the Code Printable Set
There are a total of six different donut jokes on the three pages. Kids will use the codes to figure out the punch line to each silly donut joke.
On the first of the three donut joke pages, you'll find the key for breaking the code. Children will need to keep that page handy since they will use it to solve the punch line of each of the jokes.
You can decide whether to give all three pages of the packet at once or just one at a time. Of course, just remember that they will have to hold on to that first page to have the code to keep referring back to.
A Few More Resources for Code Breaking and Secret Messages
Donut Jokes Crack the Code Printable Set Terms of Use
This Donut Jokes Crack the Code Printable Set is a free download for personal or classroom use. When you make copies, please make sure that you keep the copyright information on all copies.
You may not sell, publish, or host this printable set or the individual pages on any other website. This includes that you may not upload it to your website or any organization's website for people to download. If you want to pass along the printable to others, please feel free to share a link to this post (not directly to the printable) with others. Thanks!  (Printables terms of use)
Download Your Free Donut Jokes Crack the Code Printable Packet
This packet is a completely free download available exclusively on Real Life at Home:
Download the Free Crack the Code Puzzle Packet with Donut Jokes Here
If you have any issues with the clarity of this printable, your web browser may be to blame. I have some tips to help you with this!
Other Free Printables You May Love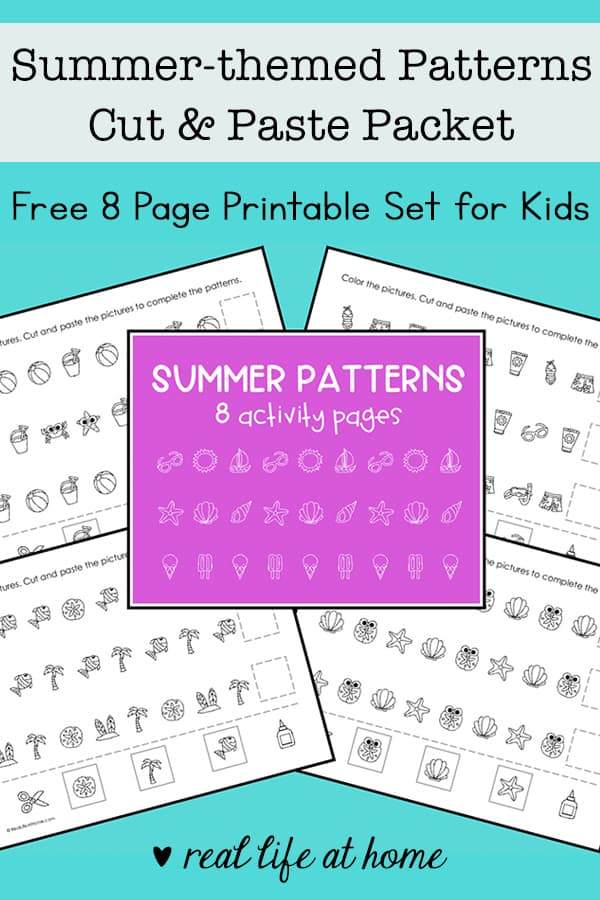 ---
Disclosure: This post contains affiliate links. They don't change the price you pay. However, when you shop through the link, we may receive a small compensation.
Join 40,000+ Other Awesome People
Subscribe to the Real Life at Home weekly newsletter to get our latest content, exclusive free printables, learning activities, and ideas for celebrating with your kids all year