Fall is upon us, and apples are in season. Plan a visit to an orchard in your area while working on an apple unit study. Here are our favorite apple crafts, books, and resources to get you started on your apple unit study after that orchard trip!
Apple Unit Study for Preschool and Kindergarten
We use the Memoria Press classical curriculum, and this book was a recent read aloud. It quickly became one of my daughter's favorites. Follow along to find ingredients for the perfect apple pie, all over the world.
If you use a classical curriculum, or Five in a Row, you can find copywork here. You could also quiz your child on their comprehension of the story with these matching transportation cards.
My daughter wanted to make an apple pie, but I'm inept with cooking. I'm thinking this Melissa and Doug Apple Pie kit might be a better idea for us.
If you're up to the challenge, here is a basic apple pie recipe. (Of course, if an apple pie really isn't going to happen, you could always try these apple nut muffins or easy apple crisp recipe instead.)
Are you ready to visit an apple orchard? This adorable book from Michele Slawson will help get you in the mood. Beautiful watercolor illustrations accompany the harvest story. Ages 4-8.
Finish off your reading time with a peekabo apple craft. You probably have most of the craft supplies on hand. Need a little more fun? Check out the apple harvesting game. (may be too difficult for young children)
No list about apple books would be complete without this Dr Seuss classic! Children can practice counting, rhyming, and identifying sight words. Ages 4-8
Keep working on math skills with Apple Grid games like these.
The hysterical Amelia Bedelia is back again, taking everything literally. She visits the farmer's market, thinking that it's a place to buy farmers! Her antics bring giggles to children and grown ups, too! Ages 4-8
If you don't have the time to make an apple pie, how about some apple pie play dough?

Ready for a tasty apple treat? These apple rice krispy treats are perfect for home or for sharing with friends!
Ready to work on fraction skills? This book gets you started with dividing apples into halves, thirds, fourths and more. You'll also learn about different varieties of apples. Ages 4-8
Keep your math skills sharp after story time with this review game. Dot to dot pages help reinforce fine motor skills.
The simple rhyming text in this story is sure to delight preschoolers.
This homemade fall scented playdough is also sure to delight them! Not only are there two different types of apple scents – green apple playdough and apple playdough, but you'll also be able to try out cinnamon playdough and pumpkin playdough.
It's time for science! Learn the life cycle of the apple before you head off to the orchard! Ages 4-8. You can even practice this apple rhyme, or create felt board sets.
Follow Annie as she makes applesauce, muffins, and even apple cider! Delicious! Ages 3-7.
You'll love these apple life cycle worksheets, apple blank writing pages, apple-themed cutting practice pages, and apple printables all from Lauren at Mama's Learning Corner.
More science here, with lessons about trees, pollination, seasons of the year, birds and more.
Don't miss this lapbook for more fun activities after you've finished the book. Older students can practice their literary skills with an apple word find.
Finish out your apple unit study with the legend of John Cabot, better known as Johnny Appleseed. This tale reinforces the need for kindness and respect for all living things. Ages 4-8.
Wrap up your apple unit study with this giant resource from Erica – everything from Bible verses, math and phonics is included here!
Lauren from Mama's Learning Corner also has a whole printable unit study about Johnny Appleseed and Johnny Appleseed coloring pages.
You can also get this whole read, trace, and write Johnny Appleseed Packet for free on Real Life at Home.
What apple books are you reading this fall? Leave a comment with your favorites!
Other Posts You May Like: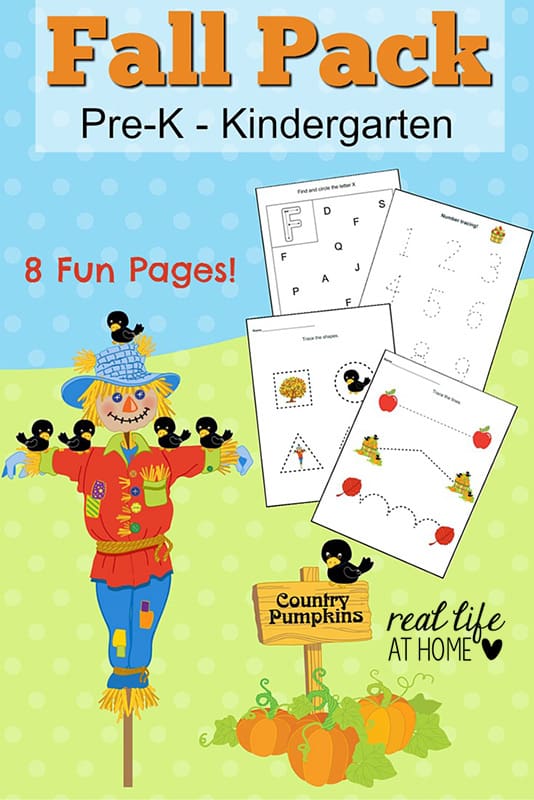 ---
This post contains affiliate links. They don't change the price you pay. However, when you use them to shop, we may receive a small compensation.
Fall Math Worksheets Printable Packet
Subscribe to our newsletter and receive the Fall Math Worksheets Printable Packet.