It seems like January only just started, and here it is, already wrapping up!  In order to start getting ready for February, I am compiling some great free February printables for kids to grab that can be found here at Real Life at Home.  
There are a variety of free printables valentines, educational word searches and crossword puzzles with February themes, Lenten printables, printables for Catholic families, and more.
Free February Printables for Kids and Families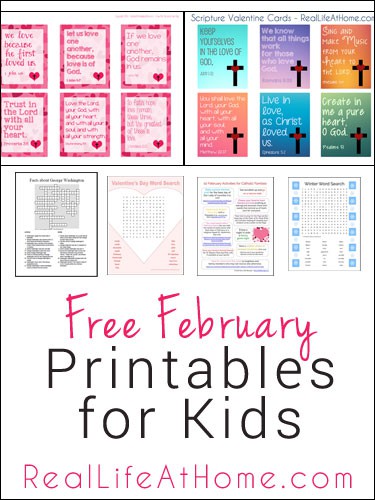 Free Printable Valentines for Kids
If you don't want to use any of these valentines for Valentine's Day, these would also be great as lunch box notes!
I really like Scripture-based valentines for kids, so I've made three different versions (one in 2014, one in 2015, and one in 2017):
Know what else I love? Star Wars!
In fact, I have so many Star Wars shirts that you can usually find me wearing one. (Like even now, when I'm wearing one to bed.)
Here is a whole set of free printable Star Wars Inspired valentines and coloring pages:
---
Free Printable Valentine's Day Games, Puzzles, and Activities for Kids
One of my favorite holidays when I was a kid was Valentine's Day.  To celebrate, I've got several different types of St. Valentine's Day printables, such as word searches and activities:
Saint Valentine's Day Word Search (Religious)

This post about the Valentine's Day Paper Rose Cut Out Craft has step-by-step directions, as well as a free printable template.

Saint Valentine's Day Activity Page Placemat Printable
Saint Valentine 14-page Printable and Worksheet Packet
(This one is not free, but it only costs a couple of dollars)
---
Free February Printables for Preschoolers
I have several sets of free printable packets for preschoolers on the site, but here are a couple of the sets that would be especially perfect for using during February:
Valentine's Day Printables for Preschoolers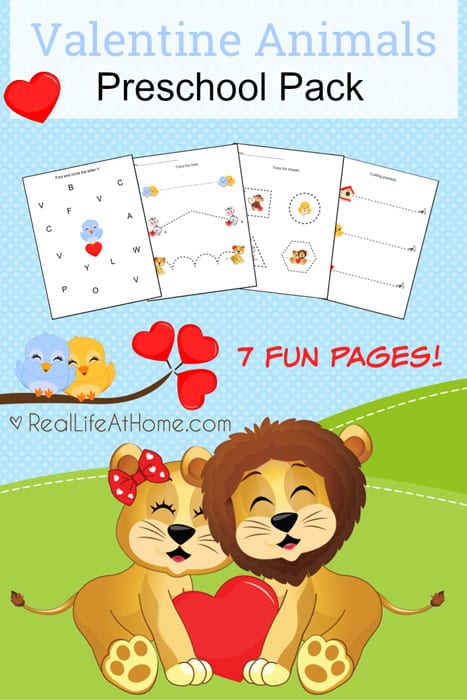 Valentine Animals: Free Printable Packet for Preschoolers
---
Monthly Liturgical Membership
Perfect for families! Each month you gain access to printable activity pages, crafts, home altar pieces, and more.
Never has living the liturgical year been so easy and affordable!
---
Antarctic and Arctic Animals Printables for Preschoolers
---
February Activities Printable for Catholic Families
The monthly activities for Catholic families printable is always popular:
February Activities for Catholic Families Printable
If you want to work more on the saints and feast days in February, I would recommend also grabbing the February Saints and Feast Days Word Search printable.
---
Free Printables for Lent
Since Lent often begins in February (but not always – like this year when it begins just after February, with Ash Wednesday being on March 1st), you might want to grab a monthly activity page that is for Lent and Holy Week.
Plus, there are some other Lenten themed printables worth saving – some specifically for Catholic families and others perfect for anyone who observes the season of Lent.
10 Activities during Lent and Holy Week for Catholic Families
40 Lenten Activities for Families Printable
The On the Road to Easter Word Search printable features words having to do with Lent and Holy Week as well:
Here is a way for both kids and adults to plan out what they might do to make Lent more meaningful this year – Planning for Lent pages:
---
I know that we're probably tired of it being winter, but February is still very much winter.  Well, at least on the half of the Earth where I live.  So, you might want the Winter Word Search printable.
---
February is also a time for Presidents' Day!  We celebrate both Abraham Lincoln and George Washington's birthdays in February.  If you're studying these presidents, some crossword puzzles with clues about their lives just might be in order!
---
While these aren't printables, some other great February activities you might want to check out:
---
Disclosure: This post contains affiliate links. They don't change the price you pay. However, we may receive a small compensation when you shop through them. Thanks!
Join 35,000+ Other Awesome People
Subscribe to the Real Life at Home weekly newsletter to get our latest content, exclusive free printables, learning activities, and ideas for celebrating with your kids all year