When I was growing up, I didn't really know that there were all kinds of different butter and spread products available.  Honestly, I kind of thought LAND O LAKES® Butter was the only butter there was.  Even now, when I think of the word butter, LAND O LAKES® is exactly what pops into my head.
At the two places I ate most often, my own home and my grandparents' house next door, LAND O LAKES® Butter was the only butter to be seen.  Of course, this probably makes sense with me growing up in Wisconsin, and my mom and grandparents both being from Minnesota.
I know it may sound crazy, but LAND O LAKES® Butter kind of feels like a family tradition to me.  I guess I'm not the only one, because when I mentioned this campaign to my Mom, she said that it made her think of her own beloved grandma, since she lived right near a Land O'Lakes plant in Minnesota.
In fact, when I was asked to participate in this campaign, I didn't even need to go to the store to pick up the Land O Lakes® Butter with Canola Oil, since I already had two in my refrigerator.
I better stop for a minute here, because it's starting to sound like I have an odd reverence for LAND O LAKES® Butter, right?  But, seriously – how can you not have some pretty strong feelings about a food that not only tastes amazing, but also makes you remember so many memories?
One of my memories was always the difference between the butter at our house and my grandparents' house.  Though it was the same butter, my mom always set out the old paperboard container of LAND O LAKES® Butter ahead of time to soften it, while my grandma left it in the refrigerator and you basically chiseled it out when it was time to use.
That's the main reason that I love the new Land O Lakes® Butter with Canola Oil.  I can still have the flavor-enhancing qualities of real butter, but I can actually easily spread it right out of the refrigerator.  Plus, of all of the spreadable butter products on the market, Land O Lakes® Butter with Canola Oil has the fewest ingredients.  There are just three: sweet cream, canola oil, and salt.
That sweet creaminess makes Land O Lakes® Butter with Canola Oil perfect for enhancing the flavors of food, but especially all of the wonderful fall foods that you're probably seeing pop up all over your Pinterest feeds.  Mmm…fall food.  I love it.
One fall food recipe that we love is the Apple Nut Muffins that I'm sharing a recipe for today.  Although it uses applesauce as part of the recipe (and not whole apples), we love going apple picking in the fall, so apple-anything always make me think of crisp fall days in the apple orchard with my family.
My family loves these muffins so much that they could barely contain themselves waiting for me to take pictures of them.  Eric quickly said that he would take the muffin that I had already buttered as soon as I was done, especially because the day I was taking pictures felt particularly warm and it made the butter with canola oil look especially enticing.
Apple Nut Muffins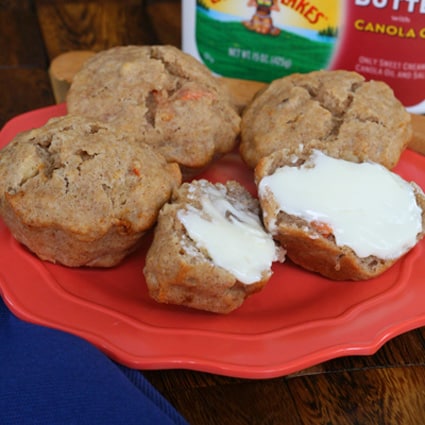 Apple Nut Muffins
Ingredients
1/2

cup

shredded carrots

1 1/3

cups

applesauce

1/2

cup

vegetable oil

1

tsp

vanilla

2

eggs

3/4

cup

granulated sugar

2 1/4

cups

all-purpose flour

1

tsp

baking powder

1/2

tsp

baking soda

1/2

tsp

salt

1 1/2

tsp

cinnamon

1/2

tsp

nutmeg

1/2

cup

walnut pieces

you can use pecans, if you prefer
Instructions
Preheat oven to 350 degrees F.

Combine the shredded carrots, applesauce, vegetable oil, and vanilla in large bowl.  Although I almost always used my stand mixer for recipes, I mixed this in a regular mixing bowl because it's all very easily mixed by hand.

Add eggs and sugar to the wet ingredients and mix well.

In a different bowl, mix together the flour, baking powder, baking soda, salt, cinnamon, nutmeg, and walnuts.  Mix these together until well blended.

Add the dry ingredients to the wet ingredients bowl.

Do not over mix them. Just combine them until the dry ingredients, well, until they no longer look dry.

Use liners with your muffin tins or grease the pan.  I use my Silpat muffin pans, so I don't use liners or have to grease the pan.  Bonus!

Fill each muffin well 1/2 - 3/4 full.

Bake muffins for 24 - 28 minutes.  Mine take right around 27 minutes, but I would definitely keep an eye on yours until you know how long they take in your oven.

Allow to cool and then enjoy them!
Join 40,000+ Other Awesome People
Subscribe to the Real Life at Home weekly newsletter to get our latest content, exclusive free printables, learning activities, and ideas for celebrating with your kids all year