Known as both The Lord's Prayer and the Our Father, this is the prayer in which Jesus taught us how to pray. Finding the words that appear in bold on The Lord's Prayer / Our Father Word Search free printable is a great way for your kids to work on reading through the prayer and then finding some of the words hidden in the puzzle.
Among the words that I picked to put in bold throughout the prayer are some of the ones that can be a bit more difficult to fully understand for younger children. Having them separated out in bold print can be a great opportunity for you to talk to your children about what the various words mean.
Having been both Protestant (Episcopalian) and Catholic during my life so far, I've used two different version of this prayer. Because of this, I decided to include two different versions of this printable. For both your ease and mine, I went ahead and just put both versions together into one download. Just pick out the one that aligns with your faith tradition and print out just that page for your children.
The Lord's Prayer / Our Father Word Search Printable: Terms of Use and Download Link
This download is free for personal or classroom use. It can also be put into church bulletins or newsletters, but the copyright credit line must be included (which just means to make sure that you don't accidentally crop off the line with the copyright/website information at the bottom of the printable when you are reproducing it to hand out). 
It cannot be sold, published, or hosted on other websites. If you want to pass along the printable though, please feel free to share a link to this post (not directly to the printable) with others. Thanks!
Post continues after this brief information about a monthly membership to help you live the liturgical year
---
Monthly Liturgical Membership
Perfect for families! Each month you gain access to printable activity pages, crafts, home altar pieces, and more.
Never has living the liturgical year been so easy and affordable!
---
---
Link for the Lord's Prayer / Our Father Word Search:
---
*If you are having clarity issues with the printable, please right click on the image and choose "Save Link As" and download the document to your computer. Then, open it from your computer, rather than through your web browser's PDF plugin, which can sometimes cause some blurriness or other issues, particularly in Mozilla Firefox.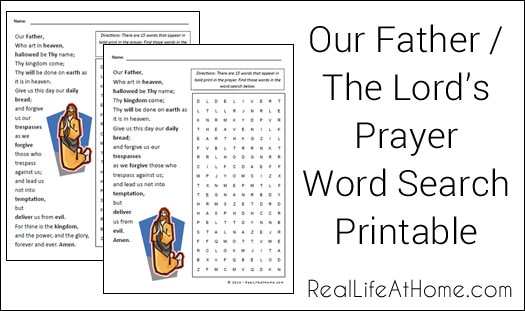 Other Free Printables that Might Interest You:
This post contains affiliate links. They don't change the price you pay. When you shop through them, however, we may receive a small compensation.
post updated August 2017 (originally published 9/2/14)
Gifts of the Holy Spirit Printables Packet
Subscribe to our email list and receive the Gifts of the Holy Spirit Packet.