While I love sharing printables that I've made, I always have a little song in my heart when I get to share a printable that my husband has made for you guys.  After he drew this picture of a little girl praying at her bedside to use as a coloring page, I immediately loved how happy she looked while in prayer.
Because the little girl looked so happy, I added "I will pray with a happy heart" to the page.
I also thought this was a fun coloring page because some kids may enjoy really doing some fun interior design by decking out the little girl's room, curtains, and bedding in some fun colors or designs.
Important: Please make sure to read the Terms of Use for all printables from Catholic Printables Online before printing/using.  Thanks!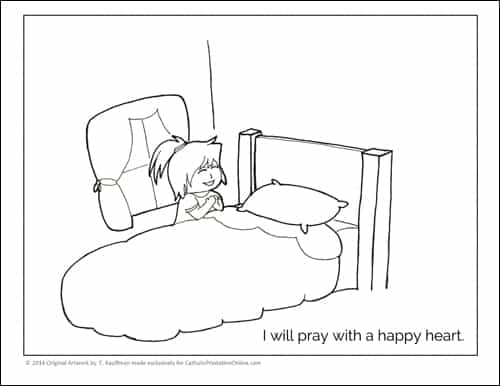 advertisement
Post continues after this brief information about a monthly membership to help you live the liturgical year
---
Monthly Liturgical Membership
Perfect for families! Each month you gain access to printable activity pages, crafts, home altar pieces, and more.
Never has living the liturgical year been so easy and affordable!
---
*Having clarity issues or word search/certain sections not showing up?  Check out this page for a solution.
Other coloring pages that you might want to check out:
Join 35,000+ Other Awesome People
Subscribe to the Real Life at Home weekly newsletter to get our latest content, exclusive free printables, learning activities, and ideas for celebrating with your kids all year