While children are memorizing anything, seeing it in many different ways can help. Prayers are no exception to that. Although your children have probably already learned the Hail Mary prayer through its frequent recitation, this Hail Mary word search is another great way to learn the prayer.
Related Content:
Hail Mary Word Search Free Printable for Kids
The Hail Mary word search features the word search at the top and then the prayer at the bottom. Throughout the prayer at the bottom, there are 17 words that are listed in a bold print. Those are the words to look for in the word search.
Words in the Hail Mary word search include:
Hail
Mary
Grace
Lord
thee
blessed
women
fruit
womb
Jesus
Holy
Mother
God
pray
sinners
death
Amen
Hail Mary Word Search Printable Terms of Use
This word search is free for personal, classroom, or church bulletin use. However, you must make sure that the copyright line (with the site URL) still appears when copies are made.
This printable cannot be sold, hosted, or published on other websites.
If you want to pass along the printable, please feel free to share a link to this post or the website (not directly to the printable) with others. Thanks so much!
Grab A Copy of the Hail Mary Word Search Printable
Post continues after this brief information about a monthly membership to help you live the liturgical year
---
Monthly Liturgical Membership
Perfect for families! Each month you gain access to printable activity pages, crafts, home altar pieces, and more.
Never has living the liturgical year been so easy and affordable!
---
*If you are having clarity issues with the printable or if the word search section of the printable does not appear, your web browser may be to blame. Don't worry – I can help with some suggestions to fix it.
Other Catholic Printables and Activities You May Love: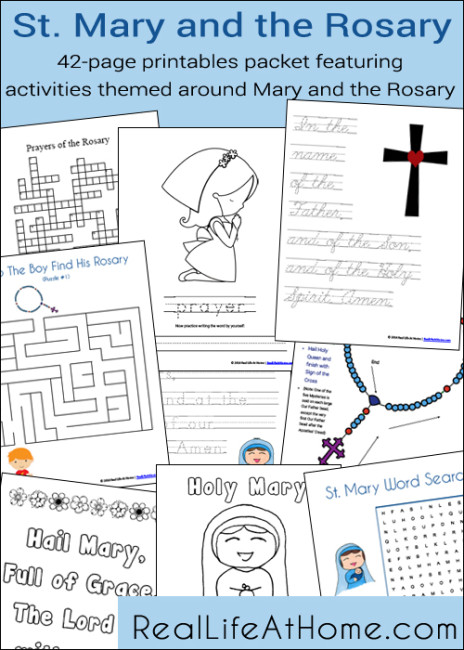 ---
Disclosure: This post contains affiliate links. They don't change the price you pay. However, when you shop through them, we may receive a small compensation.
Hail Mary Word Search Free Printable for Kids was originally published in January 2014. It was updated in November 2018.
Mysteries of the Rosary Draw and Write Activity Packet
Subscribe to our newsletter and receive the Mysteries of the Rosary Draw and Write Activity Packet!