The month of March is dedicated to Saint Joseph and he also has feast days on March 19th and May 1st. Add some easy, no-prep fun to March or to one of St. Joseph's two feast days with this free printable St. Joseph Coloring Page Set. There are two slightly different variations on the coloring page and both are available to grab near the end of this post.
---
St. Joseph Coloring Page for Kids
Since the month of March is dedicated to Saint Joseph, plus he has feast days on March 19th and May 1st, this free printable St. Joseph coloring page (with two variations) is a great no-prep activity for celebrating. Of course, I love Saint Joseph and I never like to relegate saints to only their feast days, so I think this is a great coloring page for any time of year.
This is a great coloring page to use during a religious education class (or during the school day in a religious school setting), for an All Saints' Day party, or just for fun at home.
Ages and Grade Levels for St. Joseph Coloring Page Printable
The St. Joseph Coloring Page printable is great for all ages – even adults! Young children may not color this the same way an older child may color it, but many children and adults of all ages enjoy coloring pages.
This printable is available for free, so if you grab it and it doesn't work for your kids or students, then it's not an issue.
How to Grab and Print The St. Joseph Coloring Page Set
Of course, I think you should check out all of the resources that I have shared in this post since I think they will pair well with the coloring page. However, to find the printable, scroll toward the bottom of this post. Just under the terms of use section, you'll find a graphic and a text link to grab the printable. The text link will say >>>> Grab the Free St. Joseph Coloring Page Printables <<<<.
If you have any printing issues, I have some tips here that can help with a variety of issues that sometimes pop up because of different web browsers or updates.
I recommend printing this page on regular white printer paper, although you could also print the page on white cardstock if you wanted a sturdier page.
Contents of The St. Joseph coloring Page Packet
Pages and activities included in the free Saint Joseph coloring page printable packet: 
Post continues after this brief information about a monthly membership to help you live the liturgical year
---
Monthly Liturgical Membership
Perfect for families! Each month you gain access to printable activity pages, crafts, home altar pieces, and more.
Never has living the liturgical year been so easy and affordable!
---
Terms of use/copyright page
Version one of the St. Joseph Coloring Page: This features St. Joseph holding Jesus and has grass and the sun in the background. At the top, it says Saint Joseph Pray for Us and lists his feast days of March 19th and May 1st
Version two of the St. Joseph Coloring Page: This features St. Joseph holding Jesus and has grass and the sun in the background. At the top, it says Saint Joseph and lists his feast days of March 19th and May 1st. (This one is only different in that it doesn't say "Pray for Us")
---
You May Also Like: Immaculate Heart of Mary Coloring Page
---
More Saint Joseph Printables and Activities
If you're looking for more Saint Joseph printables and activities, you'll want to check out some of these: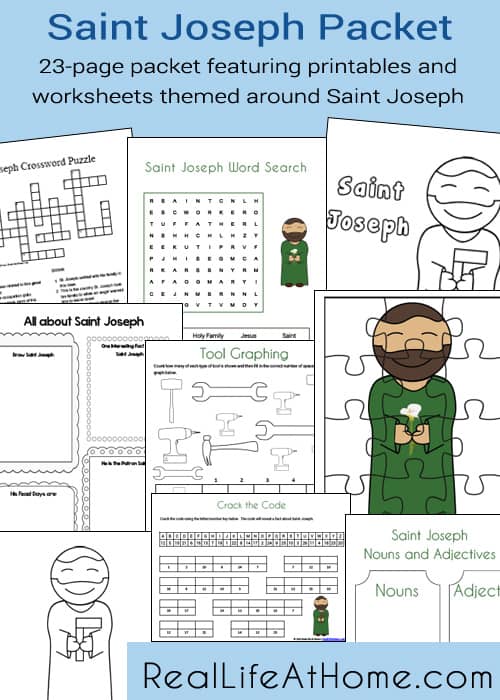 Free Printable Religious Coloring Pages
Saint Joseph Coloring Pages Packet Terms of Use
Before you access the printable, please know that grabbing your copy means you agree to all of the following terms:
This packet is for personal family use or single classroom use only.
This printable set may not be shared, sold, hosted, distributed, or stored on any other website including, but not limited to, school/church websites, other blogs, Scribd, Google Drive, DropBox, Facebook, etc. (You may, however, store it in your personal Google Drive or DropBox if you are the only person with access to it.)
You may not change this packet, copy it as your own, or claim this as your own.
All graphics in this packet have been purchased and used with permission. You may not use the graphics for other projects.
All materials (posts, printables, etc) on this site are copyright protected.
Here are more printables terms of use guidelines.
Get the St. Joseph Coloring Page Set
The fun, no-prep St. Joseph Coloring Page Printable Set is a free packet available on Real Life at Home:
---
Disclosure: This post contains affiliates links. They do not change the price you pay. However, when you shop through them, we may receive a small compensation.
Saint George Activity Packet
Subscribe to our newsletter and receive the Saint George Printables and Worksheets Packet for free!