Saint Joseph is one of our favorite saints.  Eric (perhaps at my urging) chose Joseph as his Confirmation name when we converted.  Honestly – if I had thought of it, I might have just chosen it for myself instead.  We also named our homeschool after St. Joseph.  In the liturgical calendar, St. Joseph has feast days in both March and May.
So, while we didn't get to a packet for Saint Joseph in March, we have one just in time for his May 1st feast day.  I purposefully made this months Saints Printables Packet in a way that wasn't specific to either feast day, but just Saint Joseph in general.  This month's packet is a 23-page packet with printables and worksheets all themed around Saint Joseph as both the husband of Mary, foster father of Jesus, and as a worker (since his May 1st feast day is St. Joseph the Worker).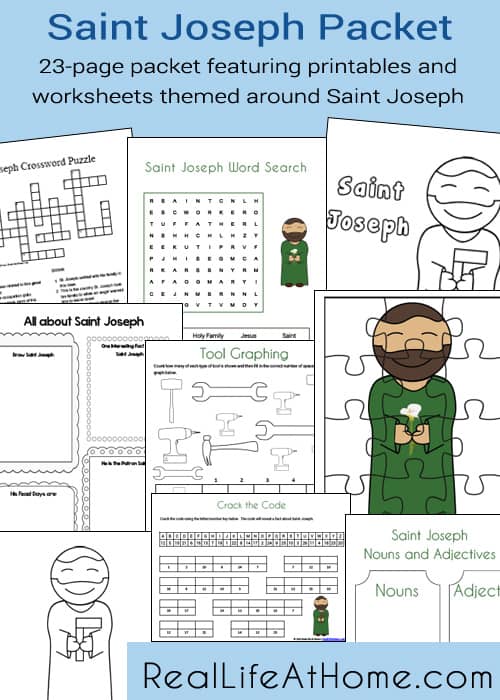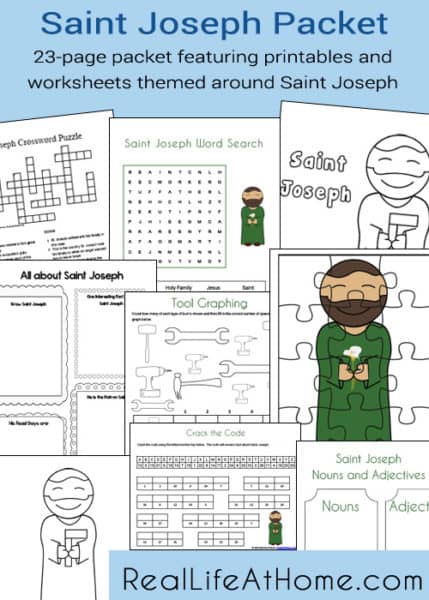 The appropriate ages for this packet varies.  I don't like to assign an age group to these kinds of things because there is such a variation among children and their abilities.  Plus, some older children still enjoy activities like coloring pages. Some activities are preschool appropriate, while others might go as high as mid-elementary school.
Before I share the contents of this month's packet, as always, I need to thank my wonderful husband, Eric.  He drew (and colored) the St. Joseph clip art/coloring pages that I used in the packet.  (Because of this, this is not clip art for public use.  That would not only be against copyright law, but it just wouldn't be nice.  Thanks, Eric, for sharing your time and talents!)
I also used a set of tool clip art from K is for Kinderrific which I purchased for commercial use.
The Saint Joseph Printables and Worksheet Packet Includes
Saint Joseph Word Search (and Solution) – easier version
Saint Joseph Word Search (and Solution) – harder version
All About Saint Joseph Fact Sheet to Fill Out
St. Joseph Maze (and Solution)
A Saint Joseph Coloring Page
Tools I Can Use to Help God Page
A 12 Piece Saint Joseph Puzzle and a 16 Piece Saint Joseph Puzzle (these pages are best printed on cardstock, though regular paper is fine)
Two Handwriting Pages (one printing, one cursive) that also feature a small coloring area of St. Joseph
Two Language Arts/Art Pages that involve cutting and pasting sentences, writing a copy of the sentence, and illustrating them
A Cut Apart Page Where Children Put Words about Saint Joseph either into a Nouns Column or Adjectives Column
A Fill in the Number Page
A Coloring Page of Tools with Different Colors Based on the Tool Type
A Tool Graphing Page
A Saint Joseph Crossword Puzzle Page (with Solution Page)
Saint Joseph Crack the Code Page using a Letters and Numbers Code to Find a Fact About Him
Note: This is an entirely downloadable purchase.  You will receive a PDF file.  There is no physical product that will be shipped to you.
Post continues after this brief information about a monthly membership to help you live the liturgical year
---
Monthly Liturgical Membership
Perfect for families! Each month you gain access to printable activity pages, crafts, home altar pieces, and more.
Never has living the liturgical year been so easy and affordable!
---
Terms of Use for the St. Joseph Printables Packet
Family and Single Classroom Use: If you are printing this out to use with your family or with a single classroom (or small group), please choose the personal use option, which is $3.25.
Multiple Classroom and Large Group Use: If you are planning to use this packet with multiple classrooms (within one school), a church program, or other large group settings, please pay a $6.00 group licensing fee and you will be sent a receipt that says that you have the ability to use the packet in a group use setting. By paying this extra amount, you help to make it possible for me to continue offering packets like this. 
There are other terms of use (for both family use and group use) on the first page of the packet, so please be sure to read through them before you use pages from the packet.
Other Catholic Printables You Might Be Interested In:
Join 40,000+ Other Awesome People
Subscribe to the Real Life at Home weekly newsletter to get our latest content, exclusive free printables, learning activities, and ideas for celebrating with your kids all year