Home-Themed Scripture Coloring Pages Free Printables Post Preview: Kids and adults will enjoy these Biblical printables of doodle-inspired pages featuring home and hospitality-themed Scripture verses.
---
I just love helping get God's amazing Scriptures in front of children. I'm always struck by how rich Scripture is, and by how even young children can be touched by its beauty and meaning.
I combined house doodle-style pictures with home-related Scripture for this project. You can now download the free four-page coloring packet of fun and meaningful Scripture coloring pages for kids (and adults).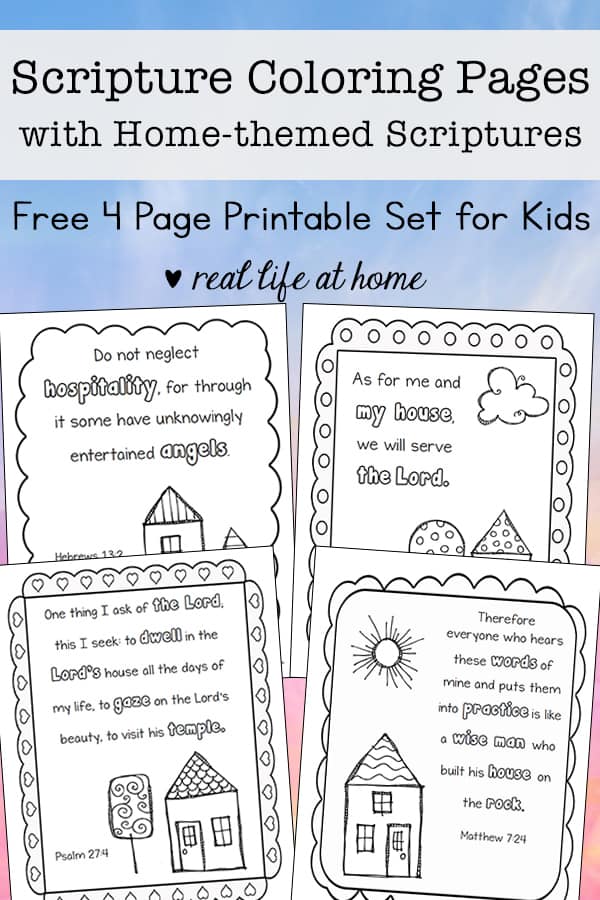 Related Content:
Home-Themed Scripture Coloring Pages Free Printables
This free home-themed Scripture coloring pages set includes four coloring pages. All have a doodle-style featuring things like homes, trees, clouds, and borders to color. Each page also has small areas of the text that can be colored.
The Scriptures featured on the pages are Joshua 24:15, Matthew 7:24, Psalm 27:4, and Hebrews 13:2.
All of the pages are available in a set together. They are a part of a free download that you can grab farther down in the post.
You don't have to only use crayons on these coloring pages. Here are our suggestions for the top ten art supplies for kids.
Joshua 24:15 Coloring Page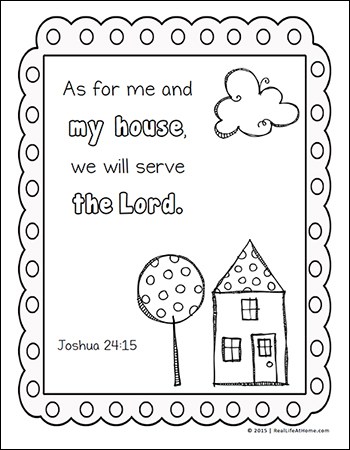 As for me and my house, we will serve the Lord. Joshua 24:15
Matthew 7:24 Coloring Page
Therefore everyone who hears these words of mine and puts them into practice is like a wise man who built his house on the rock. Matthew 7:24
Psalm 27:4 Coloring Page
One thing I ask of the Lord, this I seek: to dwell in the Lord's house all the days of my life, to gaze on the Lord's beauty, to visit his temple. Psalm 27:4
Hebrews 13:2 Coloring Page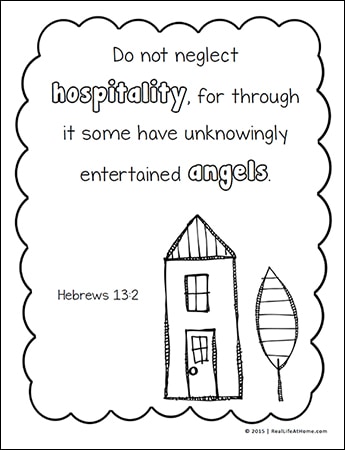 Post continues after this brief information about a monthly membership to help you live the liturgical year
---
Monthly Liturgical Membership
Perfect for families! Each month you gain access to printable activity pages, crafts, home altar pieces, and more.
Never has living the liturgical year been so easy and affordable!
---
Do not neglect hospitality, for through it some have unknowingly entertained angels.
Hebrews 13:2
Scripture Coloring Pages Terms of Use
This download set is free for personal or classroom use. It cannot be sold, published, or hosted on other websites. If you want to pass along the printable though, please feel free to share a link to this post (not directly to the printable) with others. Thanks! (Terms of Use)
---
Download the Scripture Coloring Pages Set

---
*Having clarity issues with the PDF file? Your web browser could be the issue. Read more about it.
More Religious Coloring Pages You'll Love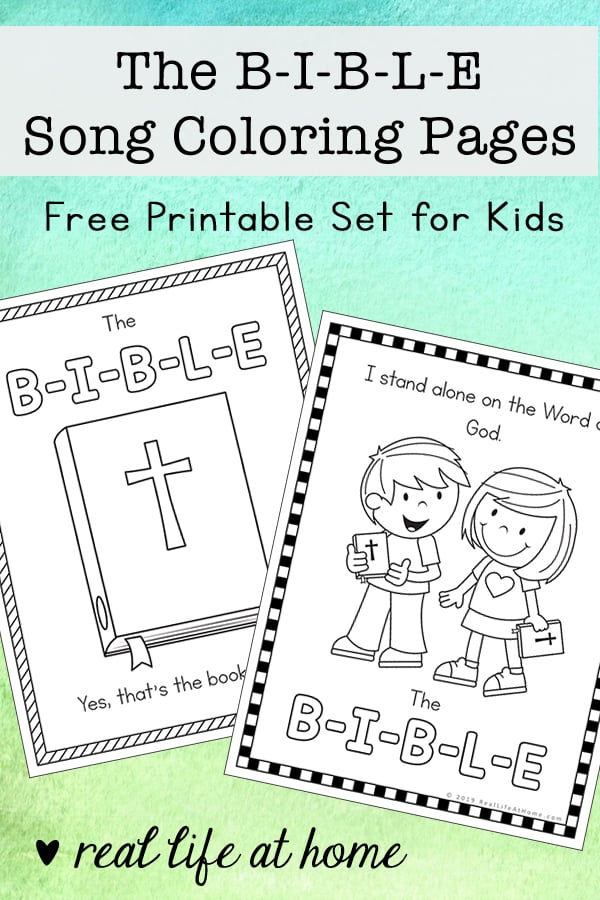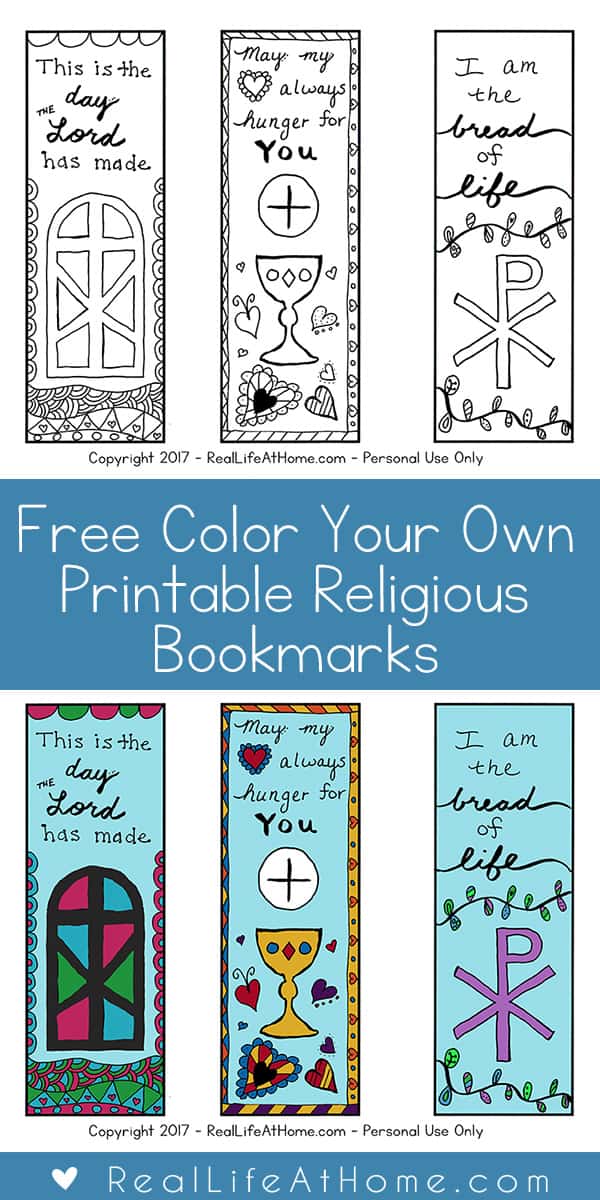 Zacchaeus Activity Packet
Subscribe to the Real Life at Home weekly newsletter and receive the Zacchaeus packet for free.
---
Disclosure: This post contains affiliate links. They don't change the price you pay. However, when you shop through them, we may receive a small compensation.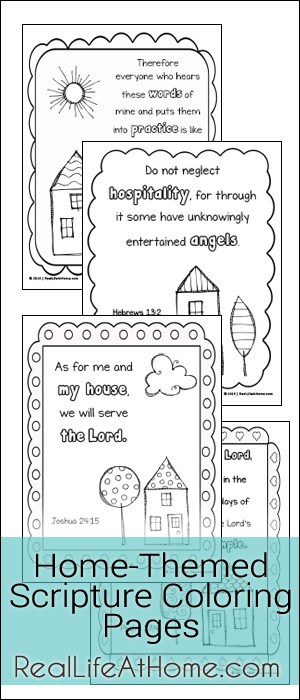 This post and the printables were originally published on March 16, 2015. The post was updated in May 2019.
Join 40,000+ Other Awesome People
Subscribe to the Real Life at Home weekly newsletter to get our latest content, exclusive free printables, learning activities, and ideas for celebrating with your kids all year