Mary Coloring Pages: Perfect to Use as May Crowning Printables post preview: This post contains two free downloads with coloring pages of Saint Mary that include flowers. This makes them good for any time of year, but especially for May!
---
---
Related Content:
---
Last week, we went to the parish we used to go to. They have a lovely Mary statue in their courtyard that I have always loved. Last week, it was impossible to not notice the statue. Not only was there a floral crown on the statue, but there were buckets of flowers surrounding the base. So lovely!
That made got me thinking about a new project. I thought, "Wouldn't it be fun to have simple Mary coloring pages that are just Mary and lots of flowers surrounding her?"
That thought is what made these Mary coloring pages possible. I just wanted Mary and flowers. These coloring pages are wonderful for any time of year, of course. However, I thought they would be especially nice for children who didn't have a chance to participate in a May crowning. They could do their own May crowning activity by coloring in one of these May crowning printables.
Related Reading: Mary, Queen of Heaven, Crowning Free Activity Page
Mary Coloring Pages (May Crowning Printables)
This Mary coloring pages set includes two different May crowning printables. I made the one that has a large number of flowers around the Mary coloring area first. I thought it was very fun and festive.
However, I thought that this might be too overwhelming for younger kids. So then I made the simpler version. This just has the Mary coloring area, five flowers that were around the area closest to Mary's head, and the name "Mary" that can be colored in.
Mary Coloring Pages (May Crowning Printables) Terms of Use
This download is free for personal, classroom, Vacation Bible School, or religious education use. When you make copies, please make sure that you keep the copyright information on all copies.
You may not sell, publish, or host this printable set or the individual puzzles on any other website. This includes that you may not upload it to your church's website for people to download.
If you want to pass along the printable though, please feel free to share a link to this post (not directly to the printable) with others. Thanks!
Post continues after this brief information about a monthly membership to help you live the liturgical year
---
Monthly Liturgical Membership
Perfect for families! Each month you gain access to printable activity pages, crafts, home altar pieces, and more.
Never has living the liturgical year been so easy and affordable!
---
There is also a terms of use page at the beginning of the packet. By downloading this document, you are agreeing to abide by the terms included. (Printables terms of use)
Related Reading: How to Start a Mary Garden in 7 Easy Steps
Download the Mary Coloring Pages (May Crowning Printables)
The Mary coloring pages (May crowning printables) are a completely free download available here on Real Life at Home.
Download the Mary Coloring Pages Printables Set
If you have any issues with the clarity of this printable set, your web browser may be to blame. I have some tips to help you with this!
Other Mary Printables You May Love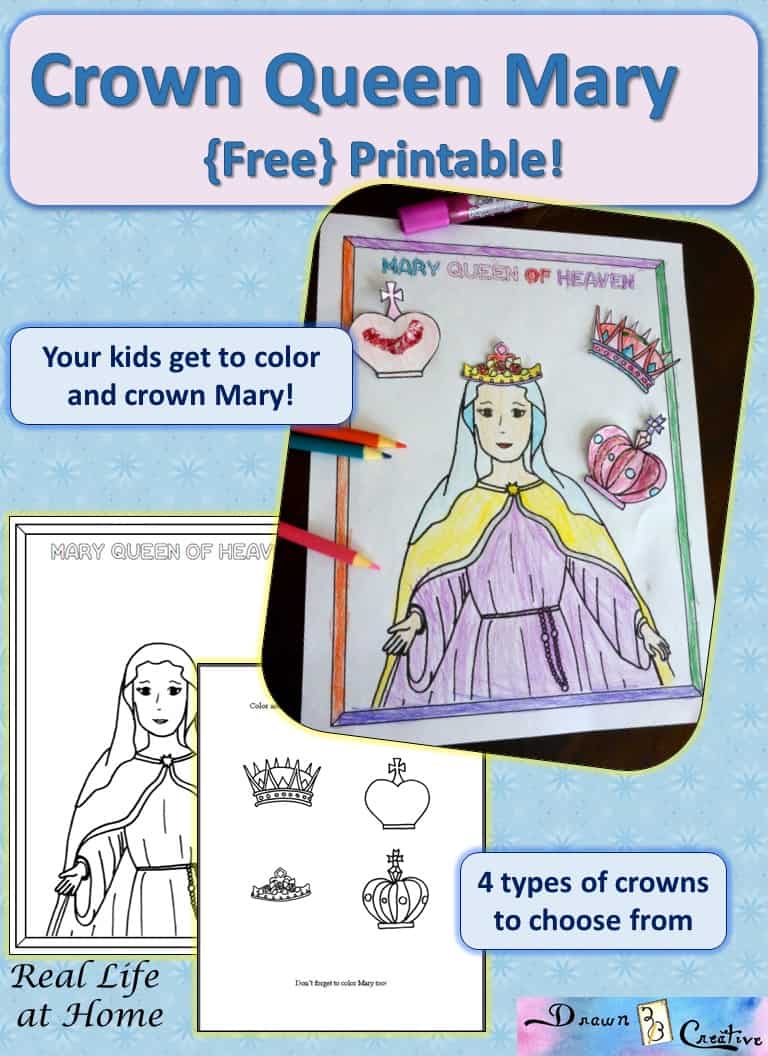 ---
Disclosure: This post contains affiliate links. Using them does not change the price you pay. However, when you shop through them, we may receive a small compensation.
Join 40,000+ Other Awesome People
Subscribe to the Real Life at Home weekly newsletter to get our latest content, exclusive free printables, learning activities, and ideas for celebrating with your kids all year