Free Turkey Coloring Page for Thanksgiving for Kids Post Preview: Looking for a fun coloring page for Thanksgiving? This post has a free Thanksgiving Coloring Sheet featuring a turkey in an outdoor scene.
---
Coloring can be a fun, creative, and relaxing activity for kids. Those things are great things all the time, but it can be especially important now at a time that is a little (or a lot) more stressful than usual.
Today, I have a free Turkey Coloring Page printable that features a turkey in an outdoor scene. This makes it a great coloring page for Thanksgiving or when studying animals.
Note: The link for the free printable Turkey Coloring Page Printable can be found farther down in the post by clicking on the "Download Your Free Printable Here" graphic that matches the site graphics.
Turkey Coloring Page Printable
This turkey coloring sheet for Thanksgiving (or any time) is perfect for a wide range of ages.
Of course, young children might end up coloring the whole picture as just one or two colors. But, that's okay! It's their art to make how they wish.
Older kids will be able to color the picture with more detail and can even use shading and other more advanced techniques.
Kids can color this page with crayons, colored pencils, markers, paint – whatever they want!
Need art supply suggestions? We have a top ten art supplies for kids list that was written by Rob from Art for Kids Hub, so you know it's a good one.
Other Thanksgiving Printables for Kids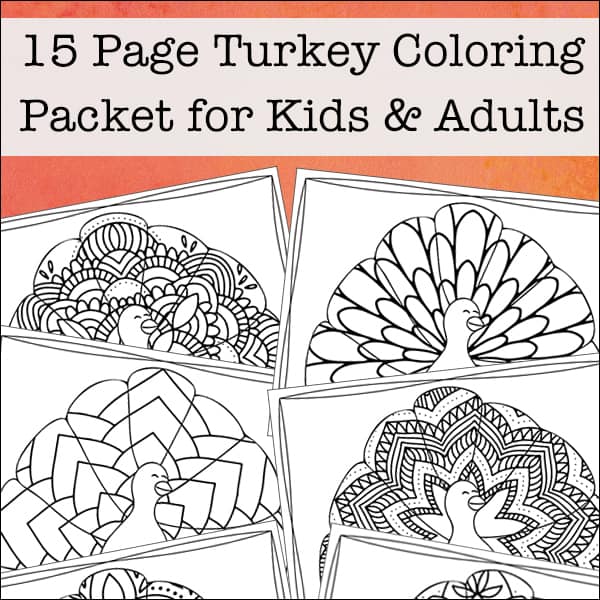 While you can get the Turkey Coloring Page printable a little bit farther down in the post, here are some more free Thanksgiving printables you may like:
Thanksgiving Crafts for Kids
Here are some easy Thanksgiving craft ideas that your kids or students may enjoy:
HelloSprout on Etsy has this awesome Turkey Suncatcher Craft Kit that would be a Thanksgiving craft. Once they're finished, they can be taped to a window and used as festive decorations. So pretty!
Thanksgiving Books for Kids
There are so many great books to read with kids for Thanksgiving! If you need some ideas, here are some excellent options:
Terms of use for the Free Turkey Coloring Page for Thanksgiving
The Turkey Coloring Page is free for personal or classroom use, but you must include the copyright credit line.
You may not sell, publish, or host this printable on other websites. (The only exception is during the current pandemic, you may email this page directly to students/their parents and you may post it in a secure Google Classroom that only your students and their parents can access.)
There are more terms of use to check out here. By downloading and using this printable, you are agreeing to the terms of use.
If you want to pass along this coloring sheet to others, please feel free to share a link to this post (not directly to the printable). Sharing the site, and not the actual printable, helps support the site. It's one of the things that makes it possible for us to offer so many awesome free printables.
If you use a lot of free printables from Real Life at Home, please consider making a small donation. It's one of the things that helps us to keep offering more free printables.
Thanks!
---
Turkey Coloring Page: Download Here
Download the Turkey Coloring Page Here
---
Disclosure: This post contains affiliate links. They don't change the price you pay. However, when you shop through them, we may receive a small compensation.
Thanksgiving Coloring Book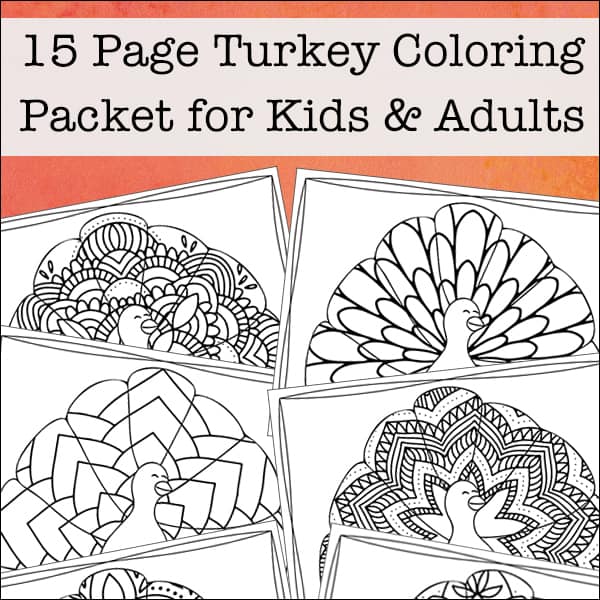 Subscribe to our weekly newsletter and receive a packet of 15 turkey coloring pages as a free gift.