Free Printable Thanksgiving Bookmarks to Color Post Preview: You will find a free printable set of four color your own Thanksgiving bookmarks for kids. The bookmarks feature turkeys, pumpkins, leaves, and more with Thanksgiving messages. There are also more links to free printable bookmarks for kids.
---
Thanksgiving is coming up in just a few weeks! That means it's time for getting together with family, counting our blessings, and lots of pretty great food. It's a fabulous time of year!
To celebrate Thanksgiving, I have a brand new printable on the site today. It's a free printable set of four Thanksgiving Bookmarks to Color! 
These Thanksgiving bookmarks are great for Thanksgiving class parties or feasts or just for fun at home or school. And do you know what? It's really okay if you print out a set for yourself too! Kids aren't the only ones who enjoy coloring.
Note: This link for the bookmarks is found farther down in the post (toward the bottom).
---
Related Reading:
---
Free Printable Color Your Own Thanksgiving Bookmarks
This is a fun and free set of color your own bookmarks for kids. You could give kids a whole sheet so they have all four bookmarks to color. Or, you can cut them out and set out a variety for students to choose one or two from, like at a class party.
Set of Printable Thanksgiving Bookmarks to Color
This contains four Thanksgiving-themed bookmarks for kids. You should consider printing these bookmarks on white cardstock so they can be easily colored. The cardstock will also help to make them sturdy for use as bookmarks. To make them even sturdier, you could laminate the finished bookmarks!
The Printable Bookmarks to Color for Thanksgiving include the following designs:
"Gobble Up a Good Book" with a Pilgrim Turkey along with leaves at the top and bottom of the bookmark
"Gobble Gobble" with two turkey heads in costumes plus leaves at the top and bottom
"Feast on a Good Book" with a girl in an apron holding a turkey dinner along with leaves at the bottom of the bookmark for decoration and a couple of pieces of pumpkin pie at the top
"Happy Thanksgiving" with a border around the whole bookmark and pictures above the words: a pumpkin, a leaf, a turkey, another leaf, and an owl dressed up for Thanksgiving
---
Related Reading: 3D Turkey Cutout Downloadable Art Project
---
More Thanksgiving Fun: Other Thanksgiving-themed Extension Activities
Looking for more Thanksgiving activities?
Here are a couple of links to check out for some more Thanksgiving activities:
This turkey popsicle stick craft from Easy Kids Craft is super cute and easy to put together. Plus it's inexpensive, so it would be a great option for making with a group of kids.
Over at Homeschool Preschool, there is a fabulous list of 24 Thanksgiving books with a description of each book to help you pick out the best ones for your family.
You can also check out these Preschool and Kindergarten Books for Thanksgiving (there are also crafts and activities listed for each book).
Here's a 3D Turkey Cut Out Craft that's perfect for many ages. There is even a free printable template and step-by-step directions
These DIY Thanksgiving Puppets from Oh Happy Day are so cute and would make great props for Thanksgiving storytelling.
While these bookmarks are not specifically Thanksgiving-themed, here is a super cute set of color your own fall animals bookmarks.
You and your kids can decorate cookies for Thanksgiving with this Thanksgiving cookie cutter set that includes cookie cutters in the following shapes: turkey, maple leaf, football, pumpkin, squirrel, acorn, and oak leaf.
Bookmark Set Terms of Use
These bookmarks are free for personal, classroom, group, co-op, and library use. They may not be used for commercial purposes. If you aren't sure if your use of them is allowed, just contact me to find out.
You may not host these printables on your website or any website or file sharing service. They are exclusively for use by Real Life at Home. You may not distribute them via email or other electronic means. You may not use these printables and claim them to be your own.
If you have any other questions about the terms of use, please be sure to ask!
Download Your Free Printable Color Your Own Thanksgiving Bookmarks
Download the Color Your Own Thanksgiving Bookmarks Set
More Printables You May Love
---
Disclosure: This post contains affiliate links. They don't change the price you pay. However, when you shop through them, we may receive a small compensation. 
Thanksgiving Coloring Book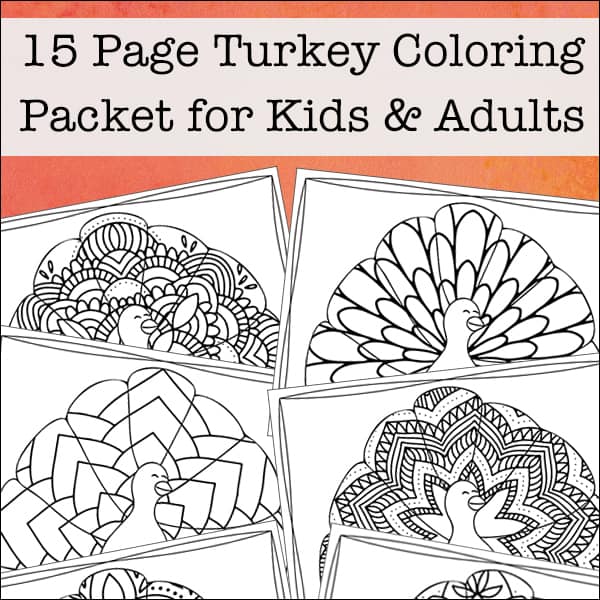 Subscribe to our weekly newsletter and receive a packet of 15 turkey coloring pages as a free gift.