Paper Bag Turkey Craft for Kids Post Preview: Using a free printable template and inexpensive supplies, kids can make their own paper bag turkey craft for Thanksgiving!
---
I love being able to make inexpensive crafts with kids. It probably goes back to all of the times when I was in the classroom as well as when I would teach co-op classes when we were homeschooling. Crafts are fun, but if they don't use cheap materials, they can get expensive.
The Thanksgiving craft that I'm going to share today is an easy and inexpensive turkey craft for kids. This makes it perfect for working on with children one-on-one or doing with a whole classroom.
This Thanksgiving craft is a Paper Bag Turkey Craft. This craft only requires brown paper bags, some paper (colored or white), and some glue. Easy peasy for supplies!
This craft also includes a free template for the feathers, eyes, and wattle. So, no worries about being able to draw the turkey body parts. I've got you covered!
---
If you want a turkey craft that you can just print and create, you could also try this printable 3D Turkey Cut Out Craft from the site instead. We also have a folded paper turkey craft (which also includes a printable template for a portion of the craft) for more fine motor skills practice.
---
Template Note: The free template for the turkey is available as a link in the supply section as well as toward the end of this post.
---
Related Reading:
---
How to Make a Paper Bag Turkey Craft for Kids
As I mentioned, the paper bag turkey craft is a great inexpensive craft. You might even have most of the supplies already on hand. Score!
The nice thing about it is that you can decide how much of the craft you do ahead of time, based on your children's or students' abilities. If your children have very developed fine motor skills, then you can have them do all of the cutting and folding themselves. If they do not, you can do more of the cutting for them ahead of time.
Another option for this project is that you can use colored papers or you can print all of the turkey parts onto white paper and have your children or students color the parts in with markers or crayons.
Supplies Needed for Your Paper Bag Turkey Craft
Pencil
Scissors
Craft glue
Googly eyes (optional) only if you prefer to use them instead of the printable eyes
Newspaper (optional)
Turkey template (for eyes and feather) – there are a couple of different sizes on the template so you can use what works best
Paper Bag Turkey Craft Video
This is just a super quick (just under a minute) overview video about the craft:
Instructions for How to Make Your Paper Bag Turkey Craft
1. Fold the top (open end) of the brown paper bag down and cut the folded portion into a curved shape.
The paper bag didn't get smaller here. It's just folded over at the bottom.
2. Prepare the tail feathers, the beak (a small triangle that you can cut for yourself), eyes, and the wattle (you'll make this one on your own too) by tracing the templates from the free printable onto colored papers. Or, if you prefer, you can print it all on white paper and have your kids color the parts instead.
3. Glue the eyes, beak, and wattle onto the folded curved part of the paper bag. 
If you want a funnier look, you can use googly eyes instead of the eyes from the template. I would recommend buying self-adhesive ones if you go this route.
What's a wattle, you may ask? Here are fun facts about turkeys for kids that they might want to check out.
4. Pick out your favorite tail feather cutouts for the paper bag turkey.
5. Attach the tail feathers on the backside of the turkey bag to complete the craft.
6. Optionally, if you want to have your turkey filled and able to stand up more effectively, wad up a few pieces of newspaper and put it inside your brown paper lunch bag.
Then, if you would like, you can glue the bag shut by putting glue on the underside of the curved portion and attaching it to the body.
Printable Template for Turkey Parts
In case you didn't grab the printable turkey template in the supplies section, I wanted to make sure you could get it toward the end of the post as well.
This template is only for personal or classroom use. It may not be used for commercial purposes. It also may not be uploaded to other places online, such as other blogs/sites, Google Drive (unless it is private just for you), Scribd, etc.
Thanks!
Download Your Free Printable Turkey Craft Template Here
Download Your Free Turkey Parts Template Here
Other Thanksgiving Printables You May Love
---
Disclosure: This post contains affiliate links. They don't change the price you pay. However, when you shop through them, we may receive a small compensation.
Thanksgiving Coloring Book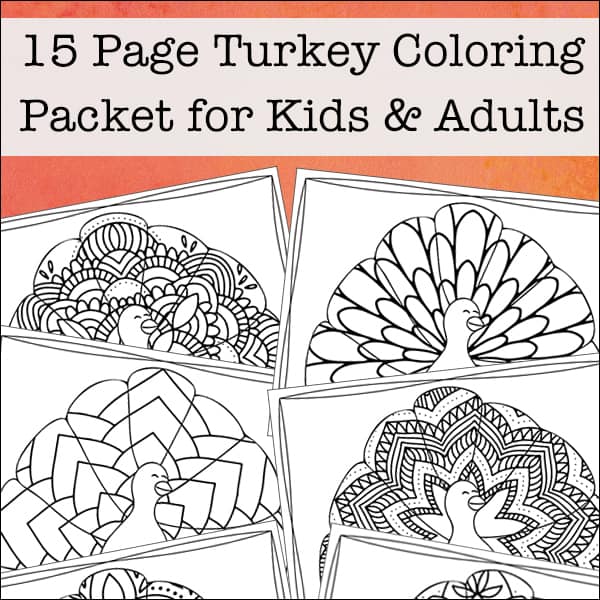 Subscribe to our weekly newsletter and receive a packet of 15 turkey coloring pages as a free gift.