We enjoyed updating the old St. Francis of Assisi packet so much that we decided to update another of our oldest packets. This time, we updated the Our Lady of Guadalupe and Saint Juan Diego Printables Packet with new drawings by Eric and a bunch of new pages from me.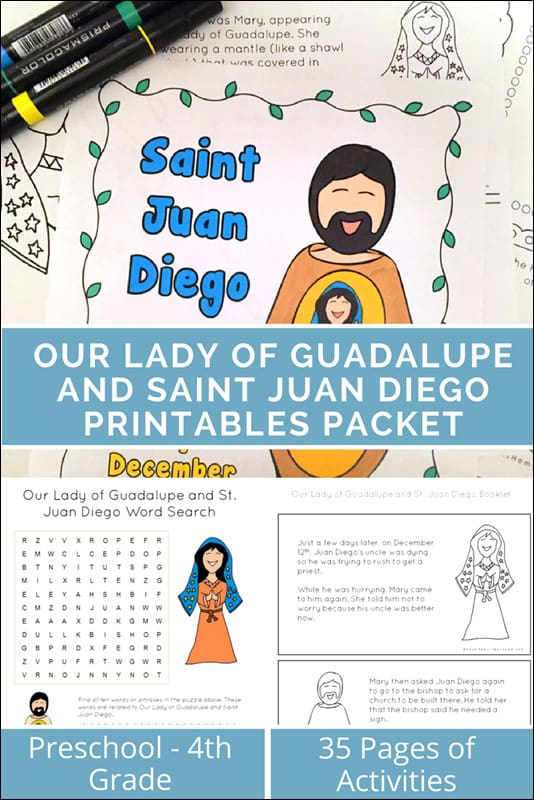 You can also purchase it in my Teachers Pay Teachers Store
Of course, if you still want to grab a coloring page from the old packet, I have a free Our Lady of Guadalupe coloring page with ideas for Our Lady of Guadalupe activities and resources.
The feast days of St. Juan Diego and Our Lady of Guadalupe are fast approaching, so this is a perfect Saints Printables Packet to pick up right now. This packet is a 37-page packet with 35 pages of worksheets and activities themed around Our Lady of Guadalupe and Saint Juan Diego.
One change that I also made in the packet is that I have more of the pages that are just in black and white, rather than color. While I did include some, I have found that most people prefer having areas for their kids to color. Also, with not everyone having access to a color printer, it makes black and white better.
The appropriate ages for this packet varies. I hate to assign an age group to these kinds of things because there is such a variation among children. Some of the activities will be preschool appropriate, while others go as high as mid-elementary school. The nice thing about this is that even if you are buying this for a classroom of kids, you'll be able to meet the needs of a wide range of children with this one packet.
Before I get into what's in the packet, I have to once again give thanks to my fabulous husband, Eric. He hand drew the clip art that I used in the packet.  (As such, this is not clip art for public use, of course. That would be against copyright law, and would just not be nice.  Some wives like to receive flowers, I like to receive clip art and coloring pages to use.  Thanks, baby.)
The Our Lady of Guadalupe and Saint Juan Diego Printables Packet Includes
Cover Page
Terms of Use Page
Our Lady of Guadalupe and St. Juan Diego Word Search (one with color graphics and one with black and white)
Two Saint Juan Diego Coloring Pages
Two Our Lady of Guadalupe Coloring Pages
Our Lady of Guadalupe and St. Juan Diego Maze (and Solution)
All About Our Lady of Guadalupe Fact Sheet to Fill Out
All About Saint Juan Diego Fact Sheet to Fill Out
Four Handwriting Pages (two printing, two cursive) that also feature a small coloring area of Our Lady of Guadalupe
Four Handwriting Pages (two printing, two cursive) that also feature a small coloring area of Saint Juan Diego
Morning Offering to Our Lady of Guadalupe Page (with border that can be colored)
Two Language Arts/Art Pages that involve cutting and pasting sentences, writing a copy of the sentence, and illustrating them
Our Lady of Guadalupe and St. Juan Diego Alphabetical Order Page (one regular version and one version for beginners)
A Roses Graphing Page
A Cut Apart Page Where Children Put Words about Our Lady of Guadalupe either into a Nouns Column or Adjectives Column
Our Lady of Guadalupe and Saint Juan Diego facts fill in the blank page in two versions (with and without a word bank)
Our Lady of Guadalupe Crack the Code Page using a letters and numbers code to find a fact about Our Lady of Guadalupe (one page with color graphic and one page with black and white)
Our Lady of Guadalupe and Saint Juan Diego Facts Booklet/Storybook  on six pages (making a 12-page booklet about St. Juan Diego and Our Lady of Guadalupe, since pages are half sheets)
Post continues after this brief information about a monthly membership to help you live the liturgical year
---
Monthly Liturgical Membership
Perfect for families! Each month you gain access to printable activity pages, crafts, home altar pieces, and more.
Never has living the liturgical year been so easy and affordable!
---
Terms of Use for the Our Lady of Guadalupe and St. Juan Diego Printables Packet
Family and Single Classroom Use: If you are printing this out to use with your family or with a single classroom (or small group), please choose the personal use/single classroom option, which is $3.25.
Multiple Classroom and Large Group Use: If you are planning to use this packet with multiple classrooms (within one school), a church program, or other large group setting, please pay a $6.00 group licensing fee and you will be sent a receipt that says that you have the ability to use the packet in a group use setting. By paying this extra amount, you help to make it possible for me to continue offering packets like this. 
There are other terms of use (for both family use and group use) on the first page of the packet, so please be sure to read through them before you use pages from the packet.

Subscriber Bonus:
Mysteries of the Rosary Draw and Write Activity Packet
Subscribe to our newsletter and receive the Mysteries of the Rosary Draw and Write Activity Packet!
---
This post and packet were originally published in December 2014. They were both updated in November 2016. 
Join 35,000+ Other Awesome People
Subscribe to the Real Life at Home weekly newsletter to get our latest content, exclusive free printables, learning activities, and ideas for celebrating with your kids all year