Christmas Mini Book and Handwriting Printables Pack Post Preview: Children will enjoy putting the story of the birth of Jesus in order to form a Christmas mini book of their own. They can also use the included Christmas handwriting pages. This packet comes in both black and white and color.
---
I made this Christmas printable and post that I'm sharing today back in 2013 for another site that I briefly had. That was before I merged four sites that I had all into Real Life at Home. I'm sharing both an updated version of this post plus an updated packet that has a black and white option now! It can save you money on printing and allow kids to color the pictures themselves.
When I used to teach the preschool class at our homeschool co-op (and kindergarten in school), one of the kids' favorite things was to make their own mini books. We made them about whatever topic we were focusing on during that class session. By the end of the year, they had a whole library of mini books!
Just in time for Christmas, I have a Christmas mini book set as well as Christmas handwriting pages. These are a great addition to your religious school, homeschool, or Sunday school teaching before Christmas! (If you need a secular Christmas mini book, I have one of those too.)
Note: The link for the printable packets is available farther down in the post.
---
Related Reading:
---
Christmas Mini Book and Handwriting Printables Packet for Preschool – 1st Grade
This religious Christmas mini book is probably best suited for children in preschool to 1st grade. Of course, some of that will depend on individual needs and what works best for them. However, since this set is a free download, you can check it out and then decide.
You can print this packet on white paper to allow kids to color in the pictures on the black and white copy. This is also the option you would need to do if you are using the color version.
Conversely, you can print the black and white version on some fun festive papers instead. This means you will not offer the option of coloring.
What's Included in the Christmas Mini Book and Handwriting Packet
The Sequencing Mini Book
This packet includes two pages of mini book pages, which when cut apart, makes a six page mini book about the birth of Jesus.
One of the challenges of this printable is that the pages of the mini book are purposefully printed out of order. So, not only is it great fine motor practice to cut out the pages, but it's also an opportunity to put the story of Jesus in order from the Annunciation through Epiphany. Your child or students may or may not need help to get them in the correct order.
An alternate option to making a mini book is that students can cut out the boxes and then paste them down on a large piece of paper in the correct order.
Christmas Handwriting Pages
In addition to the sequencing pages, there are also two pages of handwriting practice with the same religious Christmas graphics. If you print the color version, kids can just enjoy the graphics. If you print the black and white version, they can color in the graphics in addition to writing the words.
On the handwriting pages, students will trace the word twice. They will then write it on their own once.
Post continues after this brief information about a monthly membership to help you live the liturgical year
---
Monthly Liturgical Membership
Perfect for families! Each month you gain access to printable activity pages, crafts, home altar pieces, and more.
Never has living the liturgical year been so easy and affordable!
---
Words included on the handwriting pages:
Each of those features a graphic that matches the graphics used in the sequencing story.
Printable Terms of Use
This Christmas mini book and handwriting pages printable set is free for personal use only. The printable pack may also be used in a classroom, religious education, or homeschool co-op setting. However, please make sure that the copyright line (with the web address) appears on the pages. This printable may not be used for commercial purposes.
This set also may not be sold, published, or hosted on any other websites than this one. (This includes, but is not limited to: your website or blog, Scribd, DropBox that is shared with others, Google Drive that is shared with others, etc.) If you want to pass along the printable to others, please feel free to share a link to this post not the printable. Thanks!  (Printables Terms of Use)
Download the Free Christmas Mini Book and Handwriting Packet
Download the…
Christmas Mini Book for Sequencing and Handwriting Printable Pages (the original version in color)
Christmas Mini Book and Handwriting Printable Pages (the new version in black and white)
Other Christmas Printables You May Love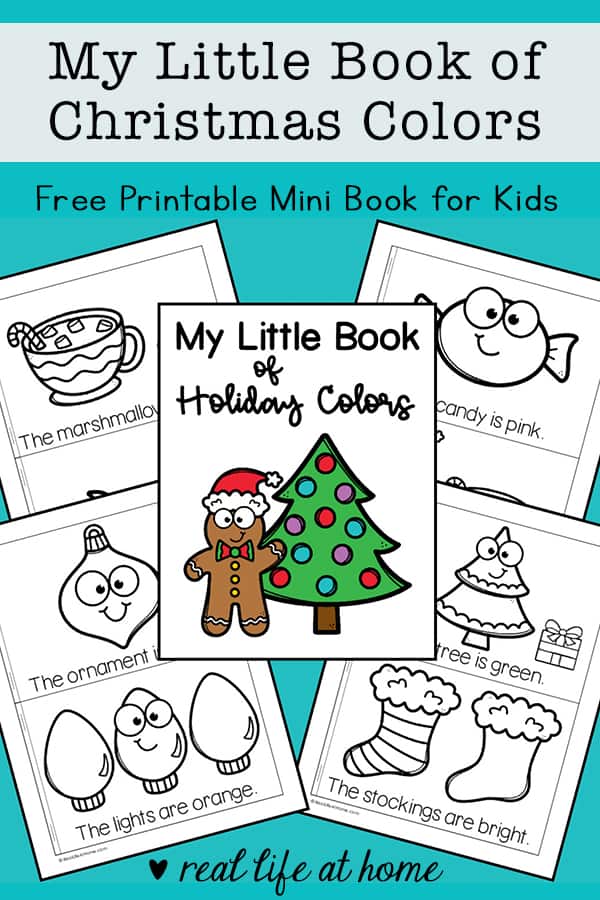 ---
Disclosure: This post contains affiliate links. They don't change the price you pay. However, when you shop through them, we may receive a small compensation.
This post and printable were originally published on December 12, 2013. Both the post and printable were updated in December 2019.
Join 35,000+ Other Awesome People
Subscribe to the Real Life at Home weekly newsletter to get our latest content, exclusive free printables, learning activities, and ideas for celebrating with your kids all year