December 12th will be the feast day of Our Lady of Guadalupe, so I wanted to take this opportunity to offer a free Our Lady of Guadalupe coloring page!
If you have already purchased the Our Lady of Guadalupe and Saint Juan Diego Worksheets and Printables Packet, then you already have this coloring page.  I won't be sharing other pages from this packet, but I thought it would be fun to share one page from last year's packet as a free printable this year.
(The link for the coloring page download is available farther down in this post.)
If you're looking for many more Our Lady of Guadalupe printables, as well as printables for Saint Juan Diego (whose feast day is December 9th), you might want to check out my whole packet of worksheets and printables of Our Lady of Guadalupe and Saint Juan Diego.
Our Lady of Guadalupe Activities and Projects
Our Lady of Guadalupe Resources
{These include some affiliate links}
FREE Glory Stories CD: St. Juan Diego & Our Lady of Guadalupe PLUS Blessed Imelda – Holy Heroes
The Lady of Guadalupe by Tomie de Paola
Our Lady of Guadalupe by Carmen Bernier-Grand
Our Lady of Guadalupe (pop up book) by Francisco Serrano
The Beautiful Lady: Our Lady of Guadalupe by Pat Mora
Our Lady of Guadalupe Collectible Vinyl Doll {Seriously – isn't this thing too sweet?}
Our Lady of Guadalupe Coloring Page Free Printable
Important: Please read the Terms of Use for printables on this site before downloading/using this document.  (This coloring page is free for you to use for personal and classroom use, but please click through to read more about the terms of use.)
*Having clarity issues with the printable? Check out some solutions here. (It could be due to your browser's PDF viewer, but I have a solution for that.)
Other Printable You Might Like from Real Life at Home: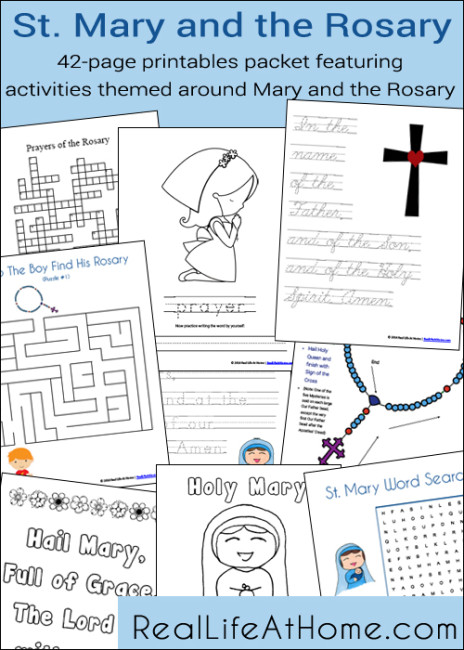 {Read Other Posts From Angie on Real Life at Home}
Join 30,000+ Other Awesome People
Subscribe to the Real Life at Home weekly newsletter to get our latest content, exclusive free printables, learning activities, and ideas for celebrating with your kids all year