Acorn Word Search Printable for Kids Post Preview: This easy word search printable is a wonderful fall activity for elementary-aged kids. It features eight words about acorns plus a picture of an acorn to color afterward.
---
As I mentioned before, this fall I'm adding some easy fall-themed word search printables to the site that have specific themes. Last week, for example, I posted a free Apple Word Search Printable.
While I've had the longer, more difficult Fall-themed Word Search Printable on the site for several years, I also added in a brand new Easy Fall Word Search Printable Set recently.
Now, for a little more variety, I'll be putting up some even easier autumn word searches that have very specific themes and pictures that can be colored afterward.
Today is the second of this easier fall word search series. This week, I am sharing an Acorn Word Search Printable.
Every time I think of acorns, I think back to when we used to go camping during the fall when my kids were little. For a couple of years in a row, the younger two would collect acorn tops to make fancy berets for the Littlest Pet Shop figures that my youngest would bring along. It was so cute! I can't look at acorns without imagining them nuts wearing tiny fancy berets.
---
Related Reading:
---
Acorn Word Search Printable for Kids
If you're a regular visitor here at Real Life at Home, you probably already know that there are tons of free word search printables here. However, as I mentioned earlier, the Acorn Word Find is part of a small series for fall-related word searches I'll be posting throughout this autumn. All of these word search puzzles are easy and small. You'll also find the word search portion within whatever shape they are about.
In the acorn-themed word find printable, the puzzle area is found within a single acorn. Kids can find the search words first and then they can color in the rest of the acorn.
If you're looking for some more general fall word search printables, you might like this Fall-themed Word Search Printable that is larger and great for older kids and adults. If it's specifically for children (especially elementary-aged children), you might also like the Easy Fall Word Search Printable Set.
Words Included in the Easy Acorn Word Search Printable
This is a small word search puzzle and all the words are found within the acorn graphic. There are eight words to find that are all related to acorns.
Words included in the Puzzle:
acorn
top
brown
oak
squirrel
nut
hide
hat
You can print on white paper and kids can color in the rest of the acorn after completing the word search. Or, you can print this on some light brown paper instead.
---
Related Reading: Apple Unit Study for Preschool and Kindergarten
---
More Acorn Fun: Other Acorn-themed Extension Activities
Want some more activities about acorns beyond this word search? Here are a couple of links to check out for some more acorn activities:
My friend Rob from Art for Kids Hub and one of his sons have a very easy drawing tutorial on how to draw a cartoon acorn. This is a fun addition to your acorn activities since your kids won't just color in the acorn from the word search, but then they can also learn to draw their own!
Okay – so acorn isn't one of the scents included in this playdough set, but seriously – what does an acorn smell like and do you want playdough that smells like it? However, you can still enjoy the scents of fall by whipping up this fall scented homemade playdough! Kids will enjoy helping to make this playdough and then playing with it afterward. There are directions for making apple playdough, green apple playdough, pumpkin playdough, and cinnamon playdough.
Sharing books with kids is one thing I really love to do! One of my favorite jobs that I've ever had was the couple of years that I spent as an elementary school librarian. I love these suggestions of these awesome acorn-themed books from Tara at Homeschool Preschool.
These acorn marble necklaces from Rhythms of Play are so cute. I have seen them a million times on Pinterest and they make me smile every time I see them. I may have to make myself one someday just because they're so lovely.
You and your kids can decorate fall-themed cookies with this fall cookie cutter set that includes cookie cutters in the following shapes: apple, pumpkin, leaves, acorn, turkey, and squirrel.
Printable Terms of Use
The acorn word find download is free for personal or classroom use. When you make copies, please make sure that you keep the copyright information on all copies.
You may not sell, publish, or host this printable on any other website. This includes that you may not upload it to another website for people to download (Google Drive, Scribd, etc.).
If you want to pass along the printable though, please feel free to share a link to this post (not directly to the printable) with others. Thanks!  (Printables terms of use)
Download the Easy Acorn Word Find Printable
The Acorn Word Search Printable is a free download available here on Real Life at Home:
Download the Acorn Word Search Printable
If you have any issues with the clarity of this printable (or other printables from Real Life at Home), your web browser may be to blame. I have some tips to help you with this!
More Fall Printables You May Love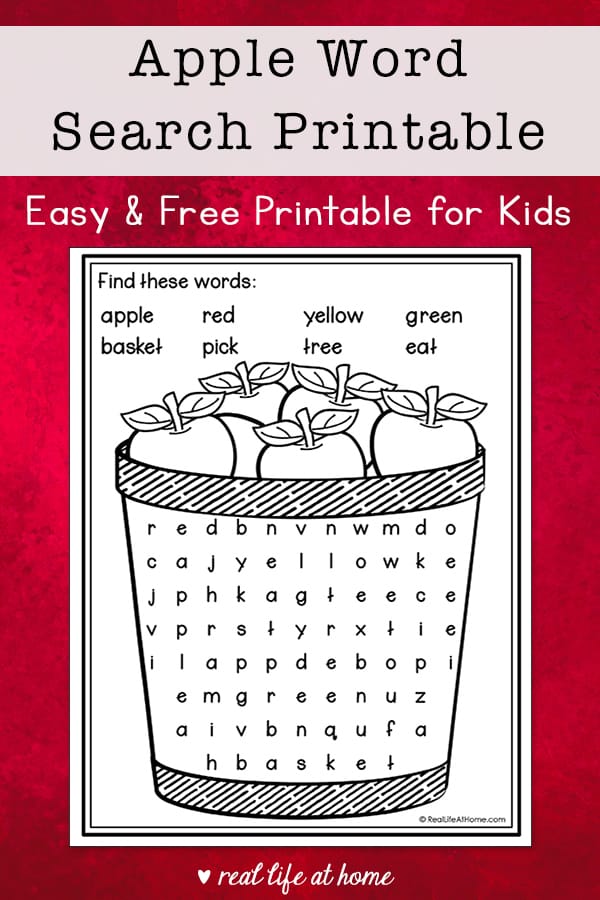 ---
Disclosure: This post contains affiliate links. They do not change the price you pay. However, when you shop through them, we may receive a small compensation.
Fall Math Patterns Packet
Subscribe to our weekly newsletter and receive the Fall Math Patterns Packet as a free gift.