Owl Word Search Printable for Kids Post Preview: This easy word find printable is a great fall activity for elementary-aged kids. It features eight words about owls plus a picture of an owl to color afterward.
---
People love owls. I'm not sure why that is, but for a while, it seemed like you could find owls on just about everything – clothes, bedding, jewelry, and more.
As a matter of fact, the LLC that I formed for my business even has the word owl in the name. Not that owls are necessarily a favorite of mine, but it was an homage to when my oldest was young. Sometimes if he heard a noise, he would reassure us not to worry. He would pinch two fingers about a half of an inch apart in front of his eye and say, "Don't worry – it's just a tiny owl."
While owls aren't specifically a fall theme, they're a perfect addition to the series of easy fall-themed word search printables that I'm adding to the site this year. Past easy fall word searches have been an Apple Word Search and an Acorn Word Search.
As I mentioned above, today is the third of the easy fall word search series. This week, I am sharing an Owl Word Search Printable.
The owl word search is a perfect addition to an animal unit study or just for fun.
---
Related Reading:
---
Owl Word Search Printable for Kids
If you're a regular visitor here at Real Life at Home, you already know that there are a ton of free word search printables here. They cover lots of different topics and there are several different levels of difficulty amongst the word searches. However, as I mentioned earlier, the Owl Word Find is part of a small series for fall-related word searches I'll be posting throughout this autumn. All of these word search puzzles are easy and small. You'll also find the word search portion within whatever shape they are about.
In the owl-themed word find printable, the puzzle area is found on an owl's body. Kids can find the search words first and then they can color in the rest of the owl.
If you're looking for some more general fall word search printables, you might like this Fall-themed Word Search Printable that is larger and great for older kids and adults. If it's specifically for children (especially elementary-aged children), you might also like the Easy Fall Word Search Printable Set.
Words Included in the Easy Owl Word Search Printable
This is a small word search puzzle and all the words are found within the owl picture. There are eight words to find that are all related to owls.
Words included in the Puzzle:
owl
hoot
wise
bird
watch
wait
feather
fly
You can print on white paper and kids can color in the rest of the owl after they find all of the words. Or, you can print this on some light brown paper instead.
---
Related Reading: Apple Unit Study for Preschool and Kindergarten
---
More Owl Fun: Other Owl-themed Extension Activities
Want some more activities about owls beyond this word search? Here are a couple of links to check out for some more owl activities:
At my house, we have tons of empty paper rolls around. Here is a short video about how to turn one of those small paper rolls into an owl!
You can work on making your own owl picture using various shapes:
Books with great stories and illustrations for kids are something I really love! One of my favorite jobs that I've ever had was the couple of years that I spent as an elementary school librarian. I love these suggestions for 14 Books about Owls from Katie at Gift of Curiosity.
Paper plate crafts are a wonderful, inexpensive craft option for kids. I love this paper plate owl craft from Crafts by Amanda.
You and your kids can decorate owls and other woodland animal cookies with this woodland-themed cookie cutter set that includes cookie cutters in the following shapes: fox, owl, deer, bird, hedgehog, squirrel, and mushroom
Printable Terms of Use
The owl word find download is free for personal or classroom use. When you make copies, please make sure that you keep the copyright information on all copies.
You may not sell, publish, or host this printable on any other website. This includes that you may not upload it to another website for people to download (Google Drive, Scribd, etc.).
If you want to pass along the printable though, please feel free to share a link to this post (not directly to the printable) with others. Thanks!  (Printables terms of use)
Download the Easy Owl Word Find Printable
The Owl Word Search Printable is a free download available here on Real Life at Home:
Download the Owl Word Search Printable
If you have any issues with the clarity of this printable (or other printables from Real Life at Home), your web browser may be to blame. I have some tips to help you with this!
More Fall Printables You May Love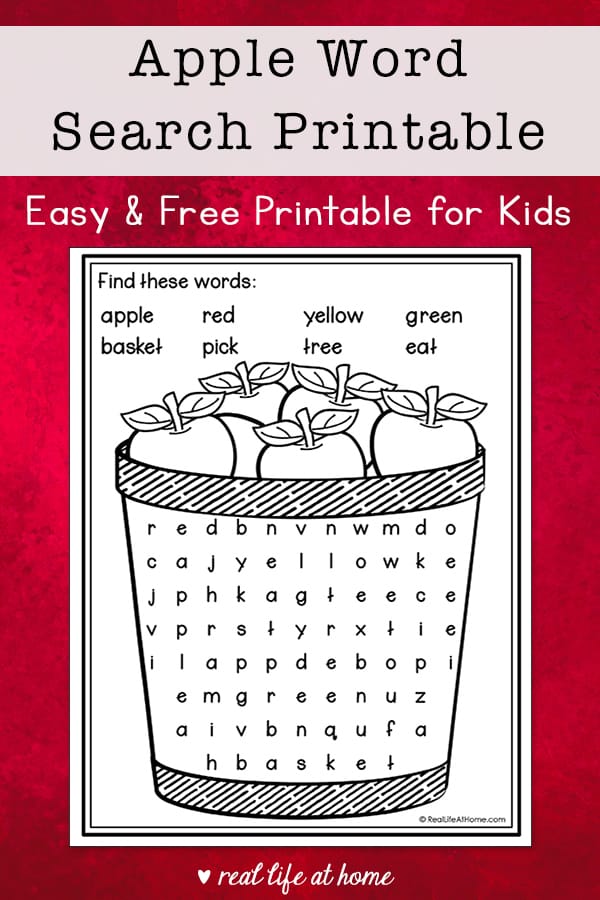 ---
Disclosure: This post contains affiliate links. They do not change the price you pay. However, when you shop through them, we may receive a small compensation.