In the lead-up to Christmas throughout much of Advent, you can use these Printable Color Your Own Jesse Tree Ornaments and Jesse Tree activities for kids. These Jesse Tree printables offer several different types of fun and educational activities and coloring opportunities for your family.
---
I'm so excited to offer this Jesse Tree printable packet that you can use at home, in your classroom, or in Sunday School or Religious Education. I really love that there are multiple options with this set, so you'll be able to make this work in the best way possible for your family or classroom.
Printable Color Your Own Jesse Tree Ornaments and Jesse Tree Activity for Kids
This printable set of color your own Jesse Tree ornaments and Jesse Tree Activities is a great way to keep the focus on the true meaning of Christmas, the birth of Jesus, as you move through December. The 14-page packet includes multiple ways to use the materials included. I'll be sharing about your ornament options, activities, and reflective writing.
You and your kids will love these no prep Jesse Tree pages to work on coloring, crafting, and reflective writing on Scripture passages (for older children). This is such a great way to really focus on Bible history and Jesus throughout December.
This printable packet is perfect for using each day in December until Christmas. However, it can also easily be used only on certain days or by just picking certain parts of the packet to do and only using it for part of the month.
There are several options with these color your own Jesse Tree ornaments and Jesse Tree activities, so you can do what works best for you and your family. That is always my favorite kind of activity – one that is flexible for my family so I don't feel like I'm failing if I don't do every single part of it. Who needs that stress, right?
Age and Grade Levels for the Printable Jesse Tree Ornaments and Jesse Tree Activities for Kids
Because of the inclusion of a variety of options for how to use this Jesse Tree printable set, the packet is good for children and families of all ages. 
Of course, younger children may not color the Jesse Tree ornaments in the same way that older children or adults might, but it can be used by all ages.
There is a Jesse Tree writing reflection page included that can be used for each day of the Jesse Tree or only as many times as you want to use it. The Jesse Tree writing reflection page is better for upper elementary students and older.
Another page of this packet is a Christmas Tree with 25 small numbered circles. Each circle will be filled with one of the Jesse Tree symbols. This page can be used with a variety of ages as well. It also lends itself well for classroom use.
How to Grab and Print The Jesse Tree Ornaments and Jesse Tree Activities for Kids Printable Set
Unlike most of the printables on Real Life at Home, this is a paid set. However, just like with other paid sets, I have it at a very low price. I would always rather more people have access and I make a little less money than to make it too difficult for people to afford my products.
Purchase your Jesse Tree Packet Here
Prefer to purchase on Teachers Pay Teachers? You can do that here.
If you happen to have any printing issues (which I wouldn't expect), I have some tips here that can help with a variety of issues that sometimes pop up because of different web browsers or updates.
I recommend printing this packet on either regular white printer paper or on white cardstock (this is the preferred option) as there are several pages where kids can color some of the pictures. While many of the pages have a dark blue pattern on them or a colored green tree, you can probably get away with printing them in black and white and they will still be just as enjoyable.
Contents of the Jesse Tree Activities and Printable Ornaments Packet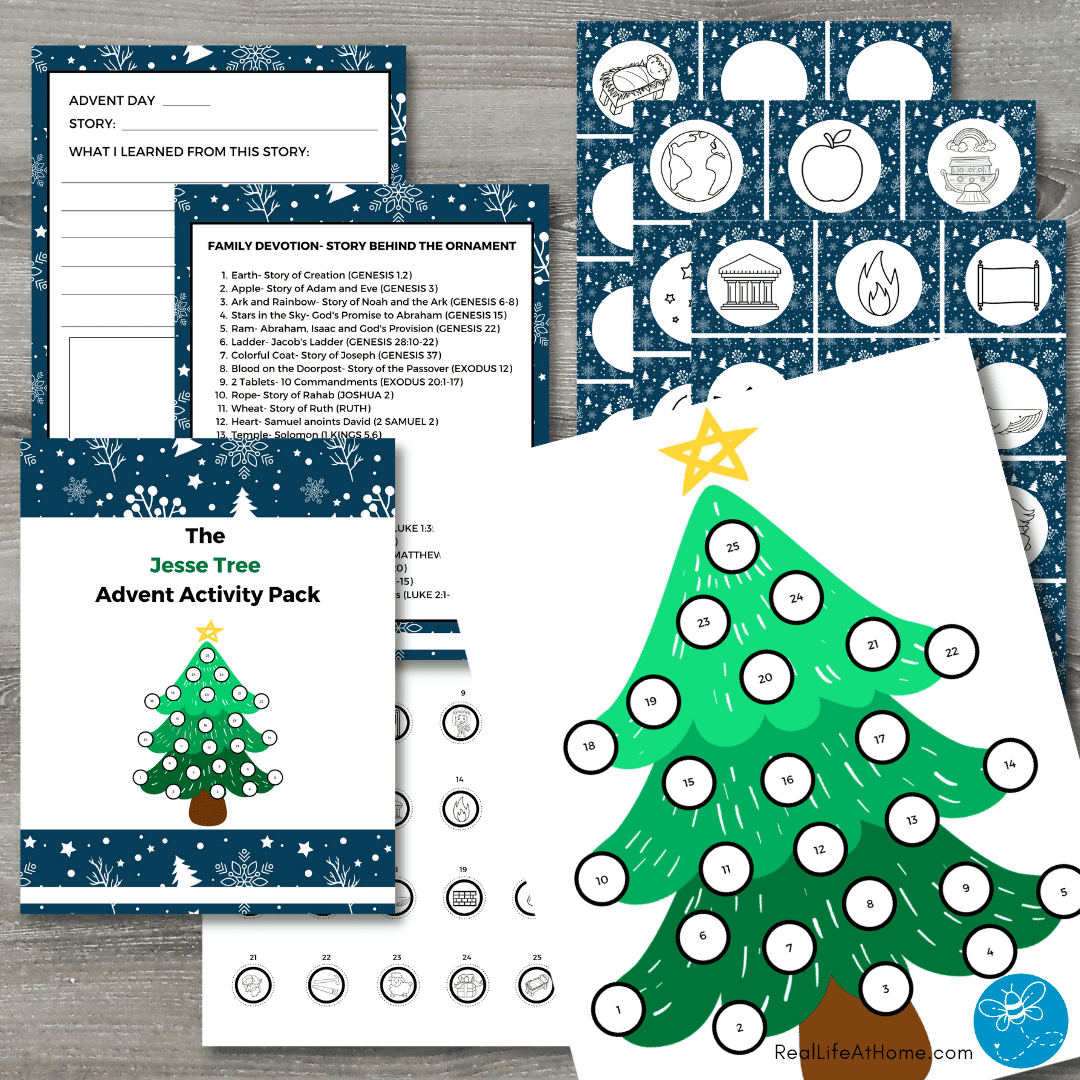 The tradition of the Jesse Tree is inspired from the book of Isaiah chapter 11.
And there shall come forth a rod out of the stem of Jesse, and a Branch shall grow out of his roots. (Isaiah 11:1)
This wonderful Advent activity for families helps celebrate God's great plan. That plan begins at Creation and leads up to the Birth of Jesus.
Print the pages on white cardstock and allow your children or students to color an ornament or countdown card each day.
Post continues after this brief information about a monthly membership to help you live the liturgical year
---
Monthly Liturgical Membership
Perfect for families! Each month you gain access to printable activity pages, crafts, home altar pieces, and more.
Never has living the liturgical year been so easy and affordable!
---
Jesse Tree Printable Activity #1
Color the Jesse Tree ornament for the day that appears in a small circle and then cut it out. Children will then glue it onto the Christmas tree picture on the page. Each day, your children can add to their Jesse Tree page.
For each day, you can study the 'Story behind the Ornament' as a family or class.
Jesse Tree Ornament Activity #2
Cut and hang a ribbon long enough to hold all 25 countdown cards. You may also use a piece of construction paper or poster board, if you prefer. Have your child color a card and clip it onto the ribbon to create a Jesse Tree bunting, if you are using ribbon. Or, if you want to use construction paper or a piece of poster board, you can work on making a Jesse Tree display.
Again, for each day, you'll want to study the 'Story behind the Ornament' as a family or classroom. Additional blank cards are included in this printable to allow your children or family to choose other stories from the Bible that stand out as markers to Christ's Birth.
Jesse Tree Printable Activity #3
There is a daily Jesse Tree writing activity that is included for older children and students.
Don't worry if you can't commit to doing this every day. If you want to include these writing activities but just want to choose to do it every few days or once a week, that's okay and will still be enriching!
Jesse Tree Symbols Included in this Printable Set
Jesse Tree symbols can vary. Here are the symbols that are included in this set. There is a printable page in this set that has corresponding Scriptures for each symbol.
Jesse Tree Symbols Included:
Earth
Apple
Noah's Ark and Rainbow
Stars in the Sky
Ram
Ladder
Coat of Many Colors
Blood on a Doorpost
10 Commandments Tablets
Rope
Wheat
Heart
Temple
Fire
Scroll
Crown
Lion
Whale
Wall
Water Droplet
Angel
Carpenter Tools
Sheep
Gifts
Baby Jesus
More Advent Printables and Activities
If you're looking for more Advent printables and activities, you'll want to check out some of these:
Printables Terms of Use
Before you access the Jesse Tree printables, please know that this means you agree to all of the following terms:
This packet is for personal family use or single classroom use only. However, you may purchase a larger use option for it, if needed. If you plan to use it with a larger group, you must purchase that option.
This printable set may not be shared, sold, hosted, distributed, or stored on any other website. This includes, but is not limited to school/church websites, other blogs, Scribd, Google Drive, DropBox, Facebook, etc. (You may, however, store it in your personal Google Drive or DropBox if you are the only person with access to it.)
You may not change this packet, copy it as your own, or claim this as your own.
All graphics in this packet have been purchased and used with permission. You may not use the graphics for other projects.
All materials (posts, printables, etc) on this site are copyright protected.
Here are more printables terms of use guidelines.
Get the Jesse Tree Printable Pages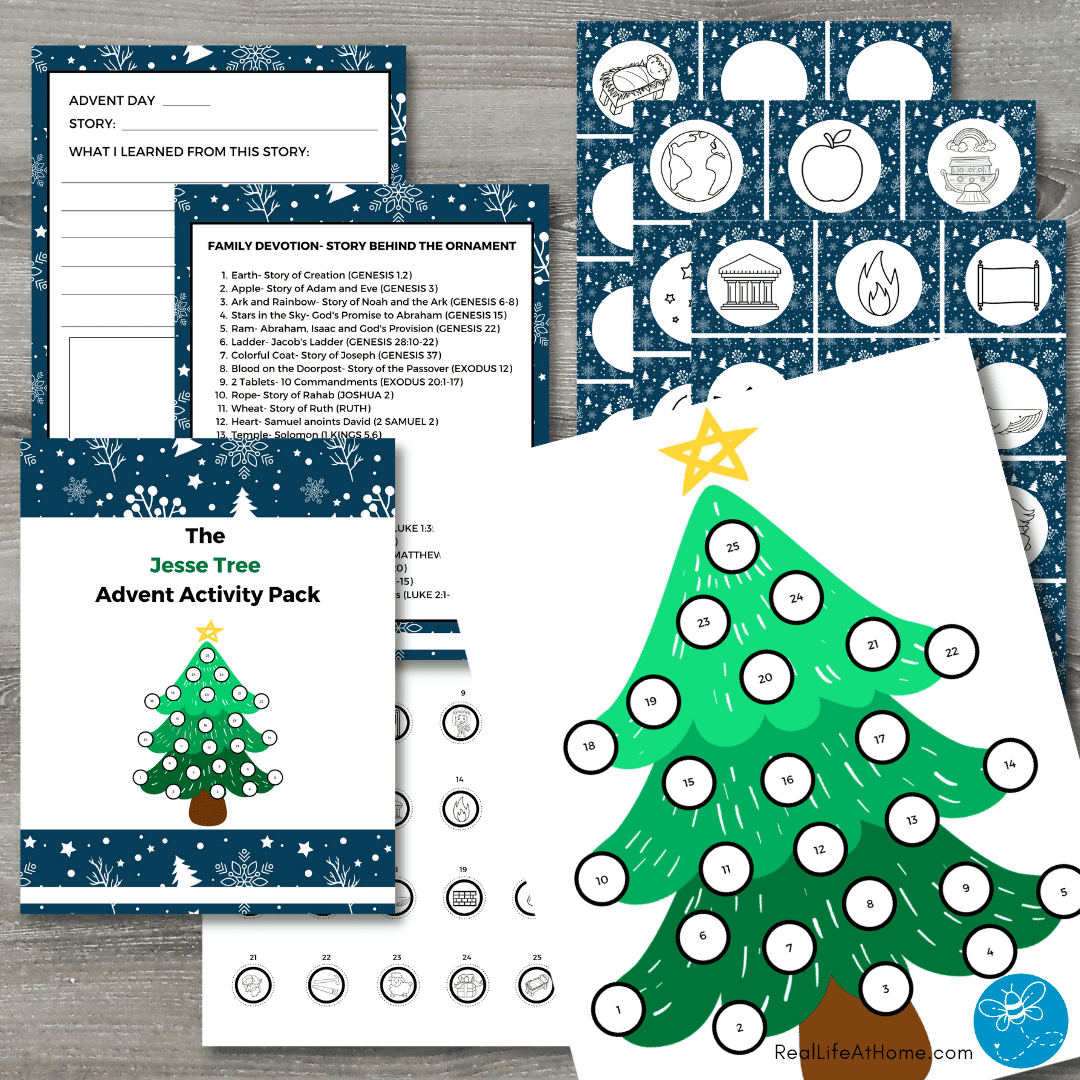 The Jesse Tree Ornaments and Activities Printable Set is is available here at a very inexpensive price:
>>>> GRAB THE JESSE TREE ORNAMENT AND ACTIVITIES FOR KIDS PRINTABLE SET <<<<
Prefer to purchase on Teachers Pay Teachers? You can do that here.
---
Disclosure: This post contains affiliates links. They do not change the price you pay. However, when you shop through them, we may receive a small compensation.
Set of 60+ Advent Activity Cards
Subscribe to the Real Life at Home Weekly Email List and Receive the Advent Activity Cards for free