Free Ice Cream Printable Colors Book Post Preview: Children can work on reading simple sentences with this ice cream-themed booklet. They can also use the pages as coloring pages and color ice cream pictures to make the color statements true.
---
Did you know that July is National Ice Cream Month? Even if it wasn't, I think it's a pretty safe bet that the July heat would have us all seeking out cold sweet treats anyway.
Of course, at my house, people are sure that even winter is a perfect time for ice cream. They really do love their ice cream!
To celebrate National Ice Cream month, I have a brand new Ice Cream Printable Colors Book! This is perfect for preschool and kindergarten students, as well as some first or second grade students, depending on their reading needs.
Related Reading:
Free Ice Cream Printable Colors Book for Preschool and Kindergarten
This free printable easy reader is perfect for kids in preschool and kindergarten (and older, as needed). It's a nice repetitive story that you can use to work on recognizing and reading color names.
Read More: 10 Strategies for Parents to Help Struggling Readers
With younger children, you can read the booklet to them and then they can color in the ice cream cones with the appropriate colors. For children who are already reading, they can read the book either with help or independently. They can then recognize the color words and use that as their guide for coloring in the ice cream in the correct color.
Contents of the Booklet for Learning Color Names
The booklet has a cover page with a picture of a child with an ice cream cone that can be all be colored. The cover also says, "I See Ice Cream Colors" in a font that children can color in.
There are then nine half-size pages that use a repetitive sentence structure to work on color names. Each page then has an ice cream cone that can be colored in to make the sentence on the page true.
For example, on the "I see a pink ice cream cone" page, students can color in the cone any color they want and then color the ice cream pink. Some of the ice cream pictures have sprinkles children can color in as well.
Colors included in the booklet:
pink
green
red
orange
yellow
brown
blue
purple
pink, brown, and white (on the same page together with an ice cream area that is divided into three areas)
A fun follow-up discussion with children could be to ask them what flavor they think each ice cream could be. They might decide that their pink is strawberry or it might be bubble gum, for example.
Children who are writing could even write on the page what flavor they decided each ice cream is.
After you finish, you could even further extend the activity by making one of these homemade ice cream recipes!
How to Assemble the Ice Cream-themed Printable Colors Book
The Ice Cream Colors Booklet is a free five page downloadable document. Each page of the download has two pages of the half-sized booklet on it. After you assemble the booklet, it is ten pages long.
Print each of the five pages on white 8.5″x11″ printer paper. If you don't want your child to color in the pictures, you could print each page out on the correct color, but then you'd need to print each page twice (since each sheet contains two different pages of the book) and that seems like a waste. Besides, it's fun to get a chance to color the pictures!
Cut on the dotted lines shown on the page to make the pages the same size.
You will use the area blocked off on the far left side as an area to staple the booklet together. You can also use brad fasteners or hole punches with yarn through them to tie the pages together. Whatever works best for you. I think a few staples in it is both quick and cheap.
Once you cut, assemble and staple it, the book can be read, colored, and enjoyed!
Other Fun Resources for Learning and Talking about Colors
Perfect for so many games and activities!
Plastic colored counting bears with cups are a wonderful and versatile manipulative to have around the house or classroom.
Fun and easy puzzle for working on both shapes and colors.
Ice Cream Colors Book Terms of Use
Terms of use can be found on this page. Please be sure to read the whole page. By using the printables, you are agreeing to the terms of use.
While it is your responsibility to read the terms of use page, here are a couple of quick pieces of information of note:
These printables are free for personal, classroom, and group use. You may not use this or any of my printable for commercial purposes. If you aren't sure if your use of them is allowed, just contact me to find out.
You may not host this packet or these printables on your website or any website or file sharing service (Google Drive, Scribd, etc.). They are exclusively for use by Real Life at Home. You may not distribute them via email or other electronic means. You may not use these printables and claim them to be your own.
If you have any other questions about the terms of use, please be sure to ask!
Download Your Ice Cream Printable Colors Book
You can download and print your booklet here:
Download the Free Ice Cream Colors Book Here
Other Free Printables You May Also Love: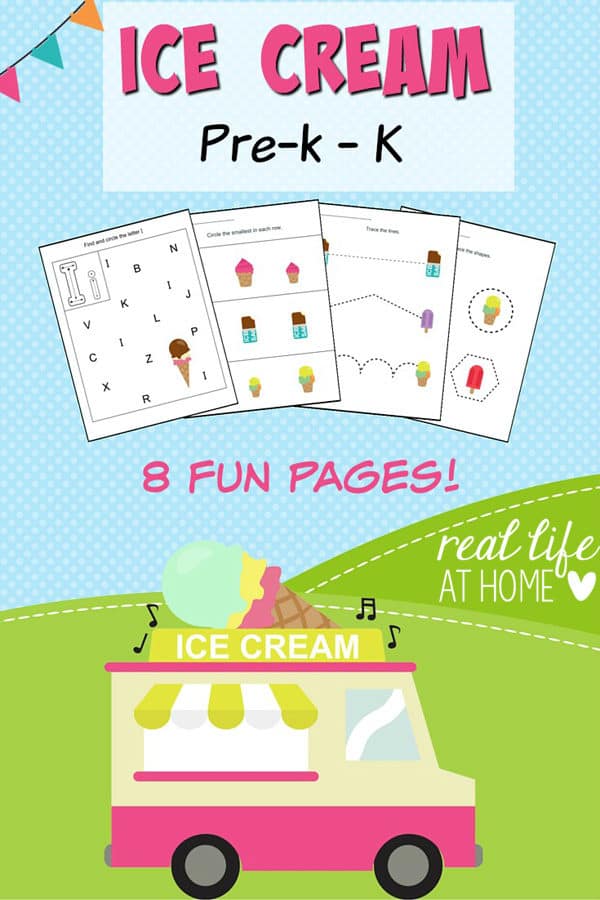 ---
Disclosure: This post contains affiliate links. They don't change the price you pay. However, when you shop through them, we may receive a small compensation.
Summer Math Patterns Packet

Subscribe to our weekly newsletter and receive the Summer Math Patterns Packet as a free gift.