This post with strategies for parents to help struggling readers is one that I originally wrote in 2012, although these are still solid strategies today.
In this post, I shared about the strategies we used to help our 2nd grade struggling reader to grow into a voracious reader by the time he was in 6th grade. At the end of the post, I'll share an update of where he is now that he's midway through his junior year of high school.
---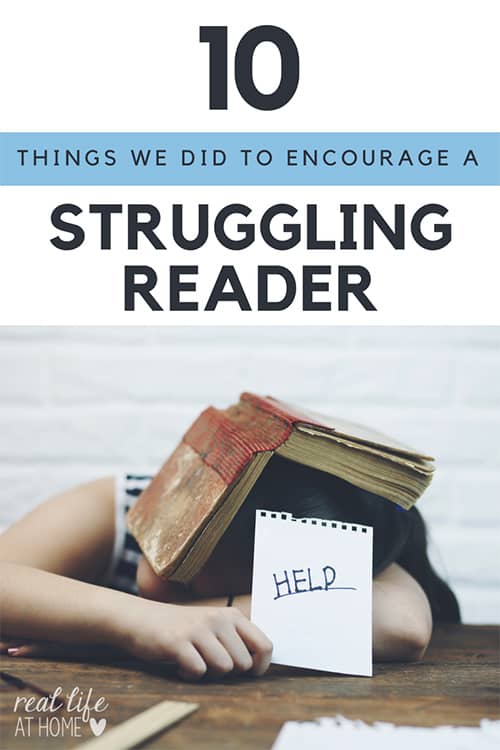 Struggling reader, reluctant reader, whatever you call it – our oldest son (who has Asperger's Syndrome and ADHD) definitely had an extremely difficult time reading when he was younger.  When he left school after second grade to start being homeschooled, they told me that he was just barely at grade level.  Of course, what this meant was that he was just barely at a second grade level when he was at the end of second grade.
Even once he came home for school, he was still a struggling reader.  During one of his case conference meetings (as we have decided to keep his IEP up-to-date with the school system), we requested that he be tested for a reading disability.
The school ended up saying that he did not have a reading disability, but the reasoning was odd and too long to go into here.  We were secretly told by someone on the committee to have him tested again later, as she felt the results were not accurate and she was upset about the reasons they gave.
But, here we are today, and while he may not be the most amazing reader in sixth grade, he loves to read and reads well, particularly given his difficulty with reading in the past.
What We Did: 10 Strategies for Parents to Help Struggling Readers
1. Encouragement to Read Whatever He Wanted. 
Sure, we have from time to time said he shouldn't read something.  But, back in the day when he was hardly reading, if he wanted to read Pokemon books for school, we would let him.
2. Have a Variety of Types of Reading Materials Available. 
We didn't stick to only books, but also magazines, comics, and Internet reading.
For working on reading during school time, we used the Hooked on Phonics Master Reader program, which we found a lot of success with.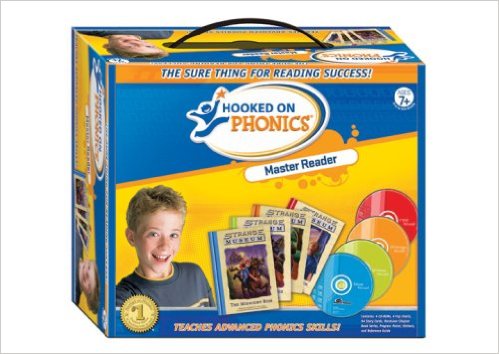 3. Have High Interest Reading Materials Available.
Based on his preferences, we made sure to have a lot of things around the house that he would love to read.  This is one reason, for instance, that we have a ton of ZooBooks Magazines around now.
4. Nightly Read Alouds.
One way to encourage children in their reading is to do a lot of read alouds.  We haven't always been good about doing it every night, but we definitely used to every night while he was still struggling so badly.  We picked wonderful, classic books as well as silly books that were a little more on the side of twaddle.  We just wanted to present reading to be the fun activity that it is.
5. Read School Materials Aloud.
In subjects where it didn't matter if he was able to read on his own, I would usually read things aloud to him.  As he got better with reading, I would sometimes ask him to tackle one paragraph.  As he got even better, I might ask him to read a whole page. I knew that he was getting even more comfortable with reading when he would excitedly ask me if he could be the one to read to me.
6. Have Your Struggling Reader Be the Teacher.
In order to help him feel more successful, I would sometimes ask him to read simple books with our youngest child.  In this way, he was able to feel success as a reader, even if it was at a much lower grade level.
If you don't have younger siblings in the house, your struggling reader might enjoy reading to other younger children or even cooperative pets.
7. Lots of Trips to the Library.
I will selfishly admit that one of the reasons that my kids pretty consistently manage to go to the library is because Eric takes them once a week and then tends to take them out for an ice cream afterward, while giving me some quiet time at home.  However, I definitely think that lots of trips to the library helps!
8. Audio Books. 
I don't know that this is really all that different from listening to Mom or Dad read aloud.  However, it is a nice option to have.
Also, in our case, it just so happened that one audio book that we listened to was The Magician's Nephew by C.S. Lewis.  That one audio book made our reluctant reader so interested that he then proceeded to read the entire Narnia series of books.
Mind you, I didn't say listen to them, I said he read them.  It was quite a shock when our struggling reader loved a story so much that he couldn't wait to read the rest of the series.  I really see that as a turning point in his life as a reader.  It was after that that we rarely saw him without a book near him.
9. Suggest Books that You Think Will Be of Interest to Your Reluctant Reader.
One series of books that our reluctant reader ended up loving was simply because I saw it in a book store, read the backs of several of them, and decided that he would probably like it.  He was not sure at first, but after reading part of the first one, he loved it.  This was one of the first things that finally made him willing to read.
10. Relax.
Unless you're sure that there is definitely a medical reason that the reading is difficult, it might be that your child just needs more time to mature and develop.  Some kids just grow and develop at different times than the accepted norm.  Your late blooming reader may just have a book worm inside of them waiting to get out.
An Important Note: There sometimes really are medical reasons or learning disabilities that make reading difficult or impossible for some children.  In these cases, simple encouragement is just not enough, and other steps may need to be taken.
Learn More: 5 Ways to Use Games to Teach Reading
---
2017 Update on Our Once Struggling Reader:
Our oldest is now midway through his junior year of high school. He ended up being homeschooled full time from 3rd through 8th grade, did a hybrid set up where he went to school half-time in 9th grade, and has been in school full time in 10th and 11th grades.
He continues to be a voracious reader and still likes to take books with him when we're on the go. At his school, there are four levels of English classes and while he is not in the very top level (which is difficult to get into), he is in the level just below that.
In a recent assignment where he had to pick a book to read and do a project on, he picked a 400+ page book. He has read and loved things like The Adventures of Tom Sawyer, A Midsummer Night's Dream, The Call of the Wild, The Godfather, and so many more.
I don't know that the things we did turned him into the voracious reader he became, but I know for sure that they helped to make him more comfortable and confident as a reader. I believe that made a huge difference in his life.

Learn More: How to Increase Reading Fluency
10 Strategies for Parents to Help Struggling Readers was originally published on March 13, 2012. It was most recently updated on February 3, 2017.
Join 35,000+ Other Awesome People
Subscribe to the Real Life at Home weekly newsletter to get our latest content, exclusive free printables, learning activities, and ideas for celebrating with your kids all year