Free Easter Coloring Pages Printable Set with Bunnies, Chicks, and Eggs Post Preview: Celebrate Easter and Spring with these Easter coloring pages featuring fun scenes with bunnies, chicks, and eggs.
---
Easter is almost here! For many kids, that means it's time for coloring Easter eggs and getting ready for an Easter egg hunt or to look for their basket of goodies.
Of course, I suspect Easter is going to look a lot different this year than any Easter I've ever lived through. Hopefully, next Easter will be more like "normal" and we'll be extra thankful for going to church and having a meal with extended family.
To help you get ready for Easter at home, I have a brand new set of free Easter coloring pages this year. (You can check out all of my free Easter coloring pages here.)
Note: The download for the free Easter Coloring Pages set is farther down in this post.
---
Related Content: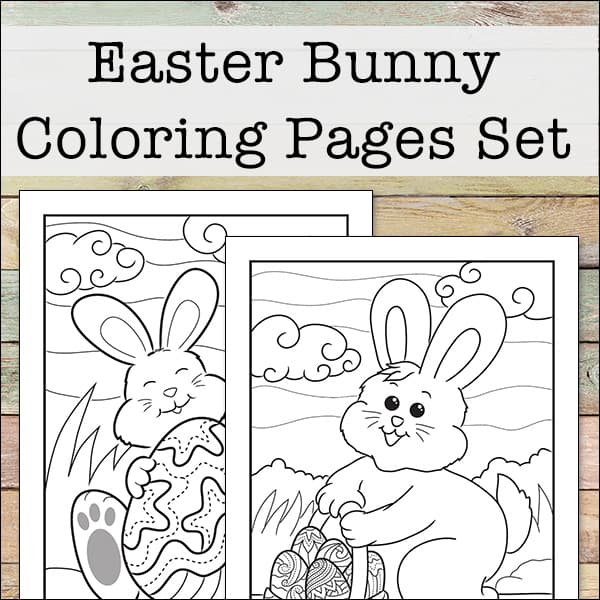 ---
Free Easter Coloring Pages Printable Set with Bunnies, Chicks, and Eggs
This free Easter coloring pages set contains five different coloring pages with bunnies, chicks, and eggs in various scenes. They will come together in one downloadable packet, so you will get all five for free (no opt in required, just a link to click farther down in the post). These pages are free for personal or classroom use only.
These Easter coloring pages are simple enough to be completed by young children, but also have enough detail that older children may enjoy them as well. Of course, it could be that young children may color in larger areas with a single color, while older kids will take the time to color in details.
Since these Easter coloring pages are free, you won't be out anything other than a little paper and printer ink if the page gets used up quickly. So, print away!
Details of the Easter Coloring Sheets
As I mentioned above, this set contains five different coloring pages. There is also a terms of use/copyright page.
Here are the five free Easter coloring sheets:
A chick in a half eggshell along with a decorated egg with "You crack me up" on the page
"Some Bunny Loves You" that shows a bunny pulling a wagon of decorated Easter eggs
"Happy Easter" with a bunny in a basket with carrots, decorated Easter eggs, and flowers as decorations
A couple of chicks with a star-decorated egg
A bunny peeking out behind two large decorated eggs
Want a different way to "decorate" an Easter egg? Here is an Easter Egg Paper Craft with a free printable template.
Terms of use for the Easter Set with Bunnies, Chicks, and Eggs to Color
This Easter Coloring Sheets set is free for personal or classroom use, but you must include the copyright credit line when making your copies. You may not sell, publish, or host this printable set on other websites.
There are more terms of use to check out here. By downloading and using these coloring pages, you are agreeing to the terms of use.
If you want to pass along these coloring sheets to others, please feel free to share a link to this post (not directly to the printable). Sharing the site, and not the actual printables, helps support this site and my family. It's one of the things that makes it possible for us to offer so many awesome free printables.
If you use a lot of free printables from Real Life at Home, please consider making a small donation. It's one of the things that helps us to keep offering more free printables.
Thanks!
Free Easter Coloring Pages Printable Set: Download Here
Download the Free Easter Coloring Sheets Set Here
Other Free Easter Printables You May Love
---
Disclosure: This post contains affiliate links. They don't change the price you pay. However, when you shop through them, we may receive a small compensation.
Easter Egg Coloring Book
Subscribe to our weekly newsletter and receive 13-page Easter Egg Coloring Book as a free gift