Easter Books, Crafts, and Printables for Preschool and Kindergarten Students is a post from contributing writer Dianna Kennedy.
As a Catholic family, Easter is a big deal in our house.
We do a combination of religious crafts and books, as well as fun spring ideas. Check out these Easter books, crafts, recipes, printables, and more for the preschool and kindergarten set.
Easter Books, Crafts, and Printables for Preschool and Kindergarten Students
Rachel received this book one year for her birthday, and it quickly became a family favorite. Jan Brett's illustrations are breathtaking! My children enjoyed checking out all the different ways you can decorate Easter Eggs – wooden ones, painted ones, jeweled ones, and more!
You can decorate Easter eggs with all kinds of natural dyes for some fun looks. These space eggs and dragon eggs are both absolutely fabulous! (The space eggs are so cool that I think I have to make some for myself!)
Your children could work on color recognition as well as music with these adorable Fancy Shaker Eggs!
My kids flip over lift the flap books – this one is filled with bright colors.
Our Little Monkeys has a sweet Easter tot pack for your young ones.
Kids will love this invitation to create activity with felt Easter eggs. The options are wide open and I love the end products.
These hand-sewn Easter egg decorations are perfect for kids that are just a little bit older, but they still leave so much room for creativity. They're great for working on stitching skills.
I didn't know Liz Curtis Higgs wrote children's books until I started my search for Easter resources!
This lovely story follows Maggie, as she is given a lily bulb as a gift. She tosses it aside, but it blooms on Easter morning despite her neglect.
You can make your own handprint Easter lily craft.
With this Easter printable pack from Confessions of a Homeschooler, you can work on counting, scissor skills, and more!
Get ready for some laughs as you follow the story of the hungry old lady!
Your kids will giggle as they make a chick craft to go along with the book.
Want to eat some chicks like the old lady? I love this Peep in a Basket treat from The Crafting Chicks!
This book explains the story of Easter, and why it is important to Christians in a way that even small children can grasp.
I'm planning on making this adorable Resurrection set courtesy of Catholic Icing. Don't miss her Easter countdown calendar!
Work on your math skills with this sweet book, which heralds the arrival of spring by counting everything from foals to church bells.
For more math and counting fun, don't miss this free preschool and kindergarten math printable packet that is all Easter-themed.
This classic book from Tasha Tudor is part of our Memoria Press curriculum that we'll be studying this spring.
I'm a sucker for crafts with handprints or footprints, so these footprint bunnies are definitely on my list! I also love this lamb handprint craft.
One of my children's favorites, this is the story of a bunny who follows Jesus through Holy Week and is the first animal to see him at the Resurrection.
We made this Resurrection Craft from Totally Tots, and it turned out wonderful.
My boys are huge Curious George fans, so it's only natural that we're putting this story in our Easter Baskets this year!
Kindergarten students and older children can have fun with this Easter printable pack from Mama's Learning Corner. These cardboard tube crafts are a great way to use up some of your toilet paper/paper towel tube stash!
You can also make your own Easter basket craft and decorative egg with this free printable Easter basket cut out craft.
As a mother who has time management issues, this story always makes me laugh. The Easter Bunny oversleeps, and tries to deliver his eggs on Mother's Day, 4th of July, and even Christmas!
These shaving cream marbled paper Easter eggs are so cute and are a fun sensory activity for everyone involved.
Oh, and speaking of bunnies, these hand-sewn felt bunny brooches are so dear! They are great for working on hand sewing skills and they would make a darling Easter gift.
We will be printing out this Easter memory game from Modern Parents, Messy Kids for some matching fun.
Have I missed any of your favorite Easter books or crafts? Be sure and leave a comment! Looking for even more Easter ideas? Check out my Pinterest Easter mega-board!
Other Easter Posts and Printables You May Love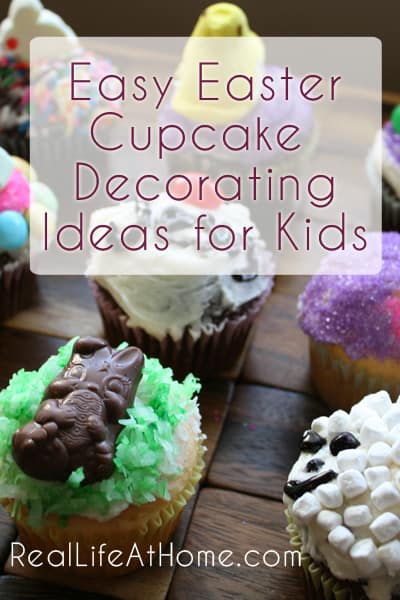 ---
Disclosure: This post contains affiliate links. They don't change the price you pay. However, when you shop through them, we may receive a small compensation. 
Easter Books, Crafts, and Printables for Preschool and Kindergarten Students was originally published on March 30, 2012. It was last updated in March 2018.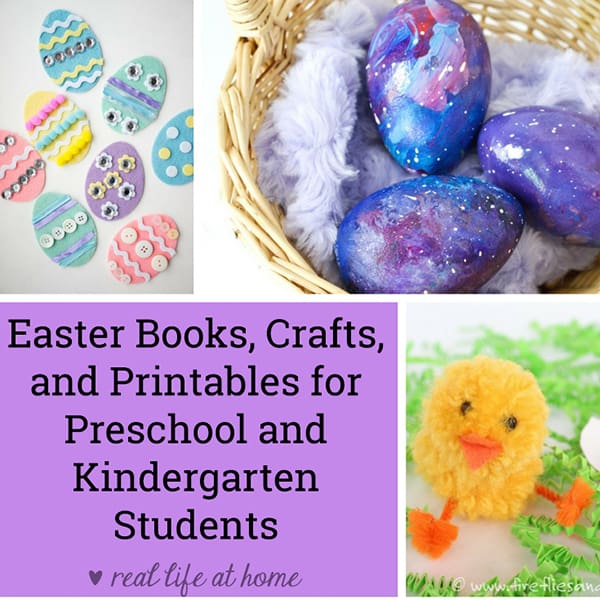 Join 40,000+ Other Awesome People
Subscribe to the Real Life at Home weekly newsletter to get our latest content, exclusive free printables, learning activities, and ideas for celebrating with your kids all year