Looking for a sweet way to brighten someone's day on Valentine's Day? Grab these free printable You Are My Sunshine Valentine Cards to print, color, and cut out and then give them to friends and family. If you prefer, you can use this as a coloring page and keep it for yourself.
---
I'm really excited to share these sweet coloring pages with you! Not only do I love having lots of printables for you to grab on my site for Valentine's Day, but this one is extra special to me because of the song.
My mom used to sing this song to me all the time when I was a little girl. Who knows – if I went to her house now and requested it, maybe she still would, but it might be a little weird to ask her to do that. When I sang it to my kids the first time, I started to cry because it was such a special song for me.
Fun fact: When I was in kindergarten, we went to the World's Fair when it was in Knoxville, Tennessee. While we were in that area, we did lots of sightseeing. One of the places we visited was the Grand Ole Opry. During the tour, they had our group sing "You Are My Sunshine" while we were on the stage. The tour guide said that now we would all be able to say that we've sung on the stage at the Grand Ole Opry.
Free Printable You Are My Sunshine Valentine Cards or Coloring Pages
This free set of You Are My Sunshine printable valentine cards is a cute coloring activity to do in February. You can grab this printable set to color just one for a special friend or family member or you can print off several and use them for a whole class full of friends.
The four-page packet has three different designs for this card. That way, you have options about exactly what you want to appear on the card.
One of the nice things about these cards is that you can actually use them any time of year. The pages all say that they are a Valentine's note at the top, but this is actually perfect for any time of year!
Age and Grade Levels for the Free Valentine's Day Coloring Sheets
The free printable You Are My Sunshine valentine cards are wonderful for all ages. Not only can the kids have fun with these cute color-your-own valentines, but you can grab your favorite crayons or makers and join in on the fun too! This would be a cute surprise for your spouse, a friend, or maybe even your mom that used to sing you that song.
This packet is available for free farther down in the post with no sign-ups needed. Because of that, you can use the pages that are perfect for your children or students.
How to Grab and Print The Free Printable Valentine Notes
Of course, I think you should check out all of the resources that I have shared in this post since I think they will go well with these printable valentine notes. However, to find the "You are my Sunshine" Valentine cards, scroll toward the bottom of this post. Just under the terms of use section, you'll find a graphic and a text link to grab the printable. The text link will say >>>> Grab The Free You Are My Sunshine Valentine Cards <<<<.
If you have any printing issues, I have some tips here that can help with a variety of issues that sometimes pop up because of different web browsers or updates.
I recommend printing these cards on white cardstock. You can also print on regular white printer paper, if you prefer. However, cardstock is going to be studier, which is generally preferred for valentine cards.
Contents of the "You are my Sunshine" Valentine Cards Packet
Pages included in the valentine cards packet: 
Terms of use/copyright page
You are my Sunshine Valentine Note featuring a sun, rainbow, "You are my Sunshine" that can be colored in, and a to and from section
The same design as above, but without the to and from section
One more iteration of the design, but this time without the "You are my Sunshine" wording – so it's just a sun and rainbow on a heart with room to write in your own messages
More VAlentine's Day Printables and Activities
If you're looking for more Valentine's Day printables and activities, you'll want to check out some of these: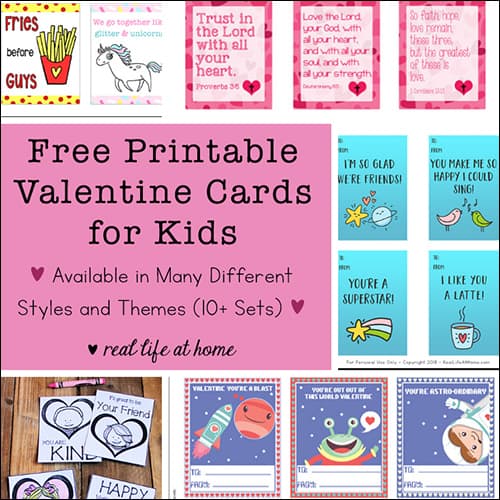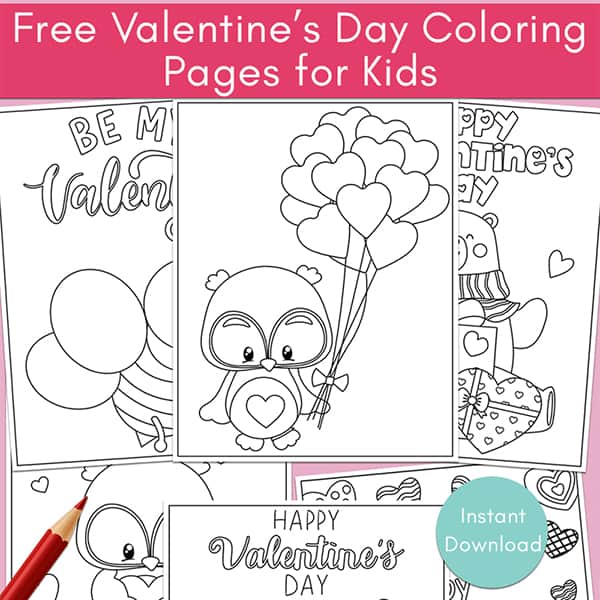 Valentine's Day Activities and Resources
Free "You Are My Sunshine" Color Your Own Notes Terms of Use
Before you access the printable, please know that grabbing your copy means you agree to all of the following terms:
This packet is for personal family use or single classroom use only.
This printable set may not be shared, sold, hosted, distributed, or stored on any other website including, but not limited to, school/church websites, other blogs, Scribd, Google Drive, DropBox, Facebook, etc. (You may, however, store it in your personal Google Drive or DropBox if you are the only person with access to it.)
You may not change this packet, copy it as your own, or claim this as your own.
All graphics in this packet have been purchased and used with permission. You may not use the graphics for other projects.
All materials (posts, printables, etc) on this site are copyright protected.
Here are more printables terms of use guidelines.
Get the Free You Are My Sunshine Coloring Set
The You Are My Sunshine Coloring Set is a free packet available to all Real Life at Home visitors. (Thanks for stopping by! You might consider subscribing to the weekly newsletter so you can always know about new free printables.)
---
Disclosure: This post contains affiliates links. They do not change the price you pay. However, when you shop through them, we may receive a small compensation.