Summer vacation is upon us — HOORAY! We're pulling out all of our favorite beach and ocean books to get ready.
Want to create your own unit study on beaches and ocean life? I'll give you our list of favorites.
Ten Best Beach Books for Young Children
Brightly colored illustrations along with bouncy verses about a summer day at the beach will start your vacation off on the right flip flop! Add to your fun with some summer coloring pages or dot to dots. Ages 3-6.
Perfect for preschoolers up to second grade, this book explores snails, turtles, clams and crabs. Beautiful watercolor illustrations make the story come alive.
With some help, your children could try a 3-D turtle craft on for size.
One of our favorite books, the colorful illustrations and short, peppy rhymes here will hold your children's attention as they learn about sea animals. Recommended for preschoolers through second graders.
Try your hand at a textured starfish – just paint using this template on construction paper or cardstock, then add sand while the paint is still wet.
Part verse, part fingerplay, part I Spy – this adorable book would be a welcome addition to your beach collection! The verses in the book can be sung to the tune of "Over the Meadow" for more fun! Ages 4-8.
Create your own tissue paper seahorse craft for this book – start with the seahorse template, printed on cardstock or construction paper. Give your little ones a small cup of Elmer's glue, along with cut up squares of tissue paper and a paintbrush. They can apply the glue with the brush, then add the tissue paper for their own masterpiece.
My children love this story of the Daddy seahorse, taking care of his babies. I was amazed at all of the other sea creatures we learned about that also take the primary responsibility of caring for their young.
Do your children love Do-A-Dot Markers
? We were able to find an do a dot activity page to match the seahorse book. These pages can also be used with round magnets. (Be careful with younger children as they are a choking hazard!)
Want to work on handwriting and counting? Check out the baby seahorse math sheet.
6.How to Hide an Octopus
Want to show your children how animals camouflage themselves? The beautiful illustrations here introduce use to a sea dragon, octopus, crabs, pipefish and more.
Work on fine motor skills with this octopus activity. Print the octopus on cardstock, then let children glue cheerios on to create the octopus suckers. Great way to work on counting, too!
Here is a fun octopus craft that works on fine motor skills and uses dyed pasta (here are some easy directions).
Have you talked about the five senses? This book follows a young girl to the ocean, where she uses her senses to enjoy her visit. Keep your kids busy with several types of ocean mazes, or other ocean animal printables.
Are you heading to the beach for the first time with your family? This book, where a mother describes the ocean to her young son, would be perfect for you. Ages 3-8
Work on writing with a simple fish practice letter sheet, or work on a clown fish color by letter.
Eric Carle graces this list twice -he's been a treasured favorite in our house for over 10 years!
This delightful book not only teaches us about different sea creatures such as anenomes, coral, sea snails and more; but reminds readers of the exciting possibilities that abound with a move.
Keep your readers entertained with more hermit crab activities, such as a do a dot page, as well as letter matching cards.
10. Curious George Goes to the Beach
My boys adore Curious George stories! Follow George and the man with the yellow hat as they travel to the beach for the day.
Finish up your beach unit study with a more permanent sand castle craft – great for preschoolers!
Note: This post contains affiliate links.
This post was originally published on June 10, 2011.  It was updated in June 2016.
Other Posts You'll Love: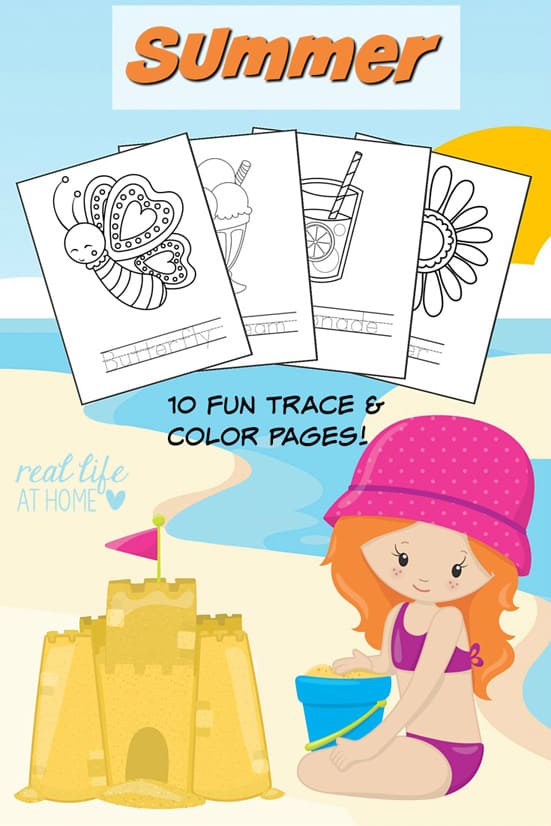 Join 40,000+ Other Awesome People
Subscribe to the Real Life at Home weekly newsletter to get our latest content, exclusive free printables, learning activities, and ideas for celebrating with your kids all year