Seize the Summer & Grow: How to Make a Simple Summer Goals List (Summer Bucket List) for All Ages (with Free Printable) is a post from contributing writers, Julianna of Petunia June and Roan of Joyful Always as well as Angie Kauffman, owner of Real Life at Home.
With the last day of school quickly approaching, I find myself experiencing conflicting emotions. I do look forward to the change of pace, the relaxed days, and the beckoning outdoors. But to be completely honest, I also feel a bit anxious. Going from a fairly rigid school schedule to practically no schedule at all can create a whiplash effect.
Of course, I want my children to relax and play and enjoy their summer break. But I also know that they thrive when they are given a somewhat predictable schedule. They know when to work and when to play, and because of that, they can feel a sense of accomplishment at the end of their day.
How to Seize the Summer and Grow During the Break
A couple of years ago, I read The Mission of Motherhood by Sally Clarkson. I was struck by something that her teenage daughter observed:
It seems to me that those who really know God should be more loving, more deeply driven with enthusiasm about their purpose in life . . . more creative and more excellent in every way. Shouldn't knowing God change them forever?
I want to instill in my children a healthy sense of purpose as they grow and mature. I want them to pursue excellence and creativity in every way. I want their lives to stand out as testimonies to the One who has given them such great minds and abilities.
I was also impressed by an idea that I found over at Inspired to Action. A reader suggested using Luke 2:52 as a framework for summer plans:
And Jesus grew in wisdom and stature, and in favor with God and man.
She found ways in which her children could grow in each of these areas (mental and physical growth along with service to God and others) while embracing the unique freedom that summer provides. What a great way for children to grow!
How to Make a Simple Summer Goals List for Children (and Adults!)
This led to the creation of our own family plan which is a modification of the ideas I've gleaned. I don't want us to waste our summer. I want us to live intentionally and fully.
This led to the creation of our own family plan. I don't want us to waste our summer. I want us to live intentionally and fully.
To help visualize this, I (very eagerly) created a Summer Goals chart that has rows for each person in our family.
The three columns include:
Places to Go
Things to Do
Books to Read
Each person gets to choose three items for each category. Here's a peek at our first summer goals chart, which I later displayed on the fridge:
Farther down in the post, there is a free printable Summer Goals List (or Summer Bucket List) that you can download and print. The version available for print doesn't look like the one above, but it has the same categories. You can also choose from a variety of looks and sizes for it.
Summer Goals List: Places to Go
Our "Places to Go" are not extravagant or expensive. For example, we might visit the local pool or spend time at the humane society. Some things might be just for fun, while some things were to help others. Family hikes and camping trips are also favorite ideas.
Your list might include larger things, of course, if you prefer. It might be best to give your children some parameters on what might be likely to happen and what locations aren't the best fit for the list.
Summer Goals List: Things to Do
For "Things to Do," I encouraged the kids to think of three hobbies or skills they'd like to develop over the course of the summer. In the past, they've chosen activities such as making ice cream, knot tying, and embroidery.
I'm hoping to further develop this area to include goals that encourage us to share in our community as well. Perhaps we could visit a nearby nursing home or spend time volunteering at the local shelter.
Summer Goals List: Books to Read
The "Books to Read" column is pretty self-explanatory.
We each choose three books that we'd like to complete. The children often take part in our library's summer reading program which really makes those pages turn quickly. Summer book clubs can be a great way to encourage reading and discussion among peers as well.
Related Reading: Free Printable Summer Reading Log and Summer Bookmarks to Color
I anticipate that our summer mornings will include a bit more structure – the "mental growth" we want to develop: reading, piano, chores, and the hobbies that they're pursuing.
Afternoons are ripe for exploring and the "physical growth" that rapidly takes place during the summer months. There are frogs to catch, wildflowers to admire, berries to pick, and trails to explore.
I know that not every day will be seamless and productive, and that's okay. There will be wild, exciting days filled with youth camps, family visits, and traveling. There will also be days when we need to do nothing but rest. There will be late nights and lazy mornings. There will be days of structure and there will be days of chaos.
But God has given our family these days, and I want to use them well. 
Your Summer Goals List (Summer Bucket List) Free Printables
This post was originally from June 2012. This post was updated and this section and printable were added by Angie in May 2018.
I loved the simplicity behind Julianna's Summer Goals List. I thought it would make a perfect post to not only update this year but also to make a set of printables for a Summer Goals List / Summer Bucket List to go along with.
While I started out by making just one printable for this, I ended up making a few. However, as I have a tendency to do, I like giving options.
In the end, I made a packet that has three full-page versions of the Summer Goals List / Summer Bucket List – one in color and two in black and white. The packet also includes a black and white version and a color version that are half-page size, with two lists on each page. All of the versions come in one download, so you can just pick whichever works best for you, your family, or your students.
Summer Goals List / Summer Bucket List Printable Terms of Use
The packet has a terms of use page before the pages of printables. Please be sure to read the page. By using the printables, you are agreeing to the terms of use.
While it is your responsibility to read the terms of use page in the packet, I will highlight a few things from that page.
These printables are free for personal, classroom, and group use. They may not be used for any commercial purposes. If you aren't sure if your use of them is allowed, just contact me to find out. 
You may not host this packet or these printables on your website or any website or file sharing service. They are exclusively for use by Real Life at Home. You may not distribute them via email or other electronic means. You may not use these printables and claim them to be your own.
If you have any other questions about the terms of use, please be sure to ask!
Summer Goals List / Summer Bucket List Printable Download
Download the Free Summer Goals List / Summer Bucket List Printable Packet
What if We Want to Do More During the Summer?
Prioritizing Your Summer Tasks and Activities
This section of the post is written by contributing writer Roan of Joyful Always.
"You can do anything you want, but you can't do everything you want."
This is a quote I regularly repeat to my children when they are trying to decide between several activities. This saying can also apply to any worthwhile choices that have to be made such as homeschool curriculum, personal goals, vacation plans, career choices, or hobbies.
As we are planning our summer activities, I plan to apply this quote as we make our lists.
The weeks of summer break appear to be never-ending in the beginning, but if you are not careful, the weeks will slip by and you will not have accomplished anything that you set out to do.
Begin by listing all the things you want to do during your summer break.
I like to create different categories for my lists:
cleaning projects
local places to visit (your hometown museums, attractions, etc.)
people to visit
people to invite into your home (for a meal or an extended visit)
craft projects
school planning (—> Tips for How to Plan Your Homeschool Year)
school shopping (supplies, curriculum, fall clothes, etc.)
enrichment classes (ones that you can host or attend)
new skills to learn
vacation destinations
I also like to sit down with my children and make these lists together. I make my summer list, and I help them make their own lists, if they want to as well. Then we apply our quote.
We cannot possibly do every single thing on our summer list! So we prioritize. Either we rank each item in order of importance under each category, or we simply eliminate entire categories.
The next step to having a productive summer is to actually implement the summer choices that you have made.
For example, schedule local places to visit on every other Tuesday morning. Set aside one hour twice a week to work on school planning. Plan one or two days at the end of the summer to shop for school supplies and other items you will need for the upcoming school year.  Choose to work in your garden each morning, and schedule a canning day once a week.
In the midst of planning and making summer choices, don't forget to allow plenty of down time. Everyone needs some unstructured time to just enjoy the summer.
Just remember, you can do anything (within reason!) you want this summer, but you can't do everything you want.
Other Summer Posts and Printables You May Enjoy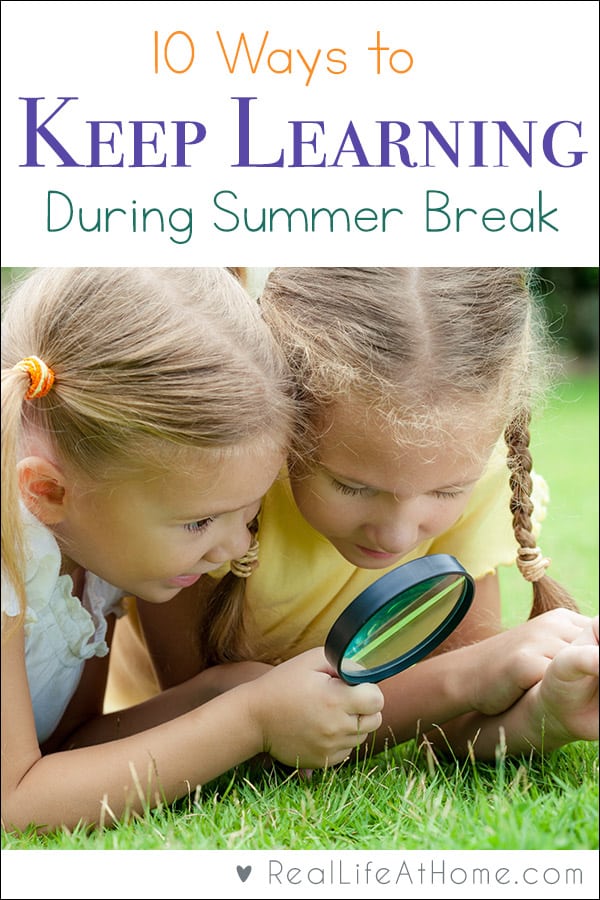 ---
Disclosure: This post contains affiliate links. Using them does not change the price you pay. However, when you shop through them, we may receive a small compensation. 
Summer Camp Out Printables and Activities
Subscribe to our newsletter and receive the Summer Camp Out Printables and Activities Packet.