This is a quick and fun handprint firework craft activity, perfect for toddlers, preschoolers, and other young children. This fireworks art activity would be wonderful for Independence Day (the Fourth of July), New Year's Day, Chinese New Year, Guy Fawkes Day, and more.
If it's a good holiday for fireworks, this handprint firework craft is a quick and easy activity to add to the festivities.
Related Reading: 4th of July Crafts for Kids
Fun and Easy Firework Craft for Kids: Sparkly Handprint Fireworks
Sparkly Handprint Firework Craft Supplies
Craft Paint (see note about paint color choices below) – we used blue and red paint
Paper Plate
Glitter
Confetti or Scrap Paper to Make Your Own Confetti with a Hole Punch (here's a cool star hole punch)
White Glue
Ribbon
Hole Punch
Note about Paint Color Choices: The project in the post was made for the 4th of July, so we used red and blue paint. If you were making it for another celebration, there might be different paint colors that would be more appropriate. Also, if the paint color isn't vital for the project topic, you can let your child pick their own favorite colors.
Directions for Completing the Sparkly Handprint Firework Craft Activity
1. Paint your child's hand with first paint color (or let them press it onto a plate of paint). This is when we used red paint for our project.
2. Make 3 to 4 handprints around a paper plate with first paint color, with palm at the center and fingers pointing towards the sides.
3. Paint your child's hand with your second paint color (or have a plate of paint for them to put their hand in). This is when we used blue paint for our project.
4. Make 3 to 4 handprints around a paper plate with second paint color print around the plate again, filling in the open areas.
5. Hang or set aside to dry. This may not be necessary since paper plates tend to dry quickly.
This is how ours looked at this point: 
6. Mix some white glue and glitter in your choice of color (we used silver glitter) on a saucer.
7. Allow your child to paint the glue/glitter mixture over the entire plate with a foam brush: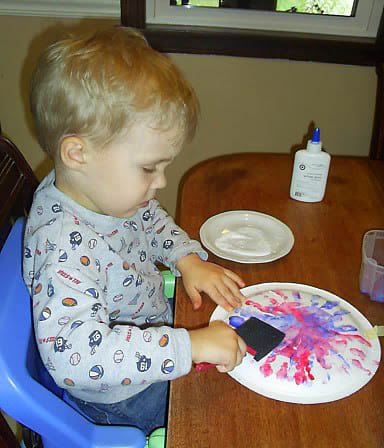 8. While the glue is still wet, sprinkle on some confetti.
You can either use store bought confetti or confetti that you have made yourself with paper and hole puncher.
We used red and blue circles and stars that we made with hole punches. It would also be neat to use foil or metallic confetti for some of these.
9. Punch a hole at the top of the plate, thread some pretty ribbon through it, and you have cool handprint fireworks!
Matthew had a lot of fun with this, and I like how it turned out.
A close up of our handprint firework craft:
Other Paper Plate Craft Projects and Independence Day Projects You May Love: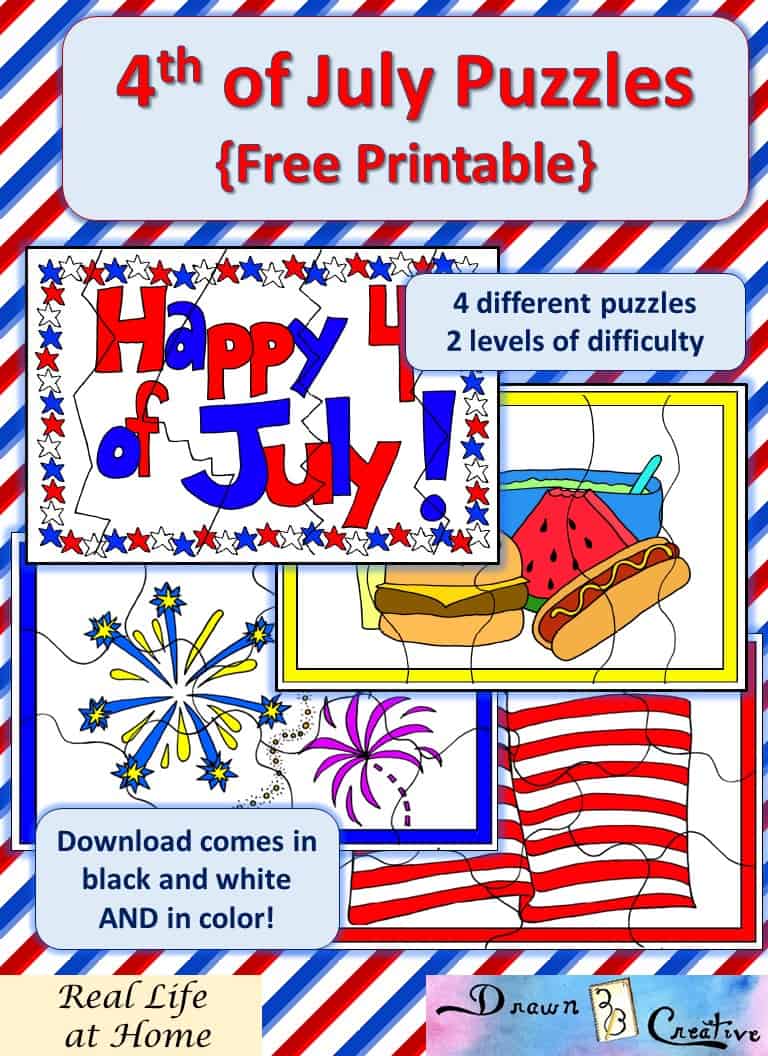 For more preschool arts and crafts and learning activities, visit Nicole at her blog Tired, Need Sleep.
---
Disclosure: This post contains affiliate links. They don't change the price you pay. However, when you shop through them, we may receive a small compensation.
This post was originally published on June 30, 2010. It was updated in June 2018.
Join 40,000+ Other Awesome People
Subscribe to the Real Life at Home weekly newsletter to get our latest content, exclusive free printables, learning activities, and ideas for celebrating with your kids all year