Fun Summer Learning Activities: 10 Ways to Keep Learning During Summer Break is a post from contributing writer Kris Bales from Weird, Unsocialized Homeschoolers.
Alternately titled, "All the things we would do over the summer if I could get my act together."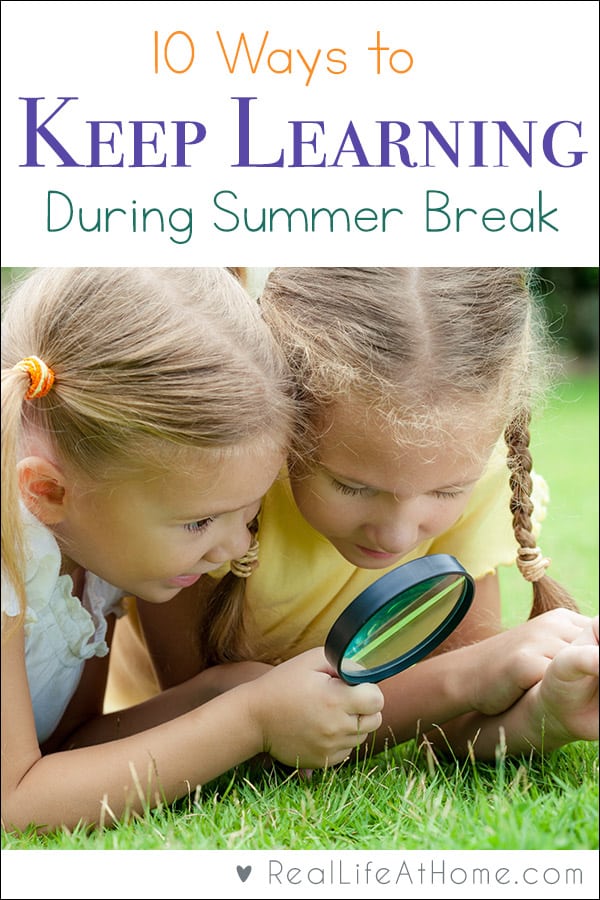 In total transparency, I want to say: We're pretty lazy in the summer. We enjoy our downtime and following our own interests, which typically involve too much screen time. That being said, I've often had these grandiose ideas of what I'd like to do over the summer to enhance or supplement our regular school year studies. Since they may never happen for us, I thought I'd share some summer learning activities with you – in case you're a little more together than me.
Since they may never happen for us, I thought I'd share them with you – in case you're a little more together than me.
Related Reading: Seize the Summer and Grow: How to Make a Simple Summer Goals List (with Free Printable Summer Goals Chart)
Fun Summer Learning Activities: 10 Ways to Keep Learning During Summer Break
1. Do a fun geography study.
I was once in a homeschool forum with a lady who did an around the world summer study with her kids. They "visited" a different country each week. They'd learn about the culture, make a dish (or a whole meal) from that week's country, and make a related craft or costume.
That would be so much fun! You could get really elaborate and make or buy a passport that you could stamp for each country. A fun literature tie-in might be Around the World in Eighty Days.
Learn More: How to Plan an Around the World Day
2. Take an art class.
You can often find classes through local museums, art stores, or community centers and summer can be a great time to take advantage of local offerings.
Alternately, you could jump into that art curriculum or online class that you've been intending to get to all year. I may even eventually get around to remembering to buy some chalk pastels so we can enjoy Tricia Hodges book, A Simple Start in Chalk Pastels. This summer may be our year to finally do something on my summer fun list!
Another option would be to work your way through drawing and art lessons on Art for Kids Hub.
3. Teach your kids a life skill.
Okay, this one may not be so much fun for the kids, but it will definitely be beneficial – especially as they get older. Finding the time to teach your kids to cook, wash clothes, or do some housekeeping chores is much easier in the summer and will give you some extra time during the school year when the kids can help take over some of the household chores that have been your responsibility in the past.
Learn More: Check out our "teaching life skills" archives
Training Your Children in Home Economics eBook
4. Learn to play a musical instrument.
There seems to be an online tutorial for just about everything these days. If you can't afford (or just don't want to take) traditional classes, a self-paced, online approach could be just the ticket. The cool thing about learning this way is that it tends to be more interest-led, therefore generally more appealing to everyone involved.
5. Read lots of books.
A couple of our local libraries have started offering summer reading programs for teens. I'm so excited about that because my kids are older now and, while they often participated in the summer reading program when they were little, it's too "babyish" for them now. Because all three of my kids should be the right age for the teen program this year, we may actually pursue this one and not just think about it.
Even if your library doesn't offer a summer reading program, you can make up your own. Offer incentives for reading a certain number of pages, chapters, or books. In the past, I've put together a bingo card as a reading incentive. The cards included different types of books in each square. Examples include: a biography, a book about a boy, or a non-fiction book.
Also, don't think "read lots of books" means your kids have to be doing all the reading. No matter their ages, most kids still enjoy a good story. Reading aloud doesn't have to stop once our kids are independent readers. Spending some time lying around the living room enjoying a good book together can be a great way to connect with older kids, too.
6. Go on some fantastic field trips.
If you'll be traveling this summer, consider the "field trip" opportunities that may arise. You don't have to turn everything into an educational moment (not overtly, anyway), but one of my family's most memorable field trips was a couple of extra days spent in St. Augustine, Florida on the way home from the beach.
If you'll be traveling, see if there are any great sites along your route that may reinforce something you studied over the past year or something you'll be studying in the upcoming year.
Oh, and that "around the world" idea in #1 could be turned into a fantastic U.S.A. (or whatever your home country) version, if you'll be doing a lot of driving on your travels.
7. Study poetry.
Poetry may be something that makes its way into your everyday homeschool life, but that doesn't tend to happen in my home. Summer can be a great time to do some poetry study. You could look at a different poet or a different type of poetry each week.
Learn More: Hands-on Poetry Project Ideas
8. Invest in a hobby.
Whether you enjoy writing, photography, art, music, or rock collecting (here's a way to build your rock collection), those lazy summer days (do they really exist?) can provide a wonderful chance for you and your kids to each spend more time on your hobbies – or share them with each other.
Do you have a child who would love to learn what you know about photography? Maybe one of your kids would enjoy teaching you to draw anime. Sharing each other's interests can be a wonderful way to connect.
9. Go bowling.
So maybe bowling doesn't constitute learning, but it's fun. It's physical education (P.E.) and homeschoolers don't usually get enough P.E., right?
Lots of bowling alleys offer summer programs in which kids bowl free. Those that do also usually offer a great rate for parents to purchase unlimited bowling, too. This is something that I really want to do this summer. My kids don't love bowling as much as my husband and I do, but they usually do enjoy a game or two.
The shoes tend to be the most expensive part, so I've been on the lookout for some good deals on bowling shoes. I have a pair in each of our sizes sitting in my Amazon wishlist if I don't find a better deal on some locally soon.
10. Enjoy more family time.
Alright, while some of the other ideas may be on my "wish we did this" or "would like to do this" list, this last one is something we definitely do. It's fun to enjoy more time together while the weather is nice – either by doing more active things together outside (like family bike rides) or enjoying fun summer treats like dollar scoop night at the local ice cream shop.
How does family time constitute summer learning? I could give you lots of buzz words that would fit, but the fact is, family is what it's all about, whether you're actively trying to learn something or not.
In what ways does your family enjoy spending more time together during the summer? If you take a summer break, do you take time completely off or do you enjoy some fun, supplemental learning?
Other Posts You May Love:
---
Disclosure: This post contains affiliate links. They don't change the price you pay. However, when you shop through them, we may receive a small compensation.
Fun Summer Learning Activities: 10 Ways to Keep Learning During Summer Break was originally published on May 28, 2013. It was most recently updated in June 2017.
Summer Coloring and Tracing Printables Packet
Subscribe to our newsletter and receive the Summer Coloring and Tracing Printables Packet.