Resources and Teaching Ideas: Astronomy for Middle School is a post from Christy of Eclectic Momma.
My son has loved astronomy for a long time. He definitely knows more than I do about the subject. Over the years, we've done several different unit studies with lots of hands-on activities. But let me tell you, middle school astronomy has been quite a change.
I'll be honest, astronomy is not really my passion. So, it's been really hard to plan this year. I'm still in the "Let's do a cute art project and talk about the moon and call it a day." My son is needing/wanting deeper than I can give alone.
Kris Bales wrote a great article on this subject:  Helping Kids Explore Their Interests When You Don't Have a Clue
Sometimes it can be hard to find just the right curriculum that fits your child's interest. So, I'm using a wide range of resources to round out his educational experience, which can easily be adapted to other subjects as well.
Resources and Teaching Ideas: Astronomy for Middle School
Here are some ideas for studying astronomy in the middle school years.
Astronomy Field Trip Ideas
Field trips are a great way for your middle schooler to learn about the subject of astronomy.
Visit a local astronomy club (see below for a link to find one near you)
Be sure to check with your local science museums to see if they are a member of the ASTC-Passport Program. This program allows you to visit over 250 museums for the price of membership at your local museum. They do have restrictions, so be sure to check those out on the website.
Quick Note from Angie: I highly recommend looking into the ASTC Passport program that Christy mentioned above. One year, we were able to buy a very inexpensive family membership to an extremely small science center in our town. We then used our membership to be able to get into the Museum of Science and Industry in Chicago for free. It saved us a ton of money while also supporting the science center where we live. Bonus!
Find an Astronomy Mentor
We are fortunate to have a friend who is an amateur astronomer. He challenges my son with questions, research ideas and alerts us to skywatching events. He can talk in-depth about a subject, whereas I can only scratch the surface.
Ask around – maybe you have someone in your circle of friends that will help your child go deeper into the world of astronomy. Find an astronomy club near you for an opportunity for your middle schooler to meet other avid astronomers.
Invest in Equipment for the Study of Astronomy
Although there are lots of things you can see with the naked eye in the night sky, having a cool telescope is a whole lot more interesting for the amateur astronomer. 
My son used his own money to buy a telescope. We helped him find a great deal on an award-winning telescope that would be easy for him to operate. He has had to read the instruction manual to put it together and to learn how to operate his equipment.
Astronomy for Middle School: Software Recommendations
Using age-appropriate software is a great way for middle school students to explore astronomy on their own.
Starry Night – This is a very popular astronomy software.  Now, they have a middle school edition.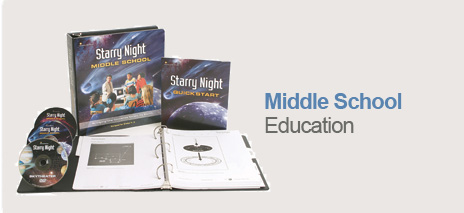 SkyX First Light – My son's new telescope came with this software. Using this software is teaching computer skills in addition to astronomy as he learns how to use his new program.
There are also many apps available for stargazing enthusiasts.
Astronomy Books and Curriculum Recommendations
It has been challenging to find reading resources about astronomy for the middle school years.  Most of the things I had accumulated were from high school to college level and very hard to understand.
Below are a couple of promising books I have found:
Seeing the Sky  – This book has activities that are geared for beginning junior high astronomers.

Exploring the World of Astronomy – We are using this book right now. Each chapter has several exploration questions for your student to learn about as they read. My son needs to be able to explain the answer to those questions when he has finished the chapter. It's a very enjoyable book!
Real Science 4 Kids is a great science curriculum provider! They have a Middle School Astronomy curriculum that is worth checking out!
Teaching Astronomy Through Art – This book was recommended by a Real Life at Home reader. She said it was a great way to learn art techniques while also learning astronomy facts.
Online Resources: 
Do you have an amateur astronomer in your galaxy?  What ideas have you found to encourage their love for the universe? 
Other Science Posts You Might Love:
---
Disclosure: This post contains affiliate links. They don't change the price you pay. However, when you shop through them, we may receive a small compensation.
Resources and Teaching Ideas: Astronomy for Middle School was originally published March 24, 2014. It was updated in September 2018.
Solar System Printables Packet
Subscribe to our weekly newsletter and receive the Free Solar System Elementary Printables Packet.