While I've seen many Easter cupcake decorating ideas around, we decided to go with a different route for our easy Easter cupcake decorating ideas for kids.  We put together easy Easter cupcake decorating ideas by kids for kids!  I just frosted the cupcakes and gave my kids a whole bunch of fun Spring and Easter types of decorating goodies.  Hopefully some of their Easter cupcake decorating ideas will give you and your kids some ideas too.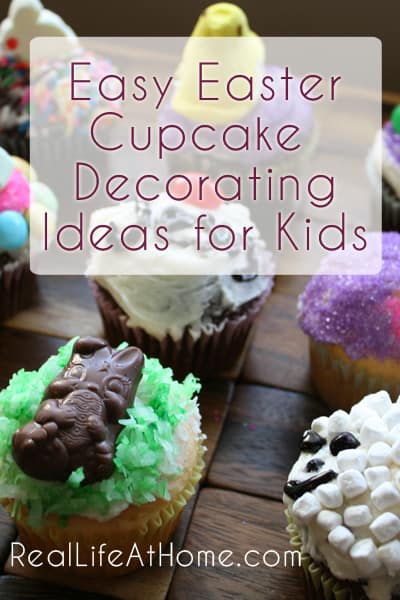 Easy Easter Cupcake Decorating Ideas for Kids
I just used some cake mixes to make chocolate and white cupcakes, as well as my favorite homemade vanilla buttercream frosting (although I added a little less vanilla and didn't beat the frosting as long so that it would be thicker for easier decorating).
Goodies that my kids could use for decorating:
Peeps Chicks and Bunnies
Spring/Easter M&Ms
Jelly Beans
A variety of sprinkles and colored sugars
Small chocolate bunnies
Red and black decorating gel
Coconut flakes that I tinted green
Cadbury Mini Hard Shelled Eggs
A package of sugar decorations in the shape of bow ties and glasses (Nerdtastic!)
Jet-Puffed bunny shaped multi-colored marshmallows
Nestle Spring-colored baking chips
Jet-Puffed Mallow Bits (aka "hot chocolate marshmallows")
As I said earlier, I just frosted the cupcakes and gave the kids the instructions to make Easter and Spring themed cupcake designs.  Some of them were as simple as picking a fun thing from the goodies to add to a cupcake and others included mixing elements from the goodies into a scene.
These are a hoot, right?  The kids used frosting as a way to "glue" bow ties and glasses on to some Peeps.  Plus, the others had marshmallow bunnies.
Crosses are an easy thing for kids to make when decorating cupcakes for Easter.  Plus, it's a great way to make more of a religious-themed decoration.
I loved how bright and colorful the jelly beans made the cupcake on the left look!  Oh, and then we're back with a few more bow ties and glasses.  The fun tie-dyed looking cupcake was made by gently dipping the frosted cupcake into two different bowls with colored sugars in them.
This set definitely had a Springtime feel, with a variety of plays on eggs and nests.  (Yum – including a couple of uses of my favorite, multi-colored coarse sugar.)
Other Posts You Might Enjoy: