While I was working on another Stations of the Cross project, I made this 14 Stations of the Cross list to include as part of it. I liked the simplicity and usefulness of it so much that I decided to make it available as a free instant download.
While I know that this is not the flashiest printable on the site, I liked that this was simple. I envisioned it to be something that could be given to children learning about Stations of the Cross. Really – it could be great to give to anyone learning about the Stations of the Cross. I felt that it was a simple Lenten resource to be able to hand out. Lent is all about simple, and I love that.
Of course, since it has a simple, plain border around it, kids can color it in. In fact, they could decorate other open areas of the page too, if they wanted.
This would also be wonderful to print on white cardstock (or the color of your choice) and maybe even to laminate!
14 Stations of the Cross List
Included on the Stations of the Cross list free printable:
1st Station: Jesus is condemned to death.
2nd Station: Jesus accepts the cross.
3rd Station: Jesus falls the first time.
4th Station: Jesus meets His mother.
5th Station: Simon of Cyrene helps Jesus carry His cross.
6th Station: Veronica wipes the face of Jesus.
7th Station: Jesus falls the second time.
8th Station: Jesus meets the women of Jerusalem
9th Station: Jesus falls a third time.
10th Station: Jesus is stripped of His clothes.
11th Station: Jesus is crucified.
12th Station: Jesus dies on the cross.
13th Station: The body of Jesus is taken down from the cross.
14th Station: Jesus is laid in the tomb.
Post continues after this brief information about a monthly membership to help you live the liturgical year
---
Monthly Liturgical Membership
Perfect for families! Each month you gain access to printable activity pages, crafts, home altar pieces, and more.
Never has living the liturgical year been so easy and affordable!
---
The free printable is available slightly farther down in the post. But, in the mean time, don't miss some Lenten resources listed first.
Other Lenten Resources
All Lent Posts on Real Life at Home
Terms of Use and Download for 14 Stations of the Cross List
Terms of Use
This download is free for personal or classroom use. It can also be put into church bulletins or newsletters, but the copyright credit line must be included (which just means that you need to make sure that you don't accidentally crop off the line with the copyright information at the bottom of the printable when you are reproducing it).  It cannot be included in a publication that is larger than a single school or parish without first contacting me to discuss details and cost.
It cannot be sold, published, or hosted on other websites. If you want to pass along the printable though, please feel free to share a link to this post (not directly to the printable) with others. Thanks! (Please don't assume about terms of use.  You can read more details about terms of use here.)
If you use a lot of free printables from Real Life at Home, you might consider making a small donation to help us continue to offer all these freebies.
Download the Stations of the Cross List Free Printable
Other Free Printables You May Love: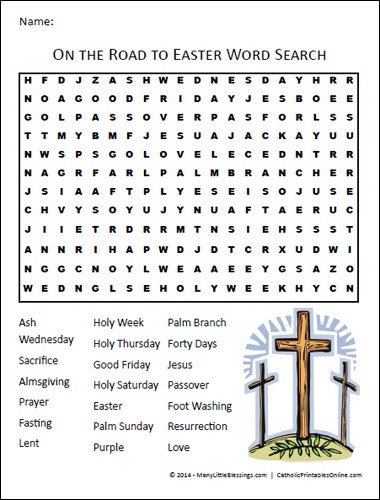 ---
Disclosure: This post contains affiliate links. They don't change the price you pay. However, when you shop through them, we may receive a small compensation.
Join 35,000+ Other Awesome People
Subscribe to the Real Life at Home weekly newsletter to get our latest content, exclusive free printables, learning activities, and ideas for celebrating with your kids all year