I wouldn't normally be coming out with another Saints/Catholic Printables Packet. so quickly after launching the Pope Francis Printables and Worksheet packet, but in an effort to get this one out before her feast day on October 1st, I am publishing the next packet now.  This next packet is a Saint Therese Printables and Worksheet Packet, all themed around Saint Therese of Lisieux, also known as Saint Therese The Little Flower, Saint Therese of the Child Jesus, or many other names.
As always, the appropriate ages for this packet varies.  Some activities are preschool appropriate, while others might go as high as mid-elementary school.  I like that this makes these packets accessible to many ages, and especially that it makes it perfect for homeschooling families with children of varying ages.
As usual, I want to take a second to thank my awesome husband, Eric.  He hand drew and then worked on the computer on this great graphic of St. Therese.  (Because of this, this is not clip art for public use.  It was made specifically for use only on Real Life at Home.  Using it yourself would not only be against copyright law, but it just wouldn't be nice.  Thanks, Eric, for sharing your time and talents to make all of these packets possible!)
The Saint Therese Printables and Worksheet Packet Includes
Saint Therese Word Search (and Solution)
All About Saint Therese Fact Sheet to Fill Out
St. Therese Maze (and Solution)
A Saint Therese Coloring Page
"Saint Therese and the Little Way" Page (Working on little ways kids can help others)
A 16 Piece Saint Therse Puzzle (this page is best printed on cardstock, though regular paper is fine)
Two Handwriting Pages (one printing, one cursive) with Saint Therese's name, which also features a St. Therese to color
Two Language Arts/Art Pages that involve cutting and pasting sentences, writing a copy of the sentence, and illustrating them
A Cut Apart Page Where Children Put Words about Saint Therese of Lisieux in Alphabetical Order (There is also a version for younger children with the first letter of the word to help them put it in alphabetical order.
Three Handwriting Pages with Quotes from Saint Therese (Seven total pages, due to having each quote in two versions: three line elementary style writing paper as well as standard lines, plus an extra page of the elementary style writing paper)
Saint Therese Crack the Code Page using a Letters and Numbers Code to Find a Fact About Her
Four Pages (in Color) of Fact Cards, which can also be put together to make a mini book for kids, about Saint Therese (16 total cards; 4 per page)
Four Pages (in Black and White, with a Saint Therese Outline to Color) of Fact Cards, which can also be put together to make a mini book for kids, about Saint Therese (16 total cards; 4 per page)
Tip on the Mini Booklet Pages: If you are making a booklet/mini booklet, you can use all 16 pages in your booklet or you can just pick and choose which pages you want to include.
Terms of Use for the St. Therese Printables Packet (Plus Usage Options)
This packet may be used for personal use by your family or in a single classroom/co-op/small group setting for $3.25.
If you plan to use this for multiple classrooms (such as in a school or religious education program) or in a large group, please opt for the large group usage for $6.00.
Under the large group usage, you may include printables from this packet in a single church bulletin, as long as the copyright information stays on the printable page.  ("Single church bulletin" meaning – in the bulletins for one single church or multiple churches that share the same priest.)
There are other terms of use on the first page of the packet, so please be sure to read through them before you use pages from the packet in any way.
---
Monthly Liturgical Membership
Perfect for families! Each month you gain access to printable activity pages, crafts, home altar pieces, and more.
Never has living the liturgical year been so easy and affordable!
---
Regardless of the usage that you pick, NO PAGES FROM THIS PACKET MAY BE SHARED WITH OTHERS ONLINE IN ANY WAY OR VIA EMAIL.
You will pick the appropriate usage option after clicking the "buy now" button.
Other Catholic Printables You Might Enjoy: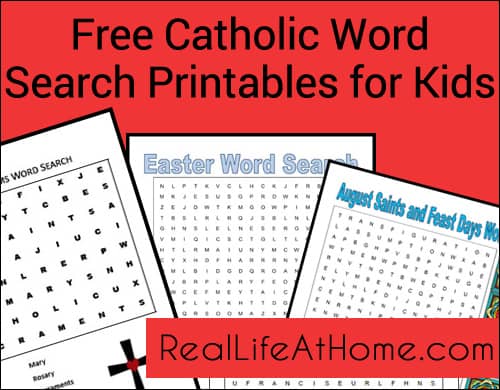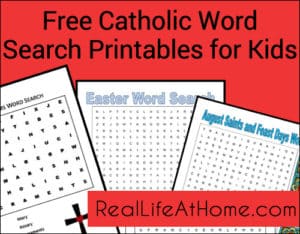 {More Posts from Angie on Real Life at Home}
Join 35,000+ Other Awesome People
Subscribe to the Real Life at Home weekly newsletter to get our latest content, exclusive free printables, learning activities, and ideas for celebrating with your kids all year