Printable Color Your Own Saint Bookmarks for Kids and Adults Post Preview: Perfect for learning about saints, All Saints' Day, using throughout the year, or just for fun – this set of color your own saint bookmarks features 48 designs with 24 different saints. There are also more links to printable color your own bookmarks for kids.
---
While every time of year is the perfect time for learning more about saints, All Saints' Day is quickly approaching and that's an extra awesome time to focus on the whole communion of saints! Don't worry if you're seeing this post long after All Saints' Day as passed – this really is a fabulous project for all year round.
I have a lot of different color your own bookmark sets on the site. Just a few days ago, however, I thought, "Wait! What about a color your own set of saint bookmarks?" I knew that while it could be completed any time of year, people would love to have it before All Saints' Day.
So, what started off as a project to make a set of four color your own Saints Bookmarks became a printable set filled with 48 Different Color Your Own Saint Bookmarks featuring 24 different saints!
Because it grew so large, I'll tell you upfront that it's a paid product. (Click here if you want to skip the whole post and just go get the whole download now.) However, I kept the cost at just a few dollars and I also have a free sample toward the end of the post that anyone can download.
Note: The link for the sample of the saint bookmarks is found farther down in the post (toward the bottom). You can also skip the whole post and go right to the full set right now, if you prefer.
---
Related Content:
---
Printable Color Your Own Saint Bookmarks for Kids and Adults
This is such a fun set of color your own saint bookmarks for kids and adults. You could give kids a whole sheet so they have four bookmarks to color. Or, you can cut them out and set out a variety for students to choose one or two from, like at a class party.
We used our favorite Prismacolor markers for coloring the sample page.
Set of Printable Saint Bookmarks to Color
This contains 48 Saint-themed bookmarks for kids and adults. You will want to print these bookmarks on white cardstock so they can be easily colored. The cardstock will also help to make them sturdy for use as bookmarks. If you want, you could even laminate the finished bookmarks!
To help make these saint bookmarks perfect for a wide variety of ages, I have two different design types each featuring the same 24 saints. So, there are a total of 48 bookmarks in the set, but it's possible that you will only use 24 of them if you use all of one design only.
I was afraid the stained glass background might add a difficult element for some younger children after I completed the project. So, to make it more accessible to even very young children, I made a second set that doesn't have a stained glass background design. The different levels of difficulty included in one set means that this will be perfect for use in a setting that has a variety of ages, including adults!
Here is one page with a stained glass background design:
And here is the same bookmarks, but without a stained glass design:
Each bookmark has a saint to color, their name, and their feast day.
Post continues after this brief information about a monthly membership to help you live the liturgical year
---
Monthly Liturgical Membership
Perfect for families! Each month you gain access to printable activity pages, crafts, home altar pieces, and more.
Never has living the liturgical year been so easy and affordable!
---
Saints Included in the Saints Bookmarks Set
As I mentioned, this set includes 24 different saints each in two different designs for a total of 48 bookmarks.
Saints Included in the Bookmark Designs:
---
Related Reading: Litany of Saints Mini Book Printable
---
Bookmark Set Terms of Use
These printables are for personal or classroom use unless you purchase a larger usage license. They may not be used for commercial purposes. If you aren't sure if your use of them is allowed, just contact me to find out.
You may not host these printables on your website or any website or file sharing service. They are exclusively for use by Real Life at Home.
You may not distribute them via email or other electronic means (unless you purchase the full set and then you may email them out to students or post them in a secure Google classroom during the pandemic if you are currently doing remote learning. You may not email out the sample bookmark. Please send parents to this page to get it themselves.).
You may not use these printables and claim them to be your own.
If you have any other questions about the terms of use, please be sure to ask!
Download Your Saint Bookmarks (and Free Sample)
Download Your Free Sample Saints Bookmark Page Featuring Both Versions of the Saint Francis of Assisi Bookmark
More Color Your Own Bookmarks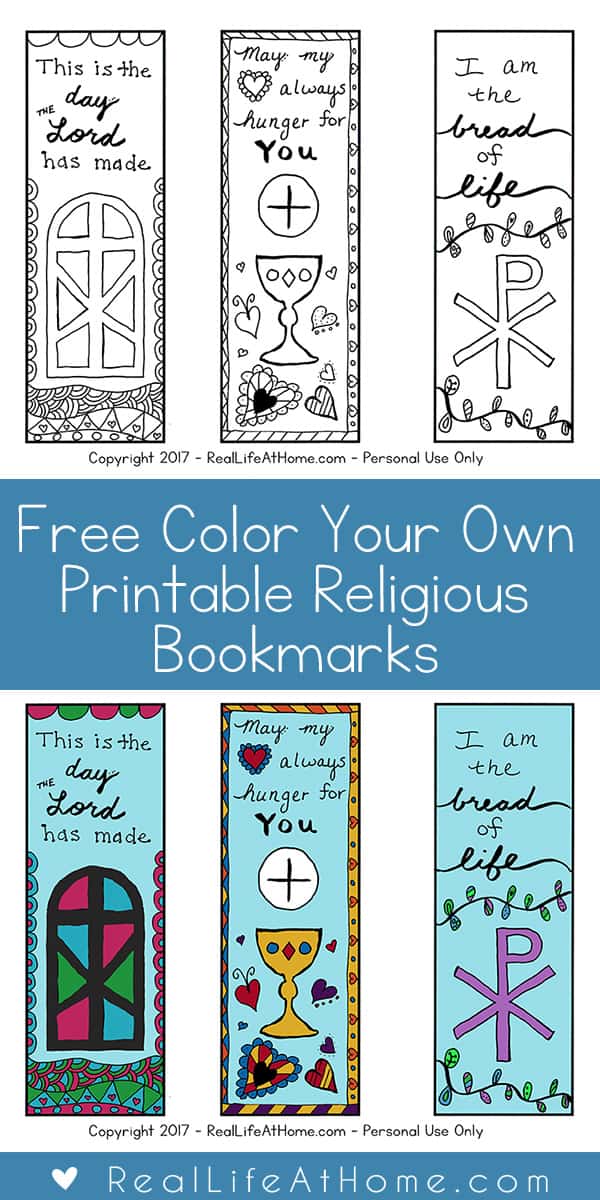 ---
Disclosure: This post contains affiliate links. They don't change the price you pay. However, when you shop through them, we may receive a small compensation. 
Join 40,000+ Other Awesome People
Subscribe to the Real Life at Home weekly newsletter to get our latest content, exclusive free printables, learning activities, and ideas for celebrating with your kids all year