Dr. Martin Luther King Jr. Printables, Worksheets, and Resources for Kids Content Preview: This is a collection of mostly free printables and resources to use while studying about Dr. King with kids.
---
I think that any time of year is a wonderful time to learn about Dr. King and his peaceful protests as well as the Civil Rights movement. However, I also know that with his birthday being in January and Black History Month in February, this time of year feels like a perfect time to cover him in your lessons.
I'm really excited that I have several resources for studying Dr. King on the site. I hope that the Dr. Martin Luther King Jr. printables and activities are helpful and will enrich your lessons!
Free Printable Coloring and Story Booklets about Dr. Martin Luther King Jr.
I was so excited when I made these readers all about Dr. King for kids. Because I wanted them to be accessible for a lot of different ages, I made two versions. One is (approximately) for preschool – 1st grade students and the other is for 2nd – 5th grade students.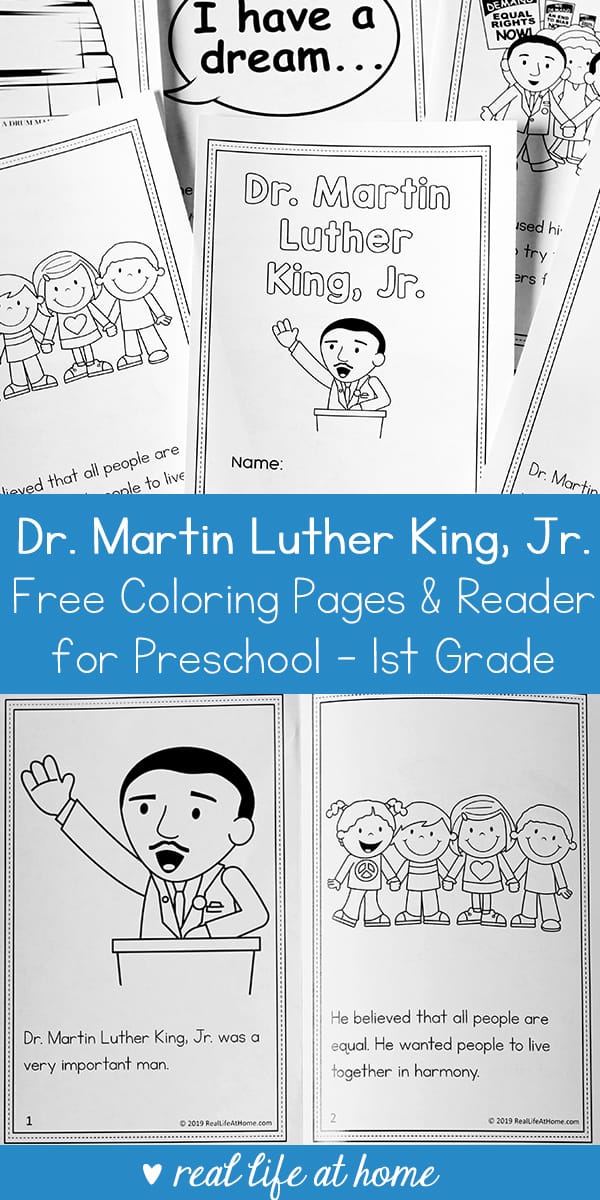 A little more information about these printable MLK booklets:
1. Both versions include information that kids can either read independently or that you can read to them. The younger version has a simpler story and information. You are always welcome, of course, to use the version that works best for your students or kids, regardless of their ages.
2. Both versions of these Dr. Martin Luther King Jr. printables include graphics that can be colored in. You don't have to allow kids time to color, but if you want to, it's an option.
3. Both versions are black and white without color graphics. That way, it makes it much easier and cheaper to print at home. (Plus, you know – #2 there as well.)
4. They're both free for subscribers!
MLK Free Coloring Pages and Reader for Preschool – 1st Grade
MLK Free Coloring Pages and Reader for 2nd – 5th Grade
Dr. Martin Luther King Jr. Printables Packet for Elementary Students
While this packet is geared toward elementary-aged kids, there are some of the pages that might work for some middle schoolers as well.
This is another free packet and it includes eight different pages of activities for kids about Martin Luther King, Jr. This packet gives you a variety of things to do, so it's a perfect supplement to your MLK lessons.
Some of the activities in this packet include an MLK information page to fill out, an MLK-themed notebooking page, a word scramble, and more.
Free Martin Luther King Jr. Word Search Printables
There is an MLK-themed word search in the packet that I mentioned above. However, there is also another free one available on the site. This other free on is free for everyone, not just subscribers.
This Martin Luther King Jr. word search printable set has two different levels of difficulty. That means that you can use this with students from elementary school through middle school. The harder word search would also be a good fit for high school students.
Martin Luther King Jr.  Printable Crossword Puzzle
The Martin Luther King Jr. Crossword Puzzle has two different versions. Both have 18 clues asking for information about Dr. King's life. However, one has a word bank and the other does not. Having a word bank can help make the puzzle easier to solve. Since it's a free download, you can just pick whichever one works best for your kids or students.
Books about Dr. King
Here are a few excellent books about Dr. King:
A Picture Book of Dr. Martin Luther King, Jr. by David Adler
Who Was Martin Luther King, Jr? by Bonnie Bader
Martin Luther King, Jr.: A Photographic Story of a Life by Amy Pastan (This is a DK Book. I love DK Books!)
Martin Luther King Jr. and the March on Washington by Frances E. Ruffin
March On!: The Day My Brother Martin Changed the World by Christine King Farris
Other Posts and Printables You May Enjoy
Children's Books and Unit Study on Slavery
The Underground Railroad for All Ages
Abraham Lincoln Crossword Puzzle Printables for Kids
January Word Search Printable Set for Kids
---
Disclosure: This post contains affiliate links. They don't change the price you pay. However, when you shop through them, we may receive a small compensation.
Join 35,000+ Other Awesome People
Subscribe to the Real Life at Home weekly newsletter to get our latest content, exclusive free printables, learning activities, and ideas for celebrating with your kids all year